Anyone pounding the vast exhibition halls of the international furniture show Salone Del Mobile, earlier this year (sore feet?  Yes!), will have noticed that one of the themes shouting very loudly was MARBLE. The marble trend has been creeping back for a while, in all its glorious forms, with even more gloriously exotic names:  Calcatta Gold, Emperador, Marquina black and Carrara white.  And it was everywhere at the prestigious Milan show.
Luxury brand Vibieffe have used it (below) on their Opera dining table – incredibly glamorous (and we really do like a bit of glamour at Go Modern!)
Stonemasons and architects have used it for centuries and British designers too have had an enduring love affair with it –  it pops up in almost every room of the house, adding a luxurious feel to bathrooms and kitchens, fireplaces and hallways. The use of marble in furniture isn't something new but over the last few decades its popularity had definitely waned.  It had started to look, well, a bit overly-fussy and outdated (or simply ludicrously expensive!). But as we saw in Milan, it's resurfaced as one of the hottest materials in contemporary furniture, with designers using modern digital technology to create wonderful 21st century products.
Porada's  new and very beautiful Maskara dressing table was designed by Emmanuel Gallina and we've fallen head-over-heals for it, with its sophisticated marble top in dark brown Emperador or white Calacatta.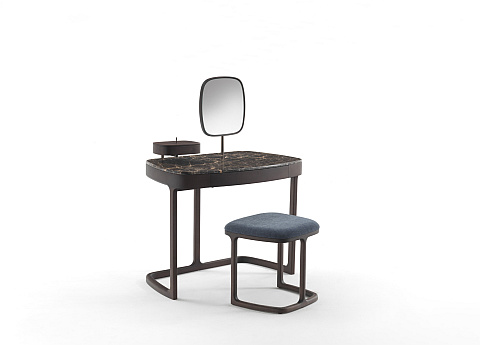 The new marble furniture shapes emerging have been kept fairly simple: the beauty of marble, with its characteristic swirls and veins, means that there's already quite a lot of busy stuff going on within a design, so keeping the overall look fairly minimal allows the material itself to take centre stage.
Carlo Ballabio's  Ziggy dining table is another great example of a simple, contemporary design that's use of marble adds elegance.  With tops in black Marquina, white Calacatta or dark brown Emperador marble, combined here with a solid canaletta walnut frame. Marble will always evoke a feeling of tradition buts its current use with lots of contemporary twists such as combining it with real wood or strengthened glass etc brings it bang up to date.
One of our favourite designs of all time is Eero Saarinen's ground breaking Tulip Table (originally made in fiberglass and later in marble) totally beautiful and utterly awe-inspiring when it was launched back in the 50s, and some of the current designs we're seeing are continuing to excite us and break new boundaries in much the same way.