Rapid technological change isn't just confined to what we listen to our music on.  Or which smartphone update is the latest 'can't live without' device. The world of furniture design is as much a part of the technological revolution as any other industry.  Leading furniture manufacturers now invest large amounts of research-effort into creating materials that not only look fantastic but outperform anything that has gone before.  The latest designs to benefit from this are dining tables.  And their amazing, near indestructible tabletops mean you can – throw out your tablecloths!
Bontempi Cassa + indestructible tabletops
Our Italian brand Bontempi Cassa is one of a number of leading manufacturers to have launched their autumn dining tables featuring SuperCeramica.  It's a material which not only looks elegant and stylish but it creates a virtually indestructible tabletops.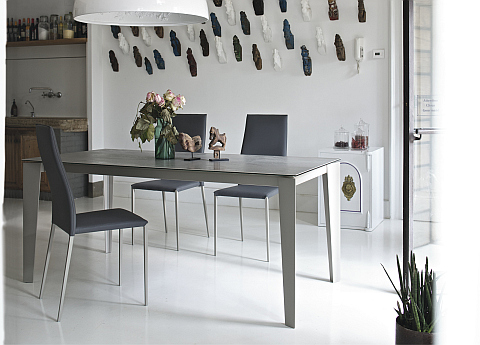 SuperCeramica is a ceramic based material combined with glass.  And it's impressive credentials are as long as your arm. Oil resistant, acid/chemical resistant, scratch proof, heat proof, fire resistant, non-toxic, eco-friendly and recyclable.  What's not to like?
The Cruz dining table
Shown above, the Cruz dining table (in 'sand' SuperCeramica) not only offers indestructible tabletops but is a versatile table.  It's available in five great sizes.  The small version is one of our smallest extending tables at just 80cm wide x 120cm long.  While the largest is 102cm wide and 290cm long when extended.  We were so impressed we've  now got one in our Kings Road showroom.  Many of our clients' children regularly put it through its paces.  It always wins.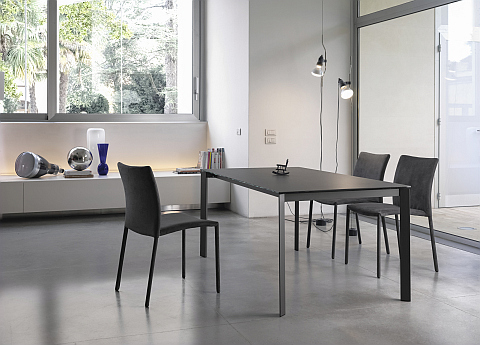 The Dublino table
The Dublino table  is also offered in SuperCeramica (seen above in anthracite SuperCeramica) along with melamine, matt lacquered wood and velvet anti-scratch glass.  If you're looking to jazz things up a bit, the strong metal frame can also be lacquered in a range of colours or chrome.
Anti-scratch glass + indestructible tabletops
Glass table tops have been a feature of dining tables for a while.  However, the new matt, anti-scratch-proof glass, or velvet glass, is another great advance in surface design.  That's because, using a technical process known as 'dynamic corrosion', the glass is treated by using special acids that create bevelled edges of the micro-crests within the structure.  We love the science bits (the technical info reads a bit how we imagine the initial treatment for Interstellar must have looked!)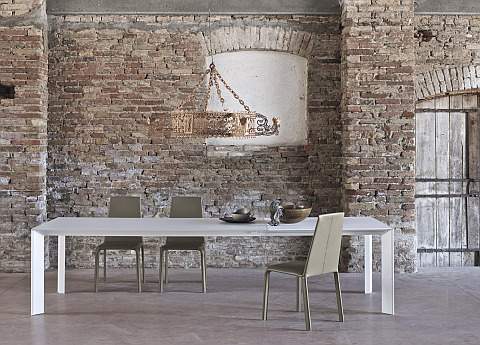 The Genio Table
The Genio table (above) is seen here in anti-scratch white glass.  Likewise, it has superb credentials. Abrasion resistant, stain resistant, non-absorbent (liquids slide away).  Easy to clean (important with glass), warm to the touch, and a wide choice of colours. Three different extending sizes to choose from.
So, sit back and enjoy your table, your family and friends, the meal.  No more fretting about burn marks, water stains, scratches…  just let the science be with you!