In the line of duty a small team from Go Modern pounded the 24 exhibition halls of Salone Del Mobile last week – Italy's stylish, hot furniture event.  It's the centre of international design in the furniture world, where emerging designers plus some of the biggest names around (with stands the size of Italian football pitches) exhibit their latest creations.  We came back to London with notebooks brimming with ideas and tons of exciting new furniture pieces to share (plus extremely sore feet.. which we wont share!).
So, what are the hot trends for the next furniture season..?
Masses of beautiful, sumptuous, luxurious velvet is the hot ticket – in a kaleidoscopic array of colours from the subtle and classic to the rich and juicy.
Lots of passion for mixing different materials including leather, fabric and painted metal, plus clever, over-sized accessories like the stylish standard lamp below, reinvented from it's original concept as a stool/lamp.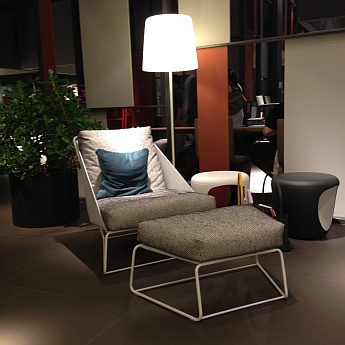 And some incredibly innovative new surface design.  One here that we absolutely loved, a tabletop that allows you to iron away any surface scratches – how neat is that! Form an orderly queue…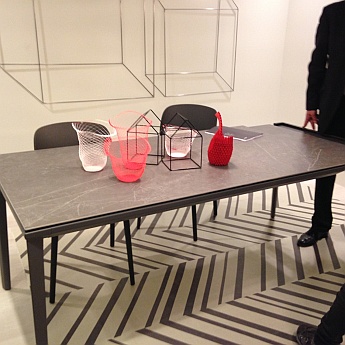 Plus tons of gorgeous, timelessly elegant marble.  Everywhere.  It's got to be one of the most noble of materials, and we saw it in dozens of different colours with its characteristic swirls and veins, combined with glass and wood – always a great combination of the traditional with the contemporary.  Echoes of 50s style we thought here too…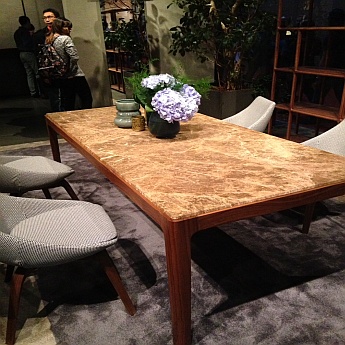 And lots of fun pieces , including Karim Rashid's Kart, designed especially for Tonellidesign, the Italian glass specialist  – a real show-stealer (a bit like the award-winning, prolific Karim!). Kart is actually a stylish mobile bar, with large glass wheels and two opaque glass side pieces, which create clever silhouettes of the bottles and glasses within.  Neat.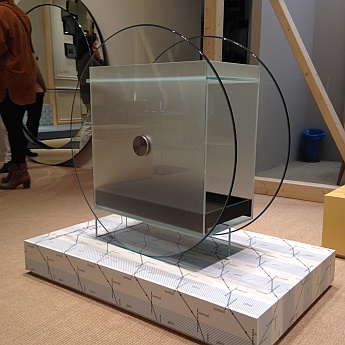 And more clever design including a piece of ingenious technology in the shape of  smoked glass coffee and console tables that can also include invisible, inbuilt chargers for phones etc. Ingenious.  No more excuses for having your phone run out of battery then!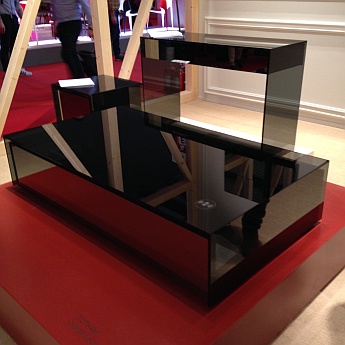 So, all the fun of the Milan fair… and more coming to a website (Go Modern) near you shortly. Watch this space.  Ciao!