The fabulous Salone del Mobile last month, one of the world's most exciting furniture fairs, attracted hundreds of thousands of visitors through its doors and had some truly amazing new designs on offer.  We spotted so many superb pieces that we can't wait to show you … so here's a little taster of just a few of the great designs we spotted from two of our favourite brands.
Bonaldo is always ahead of the design field and never fails to impress us with its inspirational pieces. They also make incredible sofa beds … and what puts them ahead of the game is … that their sofa beds don't LOOK like sofa beds – that's the last thing you want in your living room!  The new Bandy sofa bed, designed by Vittorio Prevedello, is no exception. It's got a great modern-retro look to it along with removable fabric or leather covers, and edged stitching in the same or contrasting colours.  It's also a cinch to operate with an easy, manual mechanism designed to move the seat forward and simultaneously lower the backrest (because when you're tired and you want to go to bed you really don't want to be having a fight with a sofa bed!).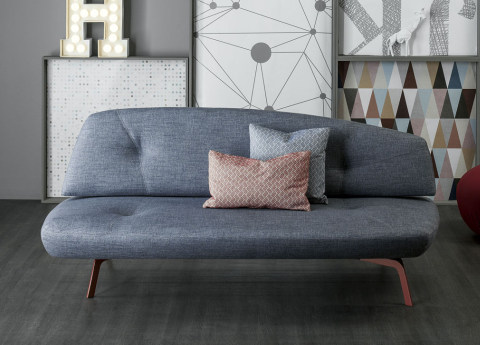 And how about the April, May, June shelves (love the names …although they remind us a little of some great aunts that it was best never to cross…).  And like those great aunts, they're a bold trio… striking and a little out of the ordinary.  June (below) is in the black , with May in white and April in yellow … but you can choose colours to suit you.. including mint green, anthracite grey and powder pink, in matt painted metal.
We love Alain Gilles work (his Contrast bed is a firm favourite with everyone here). The Tracks table is one of his latest creations – a great extending glass table with a beautifully simple silhouette.  And in case you're wondering …the name comes from the two, visible parallel steel beams under the glass table top that make-up the extension. It's fantastic to be able to see the working of the mechanism – really unusual (remember when the Pompidou Centre was built and we all got excited about seeing the energy pipes in different colours on the outside… it's kind of similar.. and we're just as excited).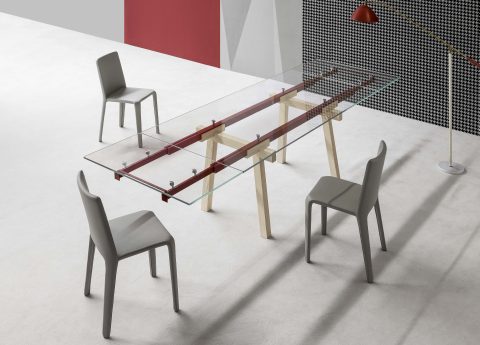 Mogg is one of our newest brands – quirky, highly unusual pieces that we think are destined to become collector's pieces of the future. We're all about contemporary design at Go Modern but so much modern design also gives a little nod to tradition, and these beautiful Donut Stools from Mogg have definitely done that. The designer, Alessandra Baldereschi, has used the ancient art of rush weaving to create the seats of her striking new stools.  Reed fibres are extremely hard wearing and very practical (easy to clean) which is certainly why they were used for seating years ago.  The tripod bases are made in metal with a lacquered grey or white finish or in a beautiful copper.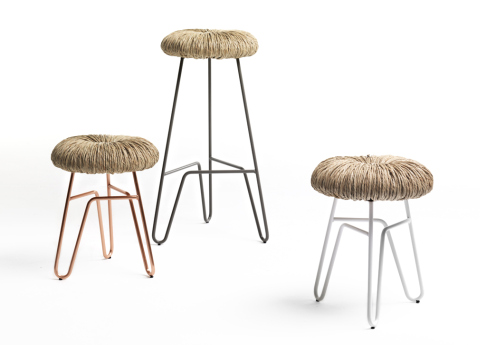 If you know New York at all you'll understand why designers Mazia & Leonardo Dainelli called their new floor lamps for Mogg Tribeca, because, as they say, they're always inspired by the city's energy and magic, along with the feeling that 'anything is possible'.   And with the Tribeca lamps 'anything is possible' as the dynamic duo have added a cleverly concealed USB dock to the bottom shelf of this stylish floor lamp. Love them!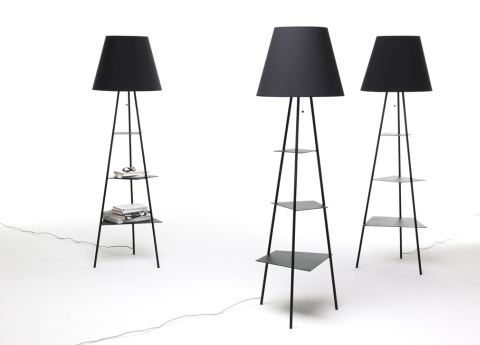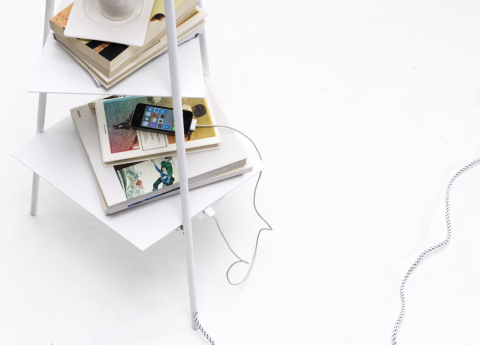 So, there's a little taste of some of our 'finds' from Milan… hope you like them as much as we do!