If there's one thing that most of us agree on it's that our homes never have enough space to store everything.  It's a modern day curse but, as we always try to look for the positive in things, the upside is that contemporary designers produce furniture that creatively uses every last available inch of space, producing designs that, for us, tick all the boxes – beautiful to look at, high quality and very practical too.
So, we've pulled together a small selection of some of our latest designs, all of which deserve praise for their quality and creativity – while sharing that great ability to surprise us with their ingenious hidden storage.
Starting with 8emezzo's Wonder bed – one of our new, luxuriously upholstered beds with a thickly padded, textile covered base and headboard, the Wonder bed has a huge storage base with gas powered lift-up-slats over a sealed area approximately the size of the mattress – and the other surprising bit is it really, really doesn't look like a bed with a storage base! Great sizes too from Euro King through to Super King with a headboard 83cm high.
The Carree coffee table we promise you is just the table you've been looking for to help keep your living room tidy. Created with two large storage spaces under the table top and some very practical drawers, you'll be able to banish clutter in an instant (admittedly this isn't a long term solution to the clutter problem – but it sure helps!). It's available in two sizes, and in wood, matt or gloss lacquer, with or without plain or patterned glass, and a wide range of colours.  It's really such a versatile, attractive coffee table you'll wonder how you lived without it.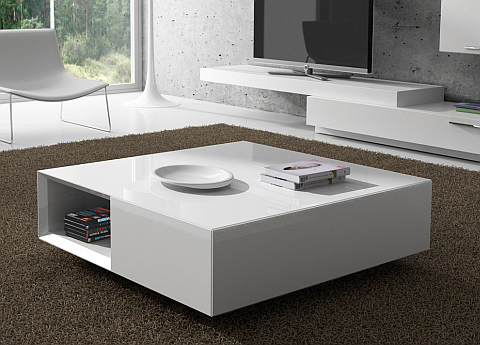 The glamorous Kaddy coatstand/mirror is designed by the multi-talented Karim Rashid and those Italian masters of glass wizardry, Tonelli. We love this design – a full length mirror, double backed, on a revolving chrome base. Simply swivel it around to reveal an interior cupboard with a high shelf and three hanging hooks.  Great for hiding bulky winter coats and jackets – it makes a superb statement piece and a great storage addition to any room.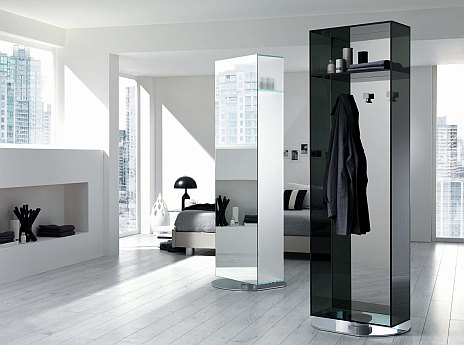 As you know, one of the latest brands to join our Go Modern family is Mogg.  This young Italian company is full of energy and surprises with lots of quirky and unusual pieces. Mogg's designers are accomplished artists, designers and architects, and many are award-winning – as is Matteo Ragni (Ragni means 'spiders' in Italian by the way… but don't let that put you off!!) and his very clever Doppia Fila shelves.   Larger than you might think, at a metre wide and 22cm high, the shelves also have 'hidden' storage at either end, allowing you to store extra books – or just create a very unusual design statement.  The shelves are sold in pairs, with extra shelves available as single shelves, and they're made in a lacquered metal with a number of different finishes.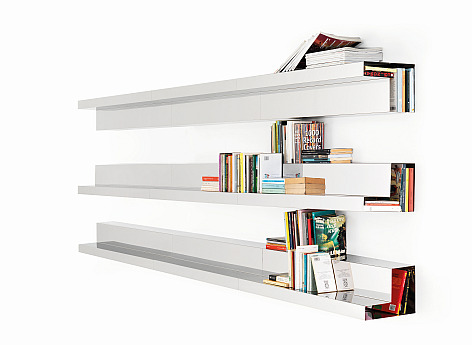 What to do with cables, power sockets and all your favourite DVD's?  Ta-dah…we've found the answer… Bonaldo's futuristic looking Vision TV stand.  It's a circular stand that can incorporate a flat screen up to 102cm wide.  It's also got a clever little cupboard at the rear for hiding those pesky cables and plugs that always spoil the look of any room. And as for those DVD's that you cant bear to give away because they're someone's favourite movie… well the outer edge of the circular frame has a neat shelf designed to store them all until that rainy Sunday afternoon when you're searching for something to watch.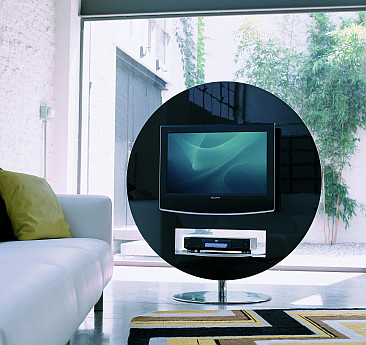 So, there you have it.  Just a few of our amazing storage designs.  Lots more on the site… so come on in and take a look…