London is bursting at the seams with new art and design ideas: fashion, product technology, architecture and, of course, some of the best contemporary furniture around. Whenever the subject of art is discussed it always throws up those endless 'but what is art?' type questions.  We're not sure how to answer that – we know good design when we see it but art is …whatever you want it to be isn't it?
From our showroom on the Kings Road, we're about four miles from Trafalgar Square, and recent visitors will have seen the latest piece of art to sit on the Fourth Plinth.  It's a gorgeous powder blue sculpture of a cockerel entitled Cock by Katharina Fritsch.  Fantastic (although we're not sure what Nelson would have made of it!).  What do you think?  Love it, hate it, just not sure?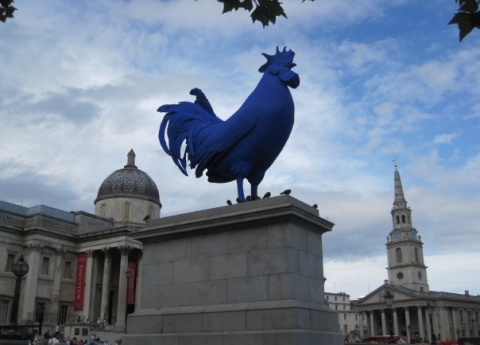 Amongst some of the other most creative design we've seen recently at Go Modern is from the team at Novamobili who've come up with a solution to that perennial problem of space, or rather lack of it.  And if the topic of 'wall units' normally induces a trance like state in you -think again! Wave is their fantastic new wall unit structure, with a look that is based on Italian graphics!   It combines curves and straight lines, horizontals and verticals, cabinet doors that open upwards or downwards – endless possibilities that make this an incredibly creative but eminently practical piece of furniture.
You can choose as many shelves, cupboards, sizes, heights, lengths as you want to suit the space you have.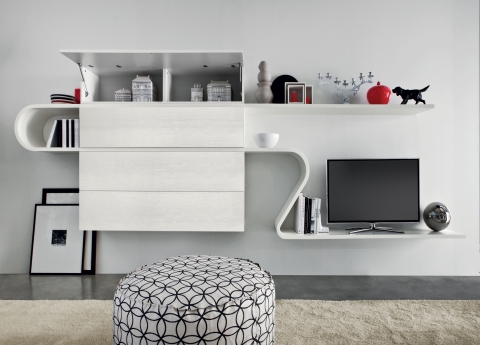 So if it's space you're short of and you have an eye for something a little different, ultra cool and very clever, Wave definitely deserves your attention.
Or how about Next, from Portuguese manufacturer Brittos, a collection of wall hung cupboards and open units that can make up a structure as large or as small as you want it to be.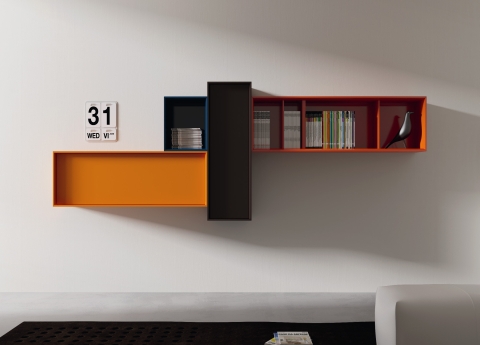 Very clever. Very creative.  We're just wondering if Boris might accept something from us next time the Fourth Plinth has a space…