We celebrated being part of The London Design Festival in style this week!  Our doors were open until late and we had tons of visitors and friends popping by.  London is the design capital of the world and we LOVE being part of it.  The Kings Road was buzzing more than usual and the newly formed Chelsea Design Quarter proved itself to be London's uniquely eclectic interiors hub.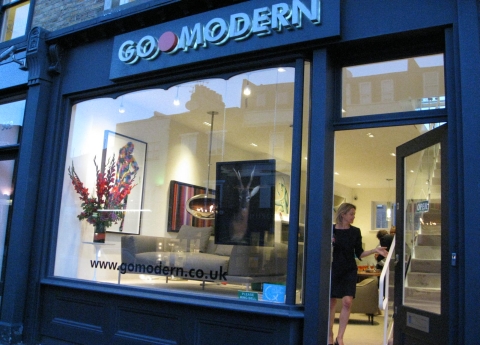 We took the opportunity to show off (also more than usual) and brought into the showroom a number of our favourite contemporary design classics, from international award winners to simply beautifully crafted modern pieces.
New pieces in the showroom include a 'designed & made just for us' Carerra sofa from Michael Tyler with leather piping, custom walnut feet & a fantastic fabric not usually available (also used by a top Italian brand for their upholstery). Not only does it look fab it is SO comfortable. This photo is of our one.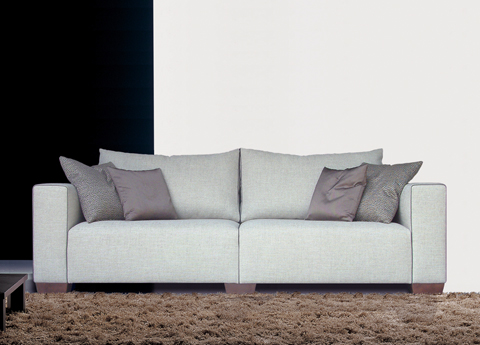 We also managed to finally get our hands on a Vibieffe Class high back armchair. Always popular with Interior Designers & Architects this Italian designed & made armchair is ultra contemporary but quite classic at the same time.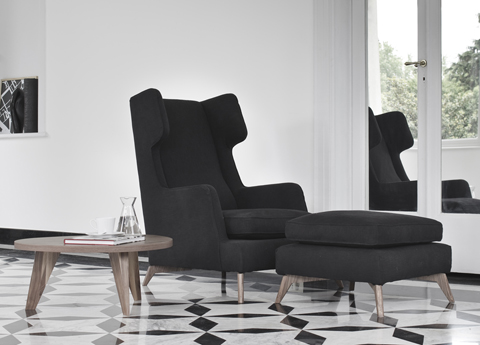 But the biggest change in our showroom was our new modern art collection! With 17 new pieces it's a significant exhibition of contemporary art from some very talented up & coming artists (of course they are all for sale too!). They aren't on the website, so do drop by to see them. A carefully edited collection, we have smaller works from £800 right up to some quite large pieces from very well established artists for £3,000-4,000 (ex VAT).  They look amazing with our furniture too, which helps!
One of our favourite pieces is Pride & Glory (Roe Buck) by the talented Scottish artist Allan Forsyth.  We love this so much it's currently in our window – a stunning 3D Lenticular with eyes that cleverly follow you as you enter the shop. A little bit of Allan's beloved Scottish Highlands in the Kings Road – bet that's a first!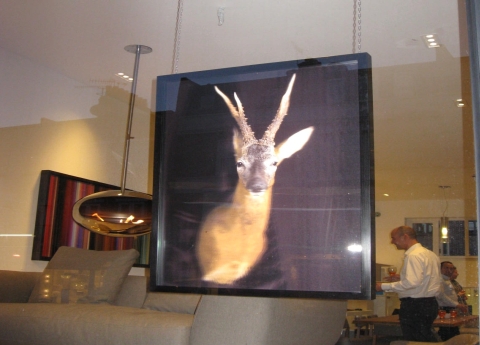 Also attracting much comment was Chuck Elliot's
Collider /gilded Mandala
 – a metallic lamda print, laser cut circular diasec mount, 120cm in diameter. Striking, computer generated, 

kaleidoscopic

 free form shapes, cropped and recoloured.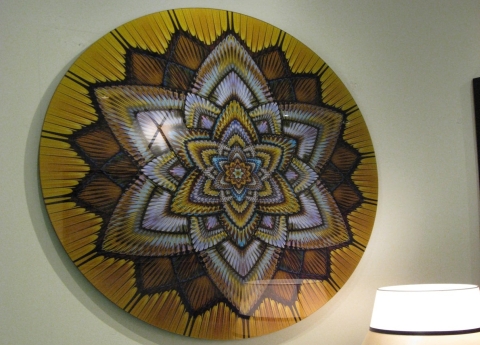 And bringing a bit of pop art iconography into play – Black Coke / Blue Coke / Red Coke by the artist known as James Gallas (we say 'known as' because intriguingly that's a pseudonym… so, did he join us last night?).  This series of three pictures are part of a limited edition of eight screen prints, velvet flocking on linen.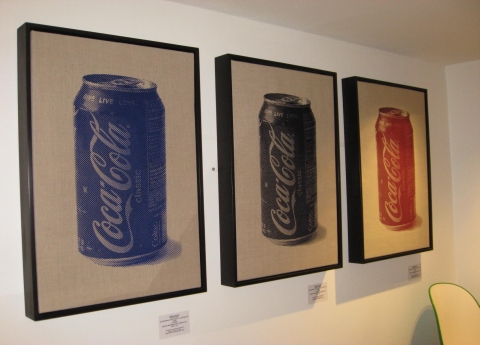 Plus the very talented Mr Rufus Knight-Webb, looking very dashing in a vintage admiral's jacket no less, hot footing it from south London with a number of his pieces including 'oh', an abstract seascape.  We asked him why the name…and he said, "because after I'd finished painting, that's exactly what I said!"  So, there you have it.  Contemporary art: genius; unique; intriguing  – damned creative.