Outdoor style. Quality and longevity are high on the list of what we look for in outdoor furniture.  And alongside that are the materials.
Looking good for as long as possible is a prerequisite of our outdoor furniture. Which is why the materials used take equal precedence. We know that high quality garden furniture is a serious investment.  Choose wisely however and it is something that will see excellent returns for years to come.  The planet will thank you too.
So we thought we'd highlight a few of this year's star outdoor designs and briefly walk you around the material used. Because however stylish the design, materials matter.
New for summer 2022
Tribù's Tosca low garden table is brand new for this summer. At 67 cm high, it's a nod to that slow living/dining that wellness experts recommend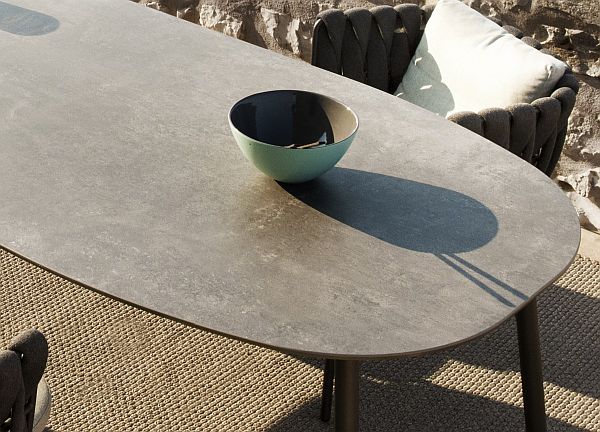 Tosca's table top scores 10 out of 10 on the materials front. It's designed by Monica Armani and offered in five beautiful hard-wearing ceramics.
Ceramic
Ceramic is a super-hero material. Perfect for when your table is going to be a big part of the garden action. And here's why. It's resistant to fire, UV rays, scratching and chemical products. Which we imagine covers most dining events.
It comprises a mixture of sand, clay and natural stone that is layered and then heated at 1100°c.  This process creates an incredibly hard-wearing, hygienic surface. It's also environmentally friendly.  Indestructible credentials, impeccable outdoor style.
Teak
A material long-associated with garden furniture is teak. It's therefore no surprise that Manutti's sophisticated new sun loungers, Sunrise, feature this beautifully solid, durable wood.
Teak is quite simply a super-hero wood.  It can be left outside all year round surviving the worst weather.  Which means it's virtually maintenance free. Over time, however, teak will turn a silvery-grey. But importantly that's purely cosmetic. This weathered look doesn't harm the strength or quality of the wood. If you want to keep its warm, honey tones some seasonal oiling will help maintain its beautiful natural tones.
Powder-coated Aluminium
Italian brand Fast have a long tradition of manufacturing in aluminium.  Their reputation is second to none for modern outdoor style. It therefore follows that one of their latest ranges, Aikana by designer Emmanuel Gallina, upholds the look.
Aikana's strong durable aluminium frame has been given a weather-proof seal.  This is then followed by several layers of powder-coated paint.  Perfect for any kind of weather. In addition you're also spoiled for choice when it comes to colour. That's because aluminium loves a lacquer finish. Aikana, for example, comes in 14 different colours, from the blue teal seen here to exotic pearly gold.
For those of you into the science, here goes. Fluidised powder-coating is applied to the aluminium structure by an electrostatic spray. To give it maximum solidity and resistance, the material is then heated to between 160°C (320°F) and 210°C (410°F).
Perugia based Emu have been in the business of making garden furniture for a long-time. Their 70+ year old name is synonymous with innovation, style and longevity.
Galvanized Steel
Emu's Arc en Ciel collection is now a firm favourite with all of us. For this range the choice of material is lacquered galvanized steel.  As with aluminium there's a huge variety of colours to choose from. In fact Arc en Ciel (French for rainbow) has 18 colours on offer.
And the science? Galvanised steel is coated with a thin layer of zinc. This zinc coating protects the steel beneath it from rust. Which in turn makes it resistant to degradation when exposed to the weather.  As a consequence it's an ideal choice for garden furniture.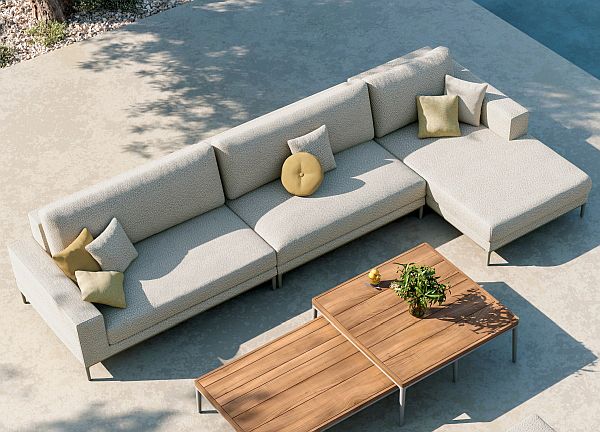 Outdoor Fabrics
The mantra for garden furniture over the last few years has been 'taking the indoors out'.  Or in other words using interior style outdoors.
Fabrics, therefore, are crucially important. Not only must garden furniture LOOK like indoor furniture, it's got to FEEL like it too. No scratchy, rough fabrics allowed.
Step forward Manutti's Zendo Sense (above). One of our best sellers. And it's been given a make-over for 2022!
The fabrics are as always weatherproof, water repellent, fade resistant and soft to the touch.  They look and feel exactly like indoor fabrics. Fillings are also breathable, letting moisture out to prevent moulding.
The choice of outdoor fabrics now is extensive.  From garden suitable velvets to acrylics and polyesters. There's even outdoor eco-leather (artificial leather) created from PES fabric with a PCV coating. There's never been a better time for choosing to take the indoors out.
So, a brief tour of just a few of our fabulous new garden furniture pieces.  And they're all standing by for summer 2022. Whatever the weather.