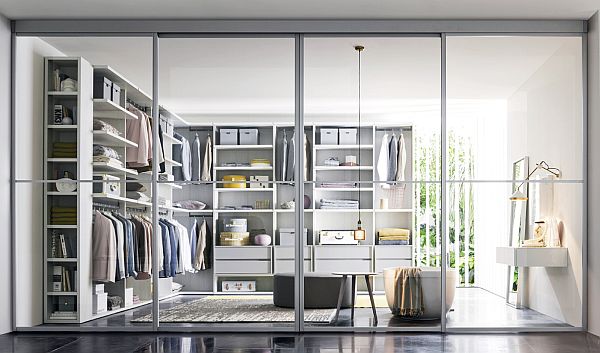 'And Just Like That…' the sequel to Sex in the City is over.  Just like that.  Love it or hate it… (afraid the latter for us) we're still drooling over Carrie's fabulous walk-in wardrobe.
A walk-in wardrobe is top of everyone's fantasy list. Isn't it? But if you've always thought it was the stuff of Hollywood lifestyles talk to us about how we could make it work for you.
The best walk-in wardrobes will work in practically any space. You absolutely do not need to live in an L.A. mansion with 20 bedrooms. As Carrie frequently demonstrated, to be able to walk into a space where all your clothes and accessories are neatly displayed has got to be one of life's pleasures. And so practical right?
Small space walk-in wardrobes
If you're coveting a walk-in but only have a small bedroom you really aren't going to miss out.  The answer is to redefine what we mean by walk-in wardrobes.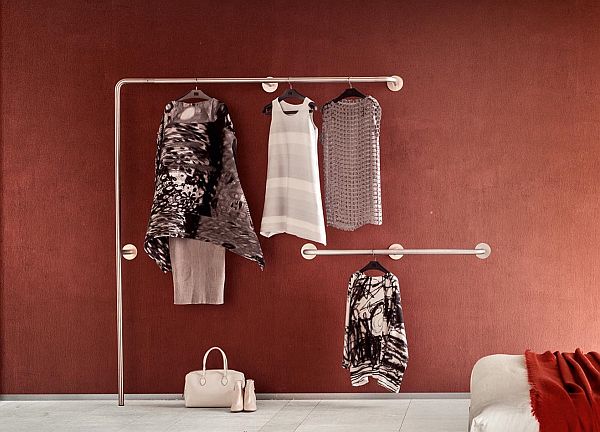 The Pianca Snake walk in wardrobe is a good place to start. That's because it's a new take on the classic walk-in. Absolutely no doors, simply a set of stylish, satin stainless steel pipes used to create functional, playful spaces and shapes. The tailor made dimensions allow for the creation of any composition.
If your bedroom really is tiny (and we've seen a few in new builds that are…let's say snug) making a feature of your wardrobe like this is a great answer. If you lack depth then 'floating' rails and shelves are not only practical but with the right design they're also decorative. Although you'll have to promise to keep the clutter in check.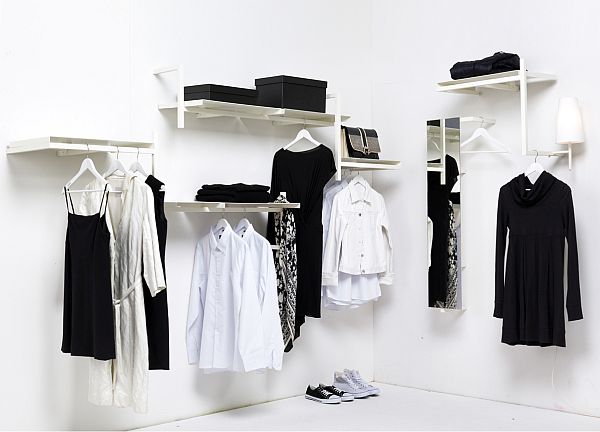 Here's another 'visible walk-in' from our Italian brand Mogg. The Antogologia wardrobe system goes from a single module to an endless wall of  shelves and rails. We absolutely love its ultra clean, contemporary look.  And absolutely no visible fixings – Carrie would approve. You can order it in a polished lead or matt white finish (as above).
There are six different types of modules and two styles of shelves. You can also add a full length mirror. Then you have fun deciding which way you want to hang them (or ask one of our designers for their advice).
Keeping it hidden
Much as you might want to show off the Louboutins and Jimmy Choos, there's a lot to be said for keeping everything out of line of sight in the bedroom. An uncluttered mind and all that usually helps with the sleep situation.
We've long been fans of interior designer/blogger Kate Watson-Smyth and her Mad About the House Blog.  So when a few years ago she decided to create a walk-in (or 'walk-through' as she describes it) in her main bedroom we were all eyes.
Kate confesses that the bedroom is a big room (about 17 feet long). Following advice from a friend ("You need to be able to walk through the gap with your hands sticking out from your sides as if you were a penguin") she had a wall installed, remembering to also leave hanger space. It was also important to make it look like an original wall: cue the addition of a picture rail, electric sockets and a skirting board in this case. She advises making sure that the sleeping place you have left is big enough to be able to move around the bed, leaving room for bedside tables.
Doors across shelves and hanging rails were rejected as she wanted a light and airy feel (and somewhere the moths couldn't hide!).  Bravo – we love it!
Bedroom corners
If you've got an L-shaped bedroom, or a bedroom with a free corner our wardrobe brands offer lots of imaginative solutions.  You need to use the space creatively (again, talk to one of our designers and they'll be happy to come up with something that works for you).
In the Pianca Vista walk-in above, two rows of open shelving have been installed with hanging rails below. More shelves and drawers are positioned below these.  That then leaves space on the right for longer hanging garments or taller objects. Neat isn't it. The doors are robust but ultra-thin, designed to leave you with as much storage space as possible.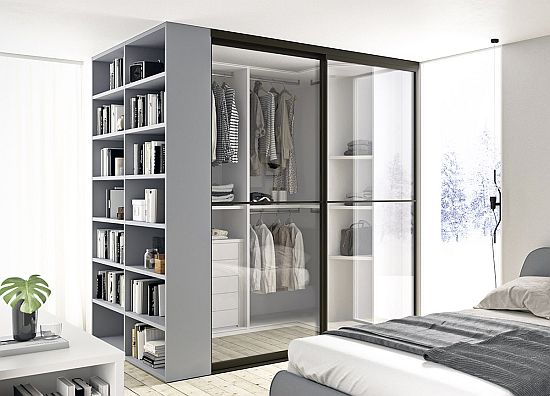 The Scatola range of walk-in wardrobes is a similar idea. This one has been fitted with exterior shelves for books and glass doors.  You can, however, opt for mirrored doors. They're not only practical but will also bounce a huge amount of light around the room.
Sliding doors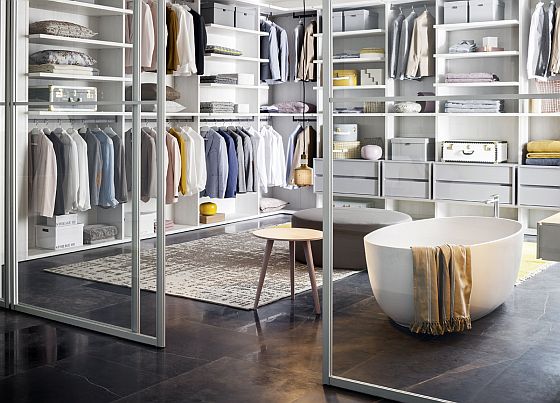 If you opt for sliding doors across your walk-in area there are obviously some great plus points. The one's above are glass but if you go for a mirrored, wood or a lacquered finish you won't have to worry too much about being Marie Kondo tidy.
If you have decided to knock down a wall between a main bedroom and a smaller bedroom, sliding doors create the perfect 'reveal'. You also don't have to worry about having enough room for swing-open doors. And they create a fabulous streamlined look.
The sliding doors on the Fume walk-in above can be ceiling or wall mounted and customised to fit almost any space. There are also lots of choices when it comes to finishes.  The back panels on this one can not only be fitted around corners but there are 15 different finishes to spend hours drooling over.
And just like that… you too can have a walk-in wardrobe.