So, has it been hot enough for you this week?  Too hot?  The days have been sizzling – a bit too much for us if we're honest.  Which is why the cool of the evening becomes the time for a little outdoor socialising.
And when the magic of outdoor lighting begins.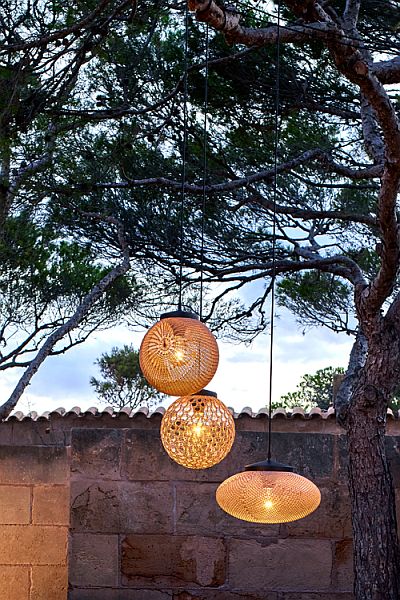 Outdoor lighting is a must for extending the day and enjoying some evening chilling.  We've noted that it's already passed midsummer's day (how?) and the nights are gradually becoming shorter.
Which is why strategically placed outdoor lanterns or pendants will create a whole new world of evening fun.
Hand-crafted designs
We put great importance on hand-crafted hand-finished designs.  One of our favourite outdoor lighting ranges therefore is the Monsieur Tricot collection by Belgium based Tribù.
The intriguing Monsieur Tricot was created by Belgian designer Ilia Eckhardt. Ilia's background is fashion. His mother, Hilde Frunt, worked for Belgian fashion designers such as Raf Simons and Dries Van Noten. The seeds for Ilia were sewn (or even knitted…). Excited by this world he experimented with innovative knitting techniques and materials.
Monsieur Tricot was born
The result?  The fantastic Monsieur Tricot. The first ever range of LED dimmable, knitted weatherproof lighting. Using high-performance materials, each light is hand-crocheted and knitted.  Say hello to: Monsieur Lebonnet, Madame Latoque, Madame Cachet and Monsieur Ellipse. Why the different names? That's because each lamp creatively has a different style and different knitting pattern.
Flexible lights
As well as being totally weatherproof Monsieur Tricot is flexible.  Floor lamps, for example, are rechargeable battery-powered. And if you fancy hanging them in the trees there's a useful hanging hook included.  Oh, and did we mention they are award-winners? How remiss.  Yep, in 2020 they picked up the prestigious German Design Award. What's stopping you?⁠⠀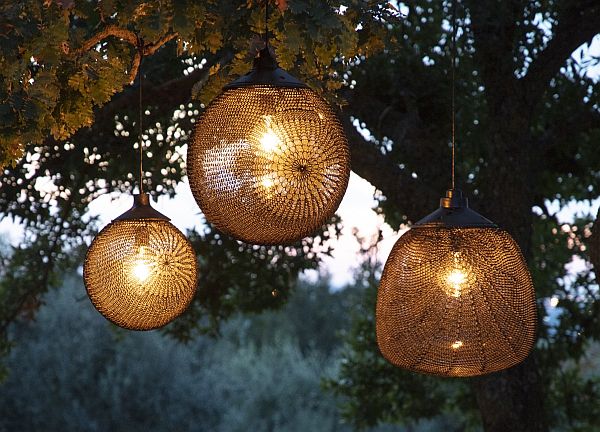 But we can't let Monsieur Tricot take all the limelight.
And if we're maxing on idioms here we might as well mention a light we've long held a candle for.
Garden candles
Manutti's Flame Garden Candle Holder will have everyone guessing.  Is it a candle or is it a sophisticated LED Light? Well it's kind of both.  It looks like a real candle but it is in fact a remote controlled Lumo LED light.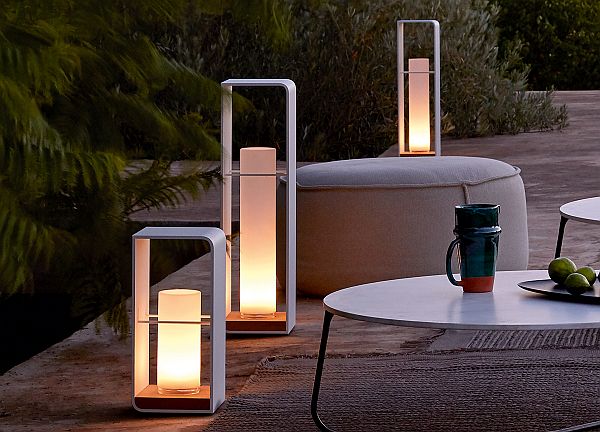 Flame comes in white or lava.  You can also mix and match sizes with three different heights.  And if arguing over the TV remote control isn't enough for you, you can choose a single charger with one remote control or opt for a multi-charger with two. Marriage guidance not included.
The Magic of Muse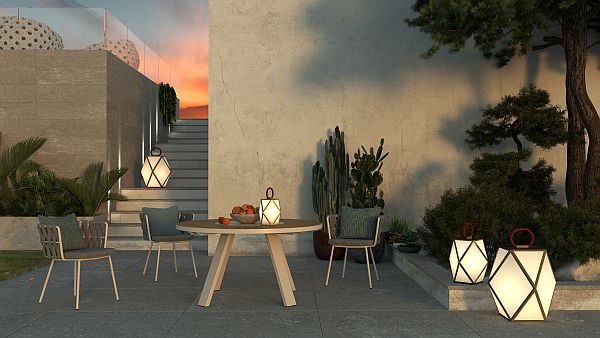 In ancient Greek mythology a Muse was a goddess.  A source of knowledge and eulogised in songs, poetry and stories.  For lighting specialist Contardi Muse is an elegant collection of outdoor lamps.  But surely worth a little poetry of their own?
Muse features strong plexi glass outers, metal frames and a plaited weatherproof leather handle. They're powered using re-chargeable batteries and LED strips (which use much less power – one charge will last about 5 hours). The latest versions feature beautiful mid-blue frames. Togas at the ready (yes we know that's Roman but they're an Italian brand).
Taking the indoors out
There's been acres written about taking the indoors out.   So we won't add to the deluge but just to say our Italian outdoor furniture specialist Emu has one of the most stylish indoor-style outdoor lights around.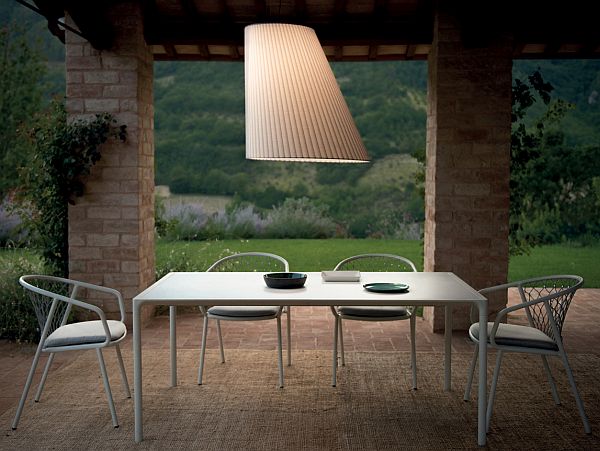 Cone, by Chiaramonte & Marin, takes inspiration from 1950s style. This modern version however uses up to the minute weatherproof materials and we love its over-size proportions.
The frame is in corten lacquered steel, while the diffuser is in pleated white fabric. You can also use it outdoors for most of the year (but do check cleaning and protection recommendations).  And if you like the style there's also a table lamp and a couple of floor standing versions.
We'll leave the last word to Puck, that master of a little Midsummer Magic:
If we shadows have offended,
Think but this, and all is mended,
That you have but slumbered here
While these visions did appear.
So create your own outdoor magic and check out our full outdoor lighting collection here.