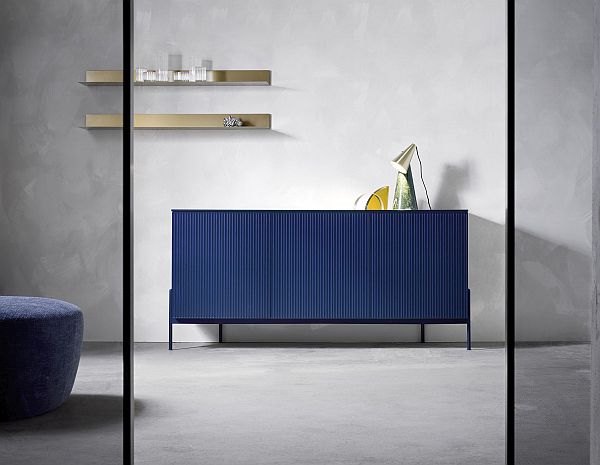 Welcome to the party.  The colour block party that is.  Colour blocking is the way to go to give your interiors' schemes some bold vibrancy. And ask yourself – does beige really bring you any joy?
Colour blocking
This retro-trend is right on trend again.  The idea of taking blocks of solid colour and positioning them together is nothing new. The fashion world has long championed the look; Yves Saint Laurent's Mondrian dress in the 60s brought the style worldwide fame.
Dutch artist Piet Mondrian first created the look back in the early 1900s, and other artists followed. In his later work he used the simple combination of straight lines, right angles, primary colours, and black, white, and grey. And of course the vibrant, colourful Pop Art world of the 1950s and 60s famously echoed the style.
Big on colour
At Go Modern we've always been big on colour.  Which includes offering our customers the widest choice of matt and gloss finishes. And the art of colour blocking is favoured by more than one of our brands.
A great new solid colour piece is Novamobili's latest sideboard, Belt.  It's finished here (above) in a beautiful matt midnight blue, and its visual impact is striking. Novamobili have also chosen a black outer frame to give the piece a dramatic graphic look. Placed against a neutral wall, or even another colour, it will create the perfect colour blocking effect.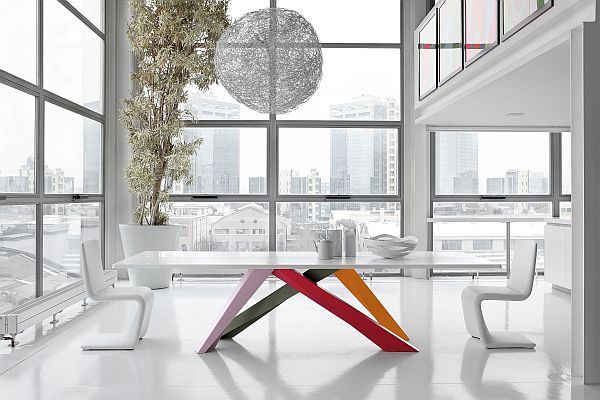 An early modern adopter of colour blocking is Bonaldo. Nothing demonstrates the look better than their award-winning Big Table. Designer Alain Giles uses contrasting, punchy shades on the legs to give movement and vibrancy.  And the table's clean lines are dramatically accentuated by the solidity of the colours.
The Macaone table, however, by Alessandro Mendini for Zanotta, undoubtedly steals the lead.  It definitely has the colour blocking wow factor!
Zanotta's current table is a remake of the designer's 1985 classic design. A big proponent of Post-Modernism and Radical Design, Mendini said of his table "my idea was to re-interpret and give life to the stylistic features of the Fifties, typical of that Italian interior design".
Bold hues
Mogg's Ritrati cabinet has always been a favourite of ours.  Designed by Marzia & Leo Dainelli it was inspired by "the light and reflections of Paris as the sun crosses Notre Dame". And come on, who doesn't love a bit of Parisienne romance?
Ritratti features strong bold colours and sharp graphic lines.  It does colour blocking perfectly. Its unusual sloping corner also gives it an asymmetrical shape with the block colours adding to the fun with perspective.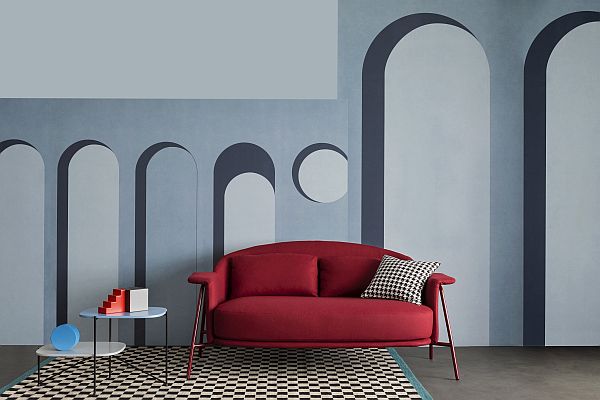 Simple shapes and one or two strong, juxtaposed colours define the colour blocking look.  Saba Italia captures the style well.  Their Kepi sofa, by Emilio Nanni, is covered here in a solid Bordeaux red fabric with a visible frame in the same colour.
For a true colour blocking look try scatter cushions in colours from opposite sides of the colour wheel spectrum.  For example, green/red or purple/yellow. Opposite or clashing colours will provide that vibrant look.  Or, if you're not that brave, stick with complementing shades. And a few rather than many.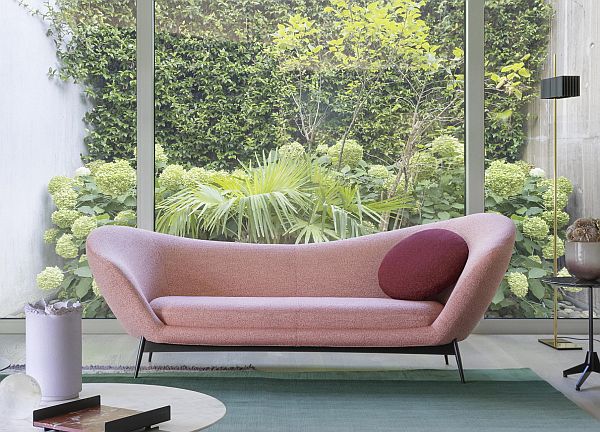 Superstar pieces
For a room desperate for a dramatic facelift, opt for a zingy dramatic block of bright colour.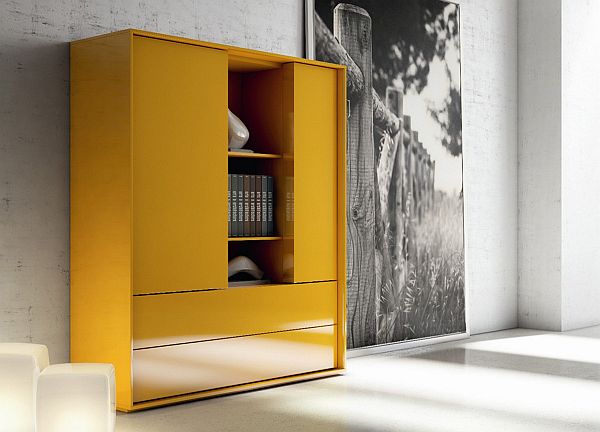 A large colour block piece against a neutral wall looks fantastic.  The Avante Tall Sideboard not only draws the eye but in this bold yellow shade becomes the superstar bringing sunshine into the room. This unit is also only 40cm deep (a fab, unusually slim size for a cabinet) but offers tons of storage.
Design your own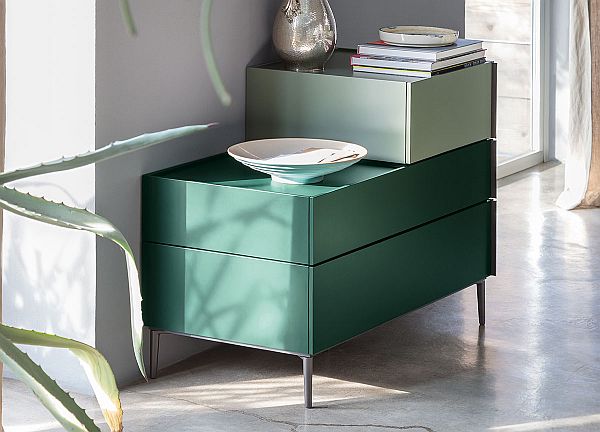 Novamobili are one of the masters of mix-and-match colour blocking.  Their Giro Giro chest of drawers for example, by E-ggs, lends itself perfectly to the style. It's been finished here in two shades of green: forest and leaf.  The colour blocking elevates what is already an excellent chest of drawers to another design level.
A subtle art
Italian glass wizards Tonelli Design, have subtly applied the technique to one of their many stylish mirrors.  The aptly named Aperture mirror, by Karim Rashid, has an internal LED lit shelf which can be lacquered in white pink or black.  It's a great colour block technique as well as a practical design feature.
So if colour blocking appeals, be bold.  Liven up a bland space with an injection of block colour. From walls to doors or a statement piece of furniture – join the block party.