Official government guidance that we should 'all work from home if we can' may be dropped from 21st June.  Anyone got a crystal ball? We're still trying to work out our greens from our ambers to our reds.
Talking to customers and friends, however, the consensus seems to be that many of us would like to continue to work from home for the foreseeable future, or at least for some of the week.
And as summer finally looks like it's arrived (shhh) moving your home office to the garden could be the way to go.  So, a few suggestions here from us to help make your outdoor office as comfortable, weatherproof and, of course, stylish as possible.
Create a little shade (or shelter from the rain!)
It goes without saying that our British weather is capricious.  Too sunny?  Rain clouds hovering?  Plan an event in the garden and it's bound to rain on your parade.  A parasol is a good all round solution.  A wide, weatherproof and easy to put up/take down design is an outdoor office must.
A parasol that we are very excited about this year is the Shade Pro Parasol from Emu.  It's available in two impressive sizes: 303cm wide x 323cm deep and 403cm wide x 325cm deep.
We love the versatility of this design which can be rotated as the sun moves round during the day. Also (and for those of you who regularly do battle with your garden parasol) you'll be pleased to know that this one is very easy to use, with an open/close mechanism powered by an internal gas spring.
And there's some fabulous integral lighting too (although optional) with a battery operated remote control and a range of light settings from warm to cool. Which means blurring the edges between 'daytime outdoor office' and 'evening home chilling' is made beautifully easy.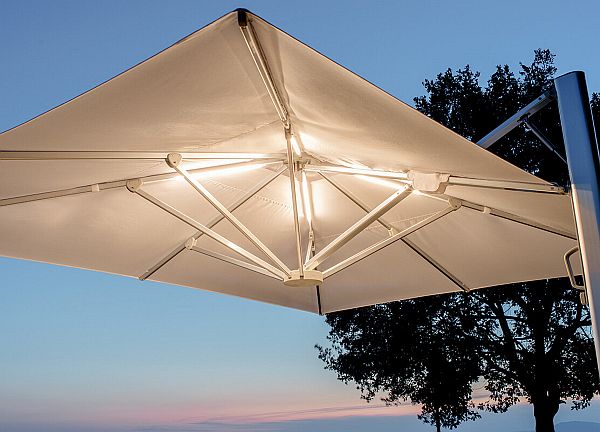 Outdoor office desk
The size and style of your outdoor office desk obviously depends on the size and style of your garden. And, of course, your work set up.
Our garden tables range from sustainably sourced teak through to minimalist, sleek powder-coated aluminium.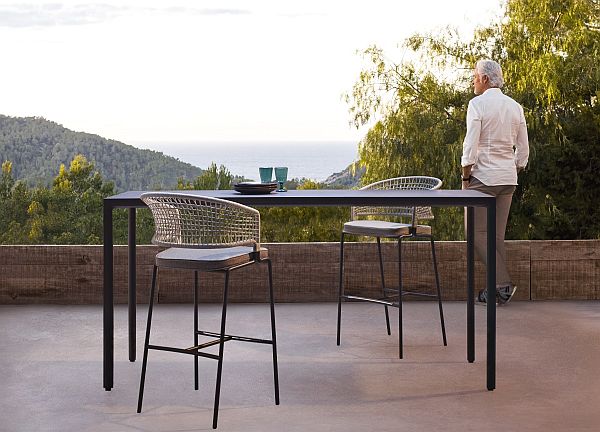 Many of our garden furniture brands also make stylish bar tables to complement their collections. As with all our garden furniture, they're totally weatherproof and designed to last a lifetime.
Bar tables are perfect for a spot of outdoor office working as they're just the right size for accommodating a laptop, notebook and compulsory cappuccino.  Slimline dimensions make them easy to tuck up against a wall and, paired with a bar stool or two your minimalist outdoor office is complete.
Extend your options
Our garden tables come in all shapes and sizes and also include harder to find extending versions.  So if your outdoor office desk also needs to double-up as a family and friends garden dining table we've got that covered too.
Outdoor garden furniture specialist Manutti have a number of extending tables including the stylish Luna, above, which extends from 240cm to a huge 360cm, easily able to accommodate up to 12 people. Again, Manutti have made life easy as the extending function uses an 'easy slide' system.
And you can move from outdoor office to evening dinner party mode with the clever (and very stylish) addition of remote controlled LED lighting strips – perfect for after dark drinks and dining.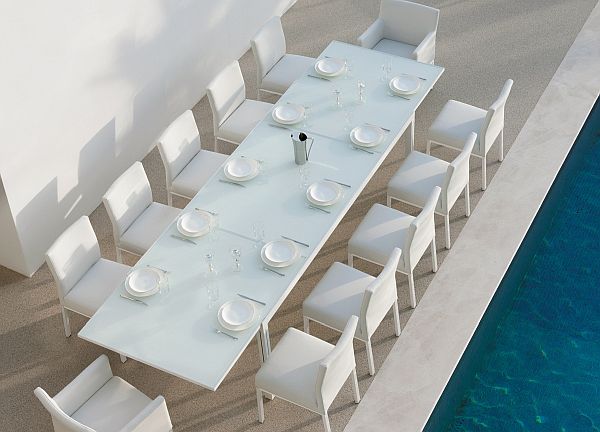 The Luna table is also offered in a range of colours.  Go for a hard-wearing acid-etched glass top or different shades of indestructible ceramic. It's also got adjustable feet which will keep keep everything on the level (even if your patio isn't!).
The Outdoor Office Sofa
Everyone needs an office sofa. And perhaps an office armchair.  How else to do that relaxed office brainstorm?
If you're designing the ultimate luxury outdoor office, Tribù's Natal Alu modular garden sofa is worth a closer look.
It's a modular design, with 13 different pieces, all of which neatly combine to allow you to configure it to fit your space. The frame is in powder-coated aluminium and the deep, comfortable outdoor cushions are mildew UV and rot resistant.  We'll add a warning here however: after sitting on it for sometime, going back to work may prove rather difficult.
Compact style
If outdoor space is a little on the compact side we have smaller, fold-away designs, including Emu's funky Snooze Director's Chair.
The fabric on these is a wonderful weatherproof material called Emu Tex, specifically made to withstand the elements.  There are ten different colour-ways to choose from and if you fancy putting your feet-up there's also a matching footstool.
Thinking Time
We probably don't have enough of it.  But it's something we're always told we should build into the day.  Thinking time.
If you are a fan of the iconic Missoni brand then their garden hammock, Luna, will bring you great joy! And a great place for thinking.
The Luna hammock is made in 3-ply twisted nylon yarn, and the print is a beautiful understated mid-west palette of browns, greens and creams. And, as you would expect from this world-famous fashion name, it comes complete with it's very own (and rather cute) Missoni Bag.
Outdoor Screen Time
No not the type we all do too much of.  This screen time is to do with partitioning or screening your garden space/outdoor office.
Screens or dividers are a terrific and easy way to partition a room. They're also great for providing some privacy if, for example, you're over-looked.
Saba Italia's Shades of Venice dividers come in two different heights and can be used indoors or out.  The material is a woven nautical rope and the various colour-ways are inspired by the colours seen of the Venetian islands. How romantic is that? If we can't easily go to Venice at the moment then let's bring a little of Venice to us.
So enjoy summer, now it's finally here, and take the time to create your perfect outdoor office.  It promises to be something that's going to be a big part of our lives for sometime to come.