We're thrilled to announce that the stunning Saba Italia Shades of Venice screens, by designer Marco Zito, have been chosen for this year's Venice Design Biennial.
The Biennial is THE festival that attracts the eyes of the art world.  It combines glamour, art and history in one of the world's most beautiful cities.
Shades of Venice are on display in the Archaeological Museum, Piazza San Marco.  They're part of a collection called 'Past Forward.  Designers for the Land of Venice', featuring work by 16 designers who live and work in the city.
Shades of Venice
The colours and names for the Shades of Venice screens were inspired by some of the magical Venetian islands. Designer Zito captures the islands' 'glow and colours' recreating them using woven nautical cords. They're one of our most popular screens so it's great to see them receive this prestigious recognition.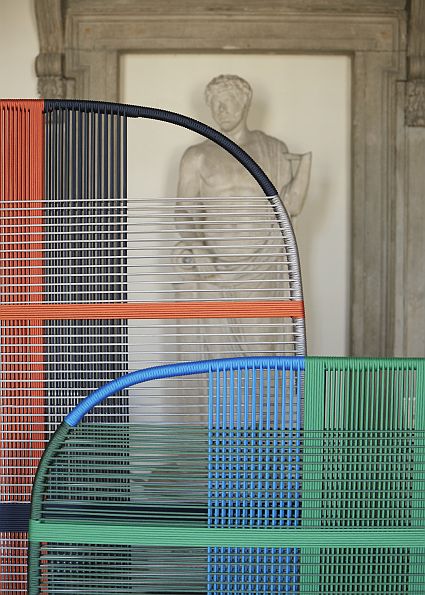 Islands and colours
Each screen in the four collections is named after a Venetian island.  Murano, Burano, Giudecca and Sant'Erasmo. If you're a regular visitor to Venice or have been on holiday there those names will be familiar.  And each island has its own particular style and personality.
The colours of Murano for example are a reflection of the beautiful blue and green of the world famous Murano glass produced there.
The muted orange and blue of the Burano screens echo the colourful houses on the small island of Burano.
The island of Giudecca is known for the white stone of its houses.  While the green gardens and an abundance of vegetables, such as artichokes, are symbolic of Sant'Erasmo.
The Shades of Venice woven cord plays with positive and negative space.  The result is a peek-a-boo effect which subtly reveals the surroundings beyond.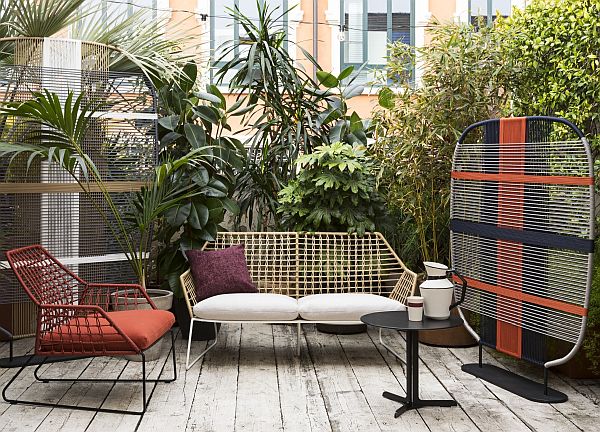 The Shades' superb design credentials also make them incredibly flexible.
The nautical cords are completely weatherproof, meaning they're great for balconies or patios.  And because they're so stylish the screens also work perfectly indoors.  Terrific, for example, at screening a home-office set up.  Or equally effective dividing a dressing area in a bedroom or bathroom.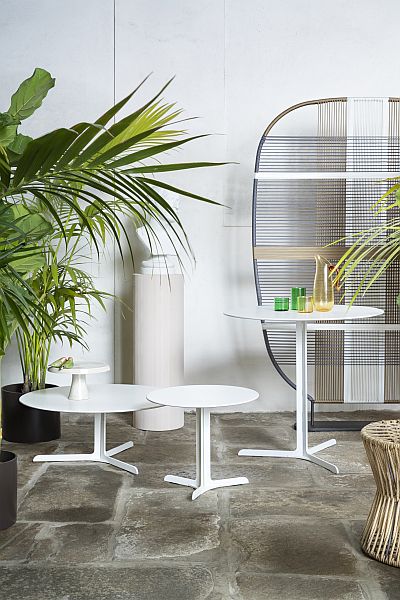 Check out the full Shades of Venice collection here.
Venice Design Biennial
The Venice Design Biennial takes place every two years and coincides with the Architecture Biennial, with exhibitions spread across iconic venues.  The festival also includes talks, a residency for emerging designers and a 'journal of digital content'.
The Biennial aims to catch the zeitgeist of our times.  It normally attracts thousands of artists, curators, museum directors and other art fans. And Venice itself is obviously a huge draw; incredible architecture, miles of inky canals and, of course, that beautiful light.
Mark Zito
Based in Venice, Mark Zito is an award-winning designer with a studio specialising in product design, interior design and architecture.
Saba Italia
One of Italy's best kept secrets. Saba Italia have been creating stunning contemporary furniture since 1988. Cutting edge designs; always technically excellent and beautifully crafted. Saba's motto is "harmony and creativity for perfect living". Which is why Italians (and Go Modern) love them.