Manutti is one of the world's foremost specialists in the design and manufacture of luxury outdoor furniture.  Go Modern has had the privilege of working with them for over 10 years in which time we have seen this amazing company go from strength to strength.
One of the company's most prolific designers is Stephane de Winter.  Stephane is also the CEO and original brains behind Manutti, which will be celebrating its 20th anniversary next year.
A little background
Stephane grew up in Belgium where his father owned a flax processing company, which made mainly linen for textiles.  With such a background, materials and textiles, as you might imagine, are part of his DNA.
We asked Stephane to tell us a little bit more about himself and the journey to where he and Manutti are today.
GM: Growing up there must have been much talk around the dinner table of textiles and manufacturing. Was it inevitable you would end up in this area?
SDW: My upbringing in the textile industry definitely triggered my interest in the technicalities and designs of textiles, as well as design in general. I wouldn't necessarily say that this specific industry was defining for my future.  It did, however, provide me with a very valuable knowledge base to enter the furniture industry.
An entrepreneurial environment was more defining for me than the specific industry my parents were active in.
I will admit it took some experimenting with different vocations before I discovered my true passion. My studies included accounting and languages and I even explored the hospitality industry before settling in the furniture industry. Throughout it all I always knew I wanted to run my own business and write my own story.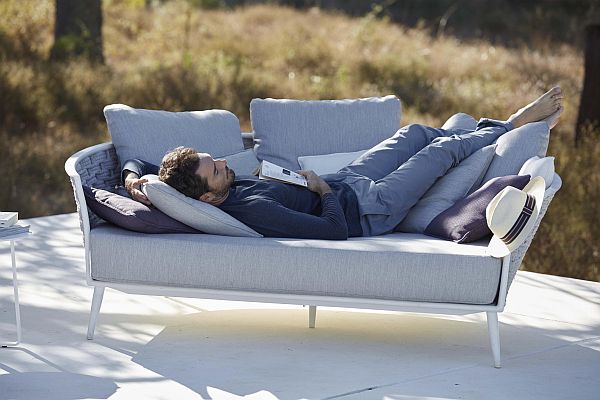 GM: Belgium, much like the UK, is on the edges of the Northern hemisphere.  Our fairly unpredictable weather sometimes hampers an outdoors lifestyle. So what was changing in society 20 + years ago to make you feel there was a growing need for high-quality outdoor furniture?
SDW: Despite our unpredictable weather I saw people paying more and more attention to their outdoor spaces. I also noticed that many people were using indoor furniture to decorate their gardens and patios.  There was a lack of luxury, well designed furniture fit for outdoor use. So I saw an opportunity and concluded I could offer a solution.
GM: How would you describe the Manutti 'look'?  Did you set out with a particular style in mind from the beginning?
SDW: Manutti stands for quality and comfort. We do not aim to be the most eccentric or the most colourful brand on the market. Many people choose Manutti because we successfully bring together design and comfort in a timeless manner. Manutti stands for outdoor luxury in every sense of the word.
GM: Manutti is a distinctive name – what are its origins?
SDW: The name 'Manutti' incorporates my son's name – Manu – and my love for Italian design.
GM: What was your first design for the company?
SDW: The first design for Manutti was called Hawaii. It was a collection made out of woven HDPE and was available in many different colours. It was received very positively and its success confirmed the need for Manutti as an outdoor brand.
GM: What would you say are your golden rules when designing outdoor furniture?
SDW: The design needs to be functional, easy to maintain and definitely must invoke a certain outdoor emotion or feeling of summer. It is something I find hard to explain.  But when you look at or sit in a Manutti piece, I want you to immediately experience the feeling of summer. That sensation of the sun touching your face.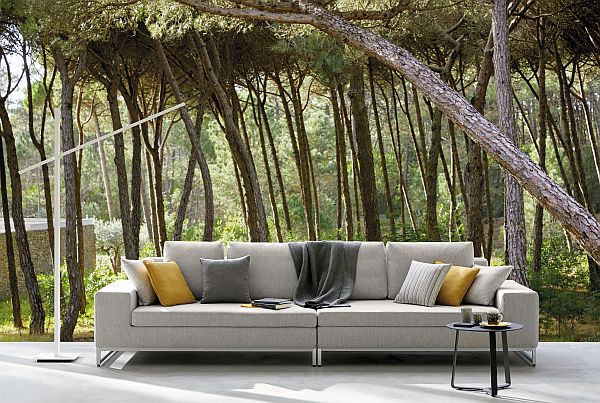 GM: Is there one particular material in the last 20 years that has been revolutionary in the durability of outdoor furniture?
SDW: The evolution of indoor fabrics for outdoor use has seen enormous developments.  It's been instrumental in the development of outdoor furniture in general.
The yachting industry played a key role here. Nautic leather was for a long time the only durable outdoor upholstery option. Now, the technological know-how that was developed years ago for yachts is being combined with the designs of indoor materials. This has resulted in some very interesting fabrics that look great and are very durable for outdoor use.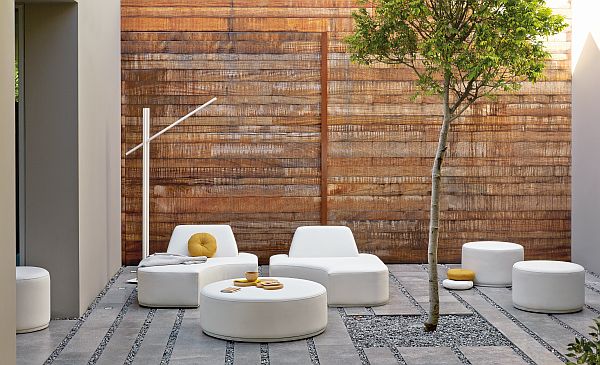 GM: Of all the collections you have designed for Manutti which is your personal favourite?
SDW: The Kobo collection is definitely one of my personal favourites because it requires so much craftmanship to create.
The structure is entirely made of hand-woven rope around a welded aluminium frame. Kobo was specifically designed to emphasize and celebrate the craftmanship that is involved in its production.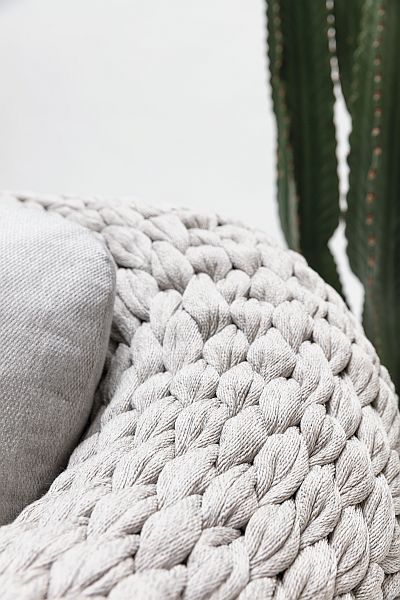 It is something that can only be done by an amazing team of artists in our own facility in Indonesia. It's a masterpiece of craftmanship in weaving combined with technology in the framework.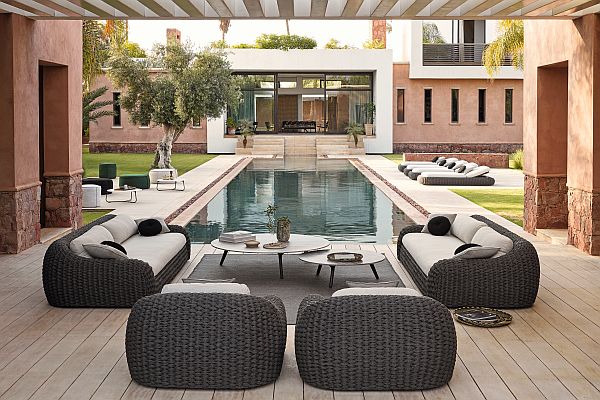 GM: The question always asked of designers (so apologies but we will ask anyway) – where do you get your inspiration for designs?
SDW: When designing, I usually search for ways that allow interiors to seamlessly flow into the outdoors. Outdoor furniture is often viewed from indoors so it is very important that the two complement each other. I also spend a lot of time browsing architectural trends.  I then envision what the perfect accompanying outdoor furniture would look like.
GM: As a human race we grow increasingly concerned about our planet's resources and the terrible consequences of climate change. What is Manutti doing to help in this area?
SDW: Whenever possible, we try to work as sustainably as we can. For example – all our wood comes from responsibly managed forests. For each tree that is cut, Manutti supports the forest with a financial contribution that supports the growth of three new trees.
GM: What has been the biggest stylistic change in the look of garden furniture over the last 20 years?
SDW: What I am noticing most of all is actually what prompted me to start Manutti almost 20 years ago. People want their interior and exterior to flow smoothly into one-another.
20 years ago outdoor furniture was manufactured from a very technical standpoint: it had to withstand the elements. With Manutti, our aim was to bring design and comfort into the equation.
We now notice that more and more consumers – not only design aficionados – are demanding their outdoor furniture is not only functional but also comfortable and beautiful to look at. An often overlooked fact in our northern hemisphere is that people spend a lot of time looking at their outdoor furniture from inside. Even more reason for design to play a significant role!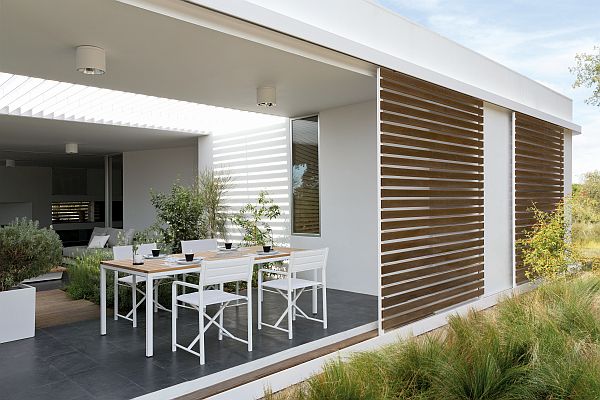 GM: We are all hoping to see the back of the terrible Covid situation by next year. Assuming we will, does Manutti have plans for a 20th celebration?
SDW: Obviously we hope to return to normal as soon as possible. But we must also look at the (relatively) positive effects of this pandemic on our industry. With many people being housebound for extended periods of time – and lucky for us, last year was blessed with some amazing weather – we've seen a renewed appreciation for outdoor spaces.
Investments in outdoor areas are on the rise and we expect they will continue to do so for the time being. In 2022 the complete Manutti team hopes to be able to celebrate our 20th anniversary with a large but hopefully intimate party. When I say intimate, I mean that I hope we can speak, laugh, dance and embrace without the restraints of social distancing and protective wear.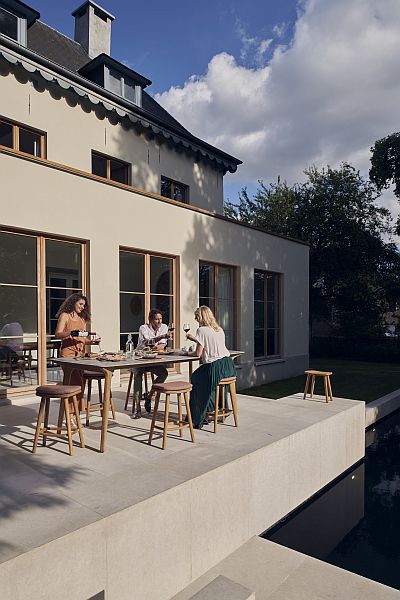 We are also working on some exciting new collections that will be launched in our 20th year but that is about all I can say on that matter for the time being.
With many thanks to Stephane.  If you would like to browse the entire Manutti collection please click here.