Is it the light that makes us feel the need to indulge in a bit of a spring clean?  Probably. And the end of a long winter.
At this time of year the days are gradually getting longer. The sun is higher and the rays brighter.  Despite the unpredictable weather (what's new) spring is definitely trying to make an appearance. Gardening tv programmes and magazines are full of advice on prepping, tidying and sowing.
So we thought we'd put together a few tips on how to spring clean your outdoor furniture.  Here's our advice on what to use, what not to use, and how to keep everything looking as good as new.
Buy once, buy well
Our high quality garden furniture should last a lifetime. Which means if you're one of our customers you're already off to a great start.  Because the Go Modern mantra is: Buy once, buy well.  Better for the planet and better for you. The key is in the materials used and the huge expertise of the designers and manufacturers.
We only ever work with specialist companies.  Companies who have been around a long time and prioritise research and development. They create stylish, practical outdoor furniture that aims to withstand anything our climate decides to throw at it.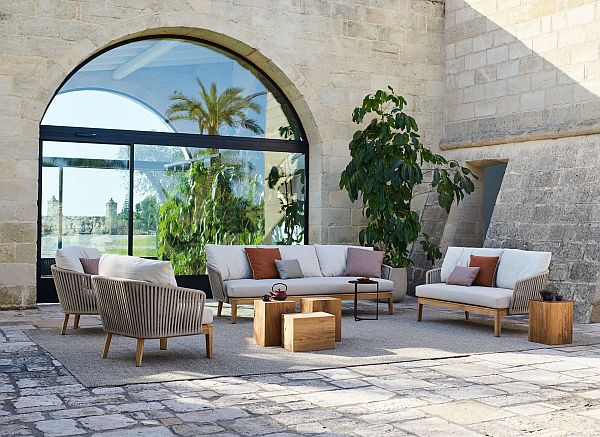 Where to start?
A good place to start is by using protective covers. They are usually an investment of a few extra pounds but a very good investment. It's the simplest way of protecting your outdoor furniture and most of the designs we sell have optional covers.
Specially designed protective covers should always be close-fitting.  They should also be stain, water and mould repellent, with 'breathable' fabric and ties.
However, if your furniture is teak or any other outdoor suitable wood, it's worth removing the covers occasionally to air it.  By doing this you'll avoid any moisture build up underneath as woods, such as teak, contain high levels of oil and natural rubber.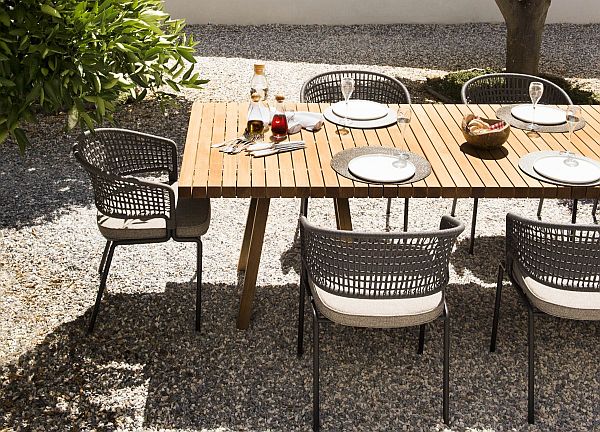 Soapy water
Then it's on to the spring clean. A quick brush or vacuum, followed by a wash down with soapy water and some gentle action with a soft brush will remove the majority of grime.
A dash of washing up liquid in a bucket of warm water is as good as anything.
Washing up liquid generally has a pH value of 7-8 which is considered neutral – so it makes a great cleaning product for most things. Hose any remaining suds away – but step away from your pressure washer at this point, use medium pressure only – and however tempted you are, don't use a harsh scourer.
Stubborn stains
Along with soap and water there are lots of specialist cleaning products on the market.  Our main suppliers also produce cleaning and protective products to tackle stubborn stains and, particularly with teak, bring it back to its beautiful natural state.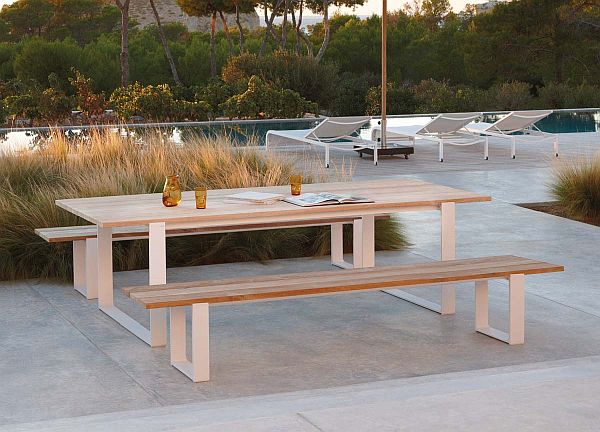 Aluminium and stainless steel
For furniture made from aluminium and stainless steel specialist cleaning waxes will both clean and protect.
Our aluminium and stainless-steel furniture is powder-coated by the manufacturers to provide long-lasting weather resistance. For the odd scratch or abrasion, however, it's worth investing in a manufacturer's 'corrector' pen, with quick drying solvent free liquid paint to repair any minor damage.  We'd recommend buying this at the time of your initial purchase to ensure you have the perfect colour match.
Specialist stainless-steel waxes will also remove superficial oxidation deposits and prevent any future spotting.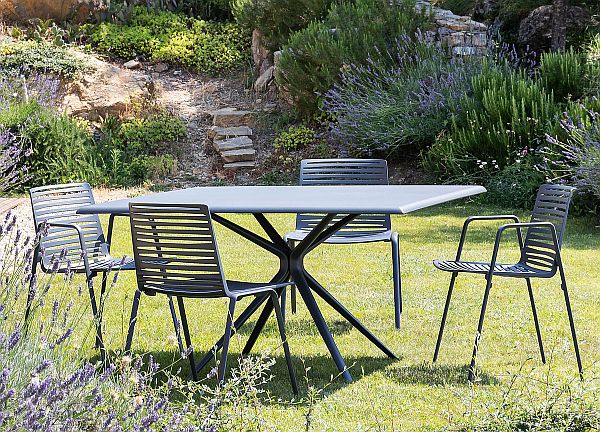 Wooden furniture
Most of our wooden garden furniture is made from high quality teak.  This beautiful sustainable wood should last a generation and more, and requires very little in the way of a spring clean.
As mentioned, teak produces its own natural oils.  If it begins to grey, which happens naturally over time, we advise a specialist cleaner and stain protector with a colour restorer.  This will ensure that the wood is quickly brought back to its original warm, earthy tones. Stubborn stains can also be lightly sanded but always clean/sand in the direction of the grain.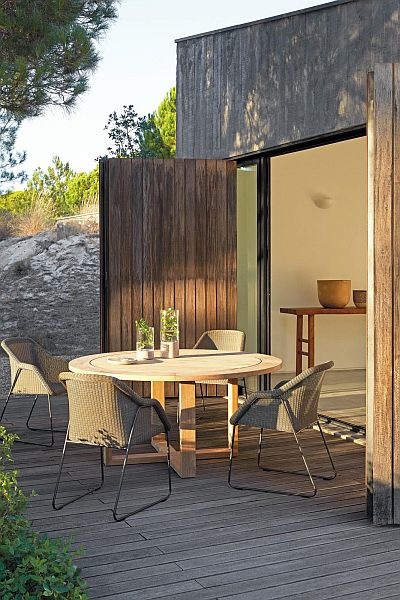 Stone and ceramic finishes
If you've chosen a garden table with a ceramic or stone top you can give yourself a pat on the back at this point. And extra chilling time by the pool.
Both materials look superb in the garden and are highly resistant to weather and family life.
Tribù's Nox garden table, above, is in glazed lava stone which is both heat, water, frost, UV and stain resistant.
Likewise our beautiful ceramic table tops are scratch, UV, water and weather proof.  The Tribù T-table, below, has a delicate cloudy pattern which also adds to its luxurious feel, and comes in five different shades.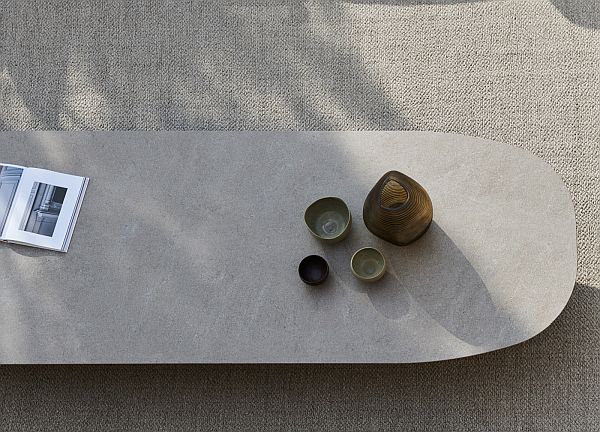 The quicker a stain or oily deposit is mopped up of course the better.  If a stain does prove to be a little stubborn, our manufacturers have produced some superb stone/ceramic cleaners, protectors and refreshers that will do the trick and quickly have a table top looking like brand new.
Rattan
Synthetic rattan in the garden is all the rage too at the moment – has been for a while in fact.
For cleaning synthetic rattan you need a slightly stiffer brush to get between the weave, then it's simply soap and water again, plus hose, to remove the suds.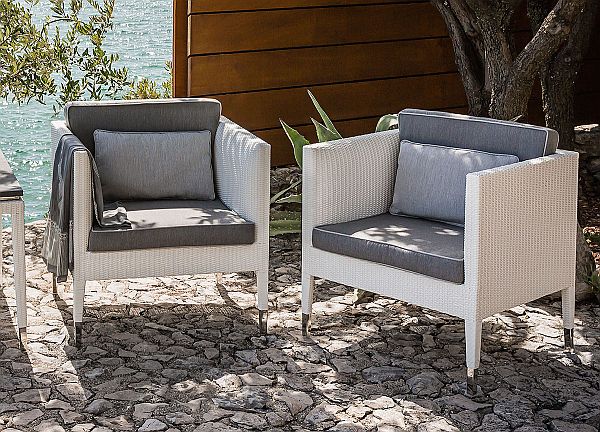 Unlike natural rattan, synthetic rattan is designed to be left outdoors all year round. It's weather-proof credentials are first class, withstanding rain and strong sunlight.  It also doesn't rot or fade, and on those searingly hot days will stay beautifully cool to the touch.
Outdoor fabric
The cushions for the Smania Palau chairs, above, are upholstered in a specialist outdoor fabric by specialist outdoor fabric company Sunbrella.  Sunbrella began life designing textiles for use by the yacht market. Worse things happen at sea it's said – hence their impeccable credentials.
Outdoor fabric should tick all the weatherproof boxes: water repellent, stain proof and colour fast. Which also makes it very easy to keep clean.
Today's outdoor fabrics are simply amazing.  Many now look and feel exactly like indoor fabrics, beautifully tactile and soft to the touch. They are often Teflon coated, making them dirt and water resistant. Plus there's lots of choice, from plain to patterned, stylish neutrals and pastels along with deep primary colours, garden suitable velvet and outdoor leather.
Removable covers and fabrics, such as acrylic, are washable at 30 degrees.  Non-removable polyester/PVC blended upholstery can be cleaned with a specialist textile cleaner (although we've found many fabrics look sparkling clean with mild soapy water and a sponge).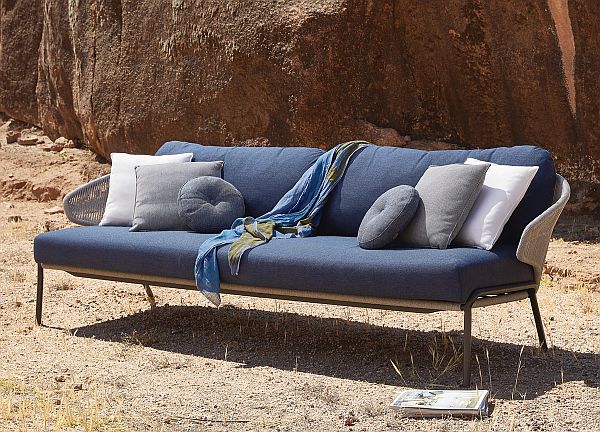 The latest quick-drying, non-absorbent outdoor fabric is also subject to the Martindale rub test, a unit which measures abrasion resistance and guarantees against pilling and wear. In some cases upholstery seams are welded as well as sewn to prevent water seeping in.
Then there is the magical filling. Outdoor cushions are filled with special water-draining, quick-dry foam which is also hygienic and breathable. Left out in a sudden rain storm they'll be magically dry in no time at all.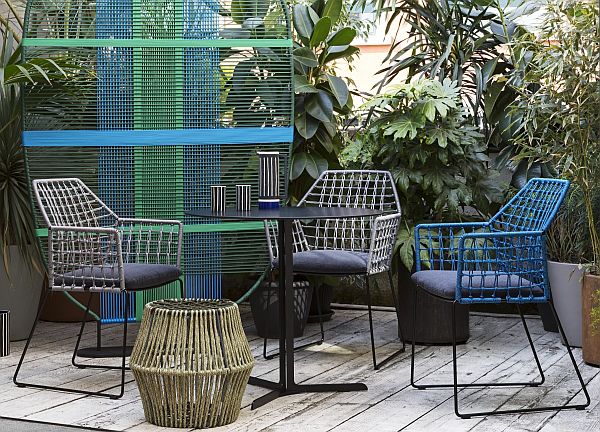 Woven rope
Woven 'rope' is an increasingly popular material for outdoor furniture. It not only looks stylish and modern but can also carry a multitude of beautiful colours.
Woven rope is usually a blend of inter-woven polyethylene or polyolefin.  It's UV resistant, chlorine and sea water repellent and very easy to clean. Again soapy water and a soft brush will allow the beautiful colours to spring back into life.
Outdoor rugs
We love our outdoor rugs.  They are a fab style choice for pulling together an outdoor space and creating a special garden room.
Outdoor rugs should be treated much the same as indoor ones.  Vacuum regularly and, unlike indoor rugs, simply hose them down.  Depending on the material you could actually use your pressure hose here – but please check the label first. Any stubborn stains should be treated with a rug cleaner or taken to a specialist dry-cleaner if necessary.
Our final advice: Just wait for for a sunny day and then leave everything to dry naturally.