It certainly caught our eye last year.  And now it seems to have caught the eye of Wallpaper* Magazine's 2021 Design Awards.  The incredible Gullwing dining table is a WINNER!
Designed by Gabriele & Oscar Buratti for Lema the award for the Gullwing is very, very well deserved.
Wallpaper* Awards
The Wallpaper* Design Awards 2021 celebrate 'the design hits of the previous year.  They look back on the places, products and phenomena that have lifted spirits'.
The judge this year was Christopher John Rogers (the designer behind Kamala Harris' inauguration outfit no less – check it out again).   So this is a man with his finger on the big pulse.  We LOVED Kamala's outfit – and we love Gullwing too.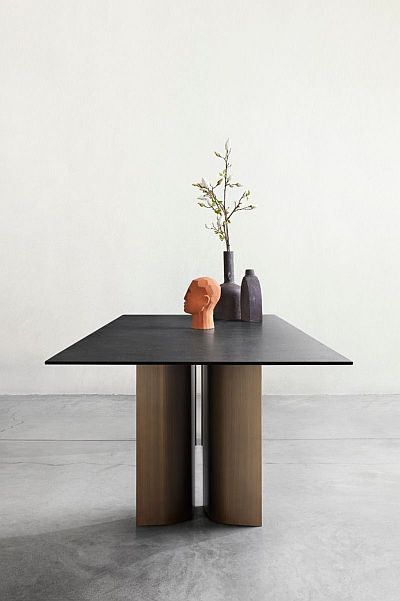 So what's all the fuss?
Where do we start.  Well, this is what Wallpaper* said:
When looking for a fine desk for your home office, we suggest Gabriele & Oscar Buratti's sculptural 'Gullwing' table for Lema. The result of the designers' extensive technical research, the final piece combines effortless simplicity with a perfectly-executed structure that allows for a play of lights and shadows and is available in several material combinations

We have to admit we hadn't categorised it as a desk as such (but why not) and hats off to Rogers who obviously saw its potential. He and Wallpaper* placed it in their 'Best Work From Home' ideas category.
Gullwing's credentials
The Gullwing table is a magnificent structural piece of design. It has a 'complex simplicity': curved and sculptural lines which create a never ending dance of shadows, reflections and angles. It's a big, bold design with it's dramatic legs as elegant as a birds wings.  Hence the name we guess.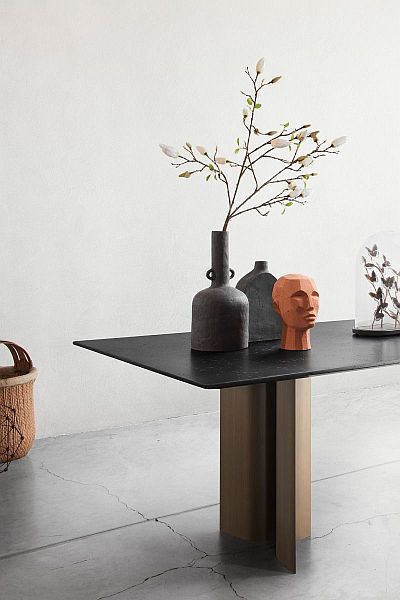 In addition to being a structural element in its own right, what's unique about the Gullwing table is its lacquered metal base.  This features fixing and adjusting mechanisms, which make it possible to choose Lema tops of different shapes – rectangular, square, round, oval – and different sizes. The shape of the legs mean they can be arranged in different ways suitable to the size/shape of the table top.  And they'll look equally magnificent however positioned.
The painted metal bases with matt or gloss lacquer finishes come in a range of colours, bronze or pewter.  They can be paired with table tops in wood, marble, porcelain stoneware and clay, reconstructed marble finishes (exclusive to Lema).
Behind the name
The inspiration for the Gullwing name and the legs is, as mentioned, the beautiful shape of gulls' wings in flight.  Designers Gabriele & Oscar Buratti however have thrown a little more into the mix with the following explanation:
The name gullwing, seagull wing, arises… brings us back to the nickname of the 50s and old doors that opened just like seagull wings and this (is the sign that) characterizes this table
We know exactly what they mean… they're describing those wonderful curved doors that you'd normally find in the entrance of grand hotel lobbies etc.  Ah, they don't make them like they used to.
So many congratulations once again to both Lema and Gabriele & Oscar Buratti.  And don't forget – we currently have 15% off all orders over £1,000 in our Winter Sale until 1st February.