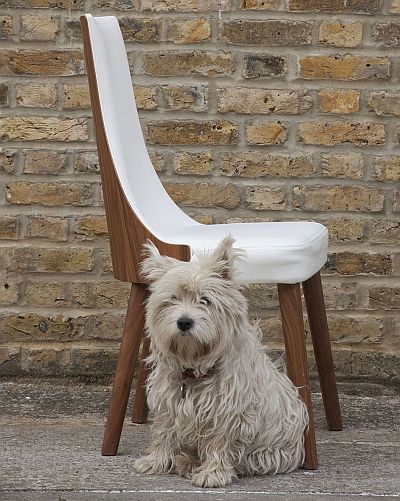 Tis the season of… mud and doggy paw prints! We know this first hand as our beloved showroom dog Millie is currently demonstrating her liking for the stuff.  Daily walks that were once a treat for all parties now result in a mud bath to rival the best of Glastonbury's fields the morning after!
However, all is not lost. The good news is that most of our sofas, armchairs and some beds come with removable and/or cleanable covers.  That's made possible because we work with the best UK fabric houses who supply a wide range of easy clean fabrics for our customers to choose from – all suitable for the upholstery on our furniture.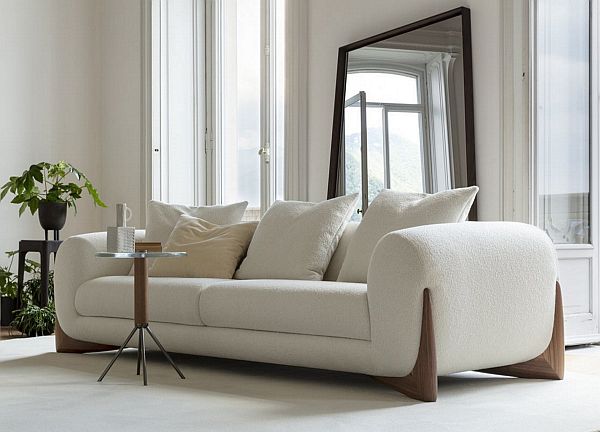 The style compromise?
The first thing to know is that style has definitely not been compromised in the pursuit of science here. There are now a huge number of beautiful stain resistant fabrics around. Technology has come on leaps and bounds in the last few years.
Easy clean fabrics can be sponge cleaned, popped in the washing machine (check the label first), dry-cleaned (again check the label) or successfully brushed and vacuum cleaned. And that's music to dog lovers ears we can tell you. It's also a massive leap forward for families with little ones and sticky fingers, and the uncanny knack of knowing exactly where they shouldn't put that full beaker of fruit juice.
Stylish furniture with removable covers
If you thought it wasn't possible to buy a stylish sofa with removable covers think again. We present Item A as evidence here: Porada's fabulous new Softbay sofa (above). Unless you're opting for leather covers (of which we have lots of categories) Softbay is a perfect example of a luxurious, high end sofa offering the removable cover option.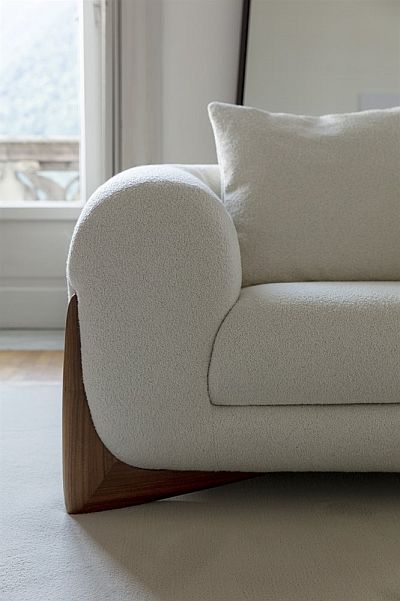 Softbay really is the last word in comfort, with extra-wide armrests, deep seat backs and supremely comfortable seat cushions. The finishing touch?  Feet in solid canaletta walnut. It's the sofa we've drooled over most this year!
So many more of our sofas and armchairs are now designed with this option. Removable covers and easy care fabrics have opened up a whole new world of choice when it comes to sofas and armchairs.
Types of Easy Clean Fabrics
The world's now your fabric oyster. The wonderful Romo Fabrics, who we work with a lot, offer an abundance of beautiful easy clean textiles. We have the latest samples books in our showroom and will always arrange to send swatches out to you.
Amongst Romo's easy clean fabrics are Washable Textured Cottons – extremely soft and tactile.  The palette ranges from chalky tones and neutrals to serene shades of deep teal and navy blue.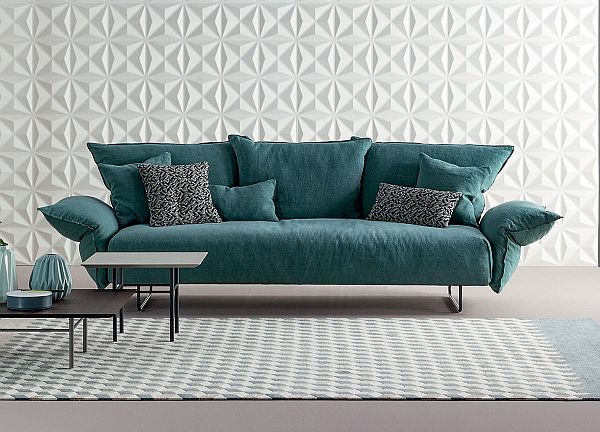 Washable Brushed Cotton is another Romo offering in a kaleidoscopic array of contemporary shades.
It's a washable cotton plain that has a refined, textural appearance with a brushed finish.  Beautifully soft and highly durable for upholstery.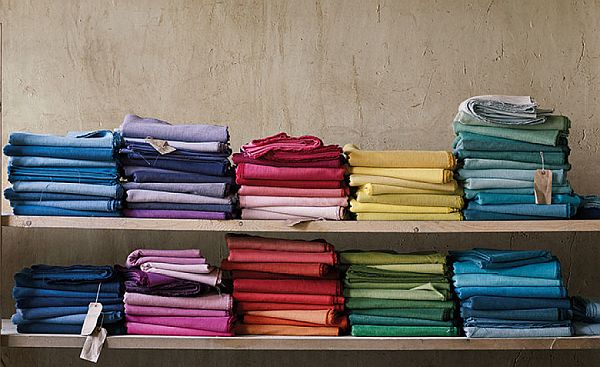 Washable Linen is also on offer.  Tactile, peachy-soft, with lots of style and colour.  Miro, is a herringbone weave from Romo's Linara range. There are 79 shades, including forest green, dusty pink, vintage teal and earthy hues, as well as classic neutrals. And Romo's best selling Linara Washable Linen Union offers a cool 360 shades. It's a 'go to' plain textile, with a brushed finish feel, soft to the touch but highly practical and durable.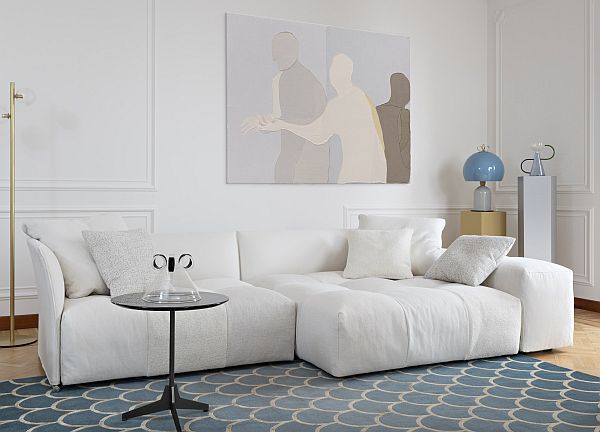 Say goodbye to velvet?
Absolutely not. Romo's Forenza Cotton Velvet is a classic, luxurious cotton velvet with a stain repellent finish. It's offered in tons of contemporary neutrals alongside blues, greens and spicy reds.
Villa Nova (a sub brand of Romo) also offers an easy clean velvet along side many other easy clean fabrics. Atil is their highly durable velvet and great for whatever busy lives might throw at it. It's another easy clean fabric where marks or stains can be removed easily just using water.
Villa Nova's Atlantis chenille is another velvety fabric that's practical and durable. Again, you can remove the toughest of stains simply with water.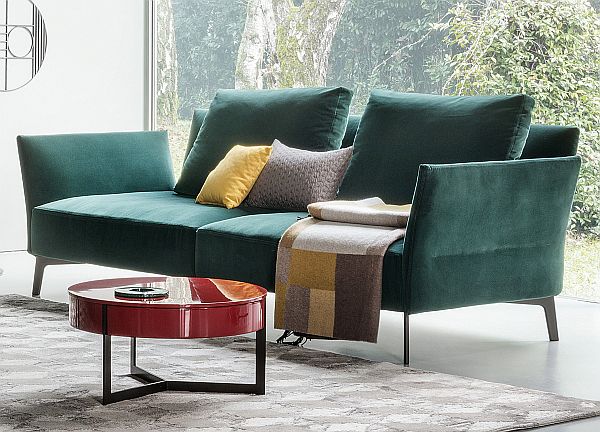 Colour pattern and print
A print and pattern lover? We've got you covered. Romo's Sarouk is a fab collection of contemporary prints and patterns that will have you dancing around your sitting room. In brushed cotton its timeless designs include Art Deco palms, bamboos and geometrics.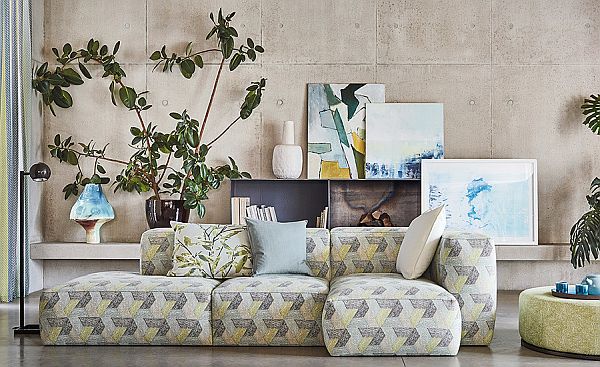 Beds and our four-legged friends
Yes we know we shouldn't.  But some of us do. Some of our hairy four-legged friends some how manage to turn themselves into our sleeping partners.  No judgement here, it happens to the best of us. Muddy duvets and sheets are one thing.  Mucky headboards and frames are another.
Fear not as we also have a range of stylish beds that come with: removable covers! Again, our customers can choose from the large range of easy clean designs offered by our UK specialist suppliers.
A new addition to Bonaldo's bedroom furniture range is Moglie e Marito (Italian for husband and wife). The designer was inspired by what happens when you put two contrasting elements together (austere metal base and two voluminous headboard 'pillows').  And if your choice of fabric is inspired by that well known phrase 'there were three of us in this relationship', Mario e Marito has fully removable covers that can be selected in your choice of easy clean fabrics.
We also have a wide range of beds where covers aren't removable but customers again can use their own choice of easy clean fabrics.  Novamobili's Modo bed is a great example, fully upholstered and it comes in a Euro King and Super King size.  Essential if you're finding sleeping arrangements a bit on the tight side some nights.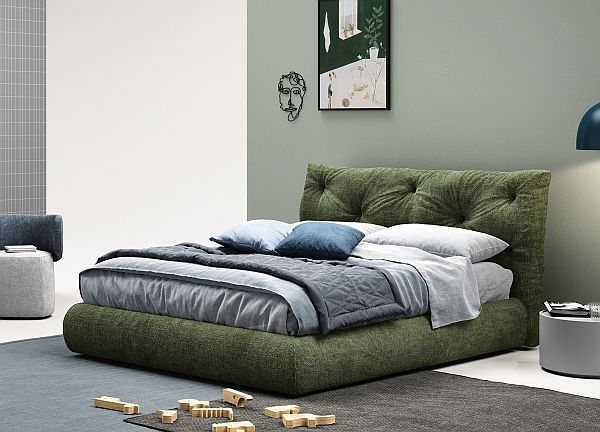 A quick guide to cleaning easy clean fabrics
First off – it's best to act fairly quickly if you can. It helps to remove any remaining stain residue by gently scraping away with something like a teaspoon.
Apply a little water to the stain and gently blot using a paper towel (white paper ones are best).  Don't be tempted to rub at this point.  Blotting only allowed.  And then repeat until whatever it is you're trying to get rid of can't be seen on the paper.
Apply a little more water to the stained area and then, using a clean soft cloth, use gentle circular movements.  Keep repeating until the stain has gone.
Some fabrics are washable on a cold machine wash but always check with the label first.
Dry naturally
PS – Don't forget that our Winter Sale is now on.  15% off all furniture designs over £1,000. Until February 1st.