Forgive us if we indulge in a little frivolity this week.  With our current diet of dismal, crazy news we feel the need to lighten things up a little. So we're throwing the spotlight on our great range of home bar furniture… from cocktail cabinets to drinks trollies. Let's get the party started… or at least plan to!
Indulge your inner diva
Whatever your interior design style, the Schoenbuch Grace drinks trolley, in gold, will allow your inner diva to shine.  Grace was designed by Sebastian Herkner, who was named last year as Maison Objet's 'Designer of the Year'.  Whilst a student Herkner also served an internship with Stella McCartney to which he attributes the beginning of his particular liking for 'colour, materials and their connection'. And the odd cocktail we'd imagine.
The fabulous gold coated version of Grace is a limited edition of 50.  But when those have gone don't despair as Grace also comes in Night Blue, Rosewood Black and Grey White. 
We're also absolutely delighted that December's Livingetc has chosen to feature Grace on their News page: 'The indulgence – go for gold'!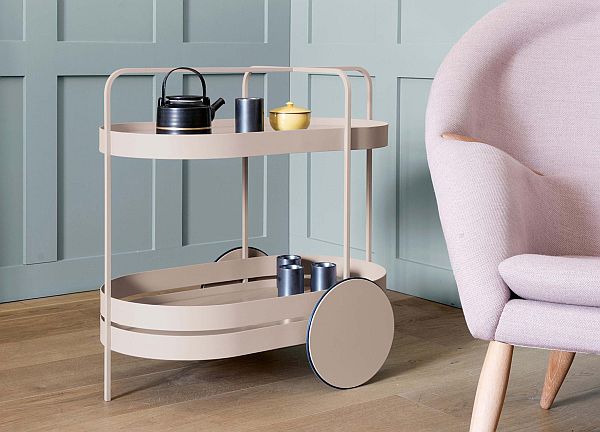 Go anywhere / have fun
The fun thing about a drinks trolley as your home bar is that you can use it anywhere. Why confine it to the sitting or dining room?  It's versatile enough to use in any room and will add some pizazz to the most functional of space. And when our social bubbles are expanded once again you could even wheel it into the garden!
Space age home bar
The Tonelli Kart drinks trolley by Karim Rashid is a futuristic head turner.  We've always loved it.  Where the Grace trolley has oodles of 50s elegance, Kart feels like it's from another planet not just another decade.  Its over-sized frosted glass wheels give it an other-worldliness.
Tonelli are world-specialists in the use of glass for furniture so, as you'd imagine, the tempered glass used is 12mm thick. As well as having sculptural good looks, Kart is also very practical with a black matt lacquered pull-out tray for storing bottles and glasses.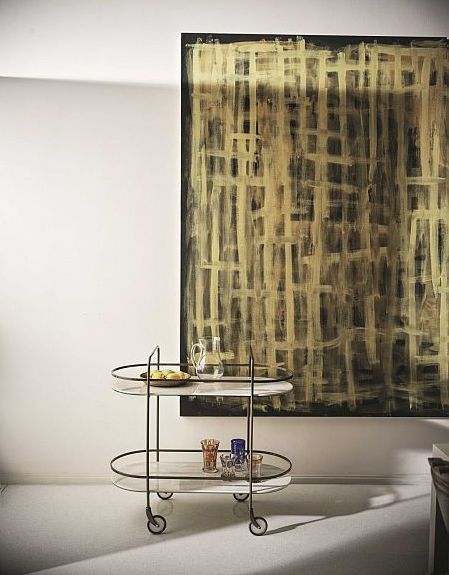 C'est Chic
Bontempi Casa tell us that the inspiration for their Chic drinks trolley was the popular food trolley design of the 1950s. We think this modern reinterpretation is far more sophisticated.  The Chic's smooth oval shelves, in glass or super strong SuperMarble, beautifully echo the metal frame, while the four small wheels give it great manoeuvrability.
Speedy service
Sleek, modern, minimalist.  Just three words to describe Porada's newest collection of 'serving trolleys' aptly named Jet. Although we think we may ban the term 'serving trolley' –  there's something about that noun phrase that's got a whiff of Victoria Wood's Dinner Ladies about it.  And much as we loved that TV series… these designs are as far from the canteen as you can imagine.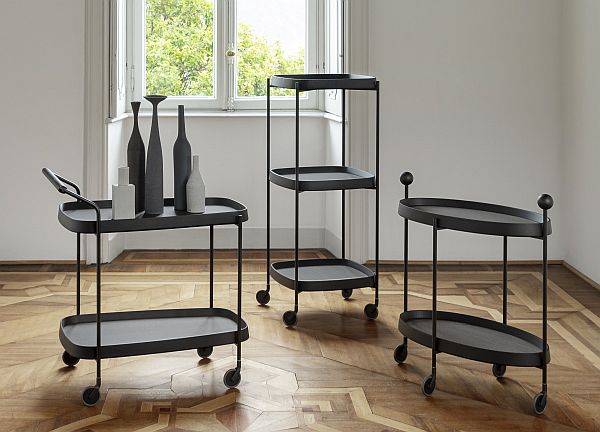 The Jet collection has three distinct styles and each one would look mighty fine stocked with your favourite tipples. Designer Carlo Ballabio has kept this design pure, with slim legs that look like elongated musical notes and soft rounded corners for each of the shapes.
The home bar cabinet
Well what can we say.  Who doesn't want a grown-up glamorous home bar cabinet.  Something that perhaps hides it credentials pretty well during the day but when the witching hour arrives let's everyone know it's party time.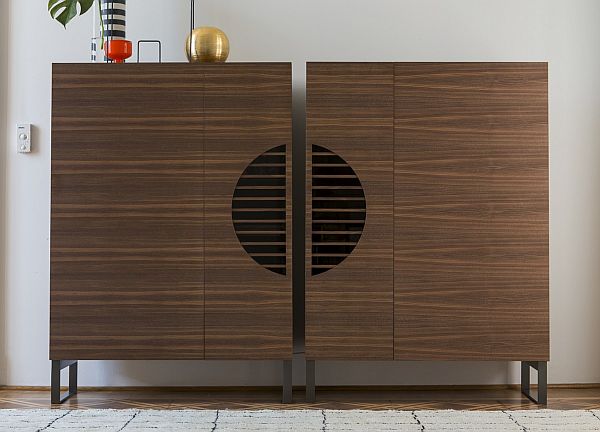 Porada's Polifemo drinks cabinet does just that.  Its beautiful Canaletta walnut doors have carved handles, with one of the doors featuring a half-moon shape inset with glass.
Open these stylish doors and the design springs into action like a West End musical destined for Broadway. The automatic LED light casts a fabulous warm glow over the contents.  In one half you'll find a pull-out shelf, a drawer and four static shelves.  The other half has a glamorous combo of glass and wooden shelves, plus a removable wooden drinks tray upholstered in full-grain leather.
And all that jazz
So there is something of the 30s, old style New York glamour, with a hint of naughtiness about Bontempi Casa's Madison cocktail cabinet. It has a timeless elegance that simply invites you to open its beautifully proportioned doors, covered here in SuperMarble, and explore its inner secrets.
And if you do you'll discover a mirrored glass back, glass shelves, drawers, a bottle rack and wine glass holders. Everything you'd need in fact to freshen up your guests' drinks – without having to leave the room.  And all done with style and impeccable panache of course.
Light up your life
Porada's Mary bar cabinet will bring elegance and light to your life. Porada, as you know, are all about 'the love of wood'.  And they have given this design so much love you'll feel it washing over you before you've had time to stir your martini. Carved in the company's signature canaletta walnut the tubular design has curved doors which also feature an 'iced-glass' panel.
Inside you'll find brushed brass metal, more walnut shelves and 'human presence' sensors for the LED lighting. Who needs show business? When you have designs like this you'll always be the talk of the town.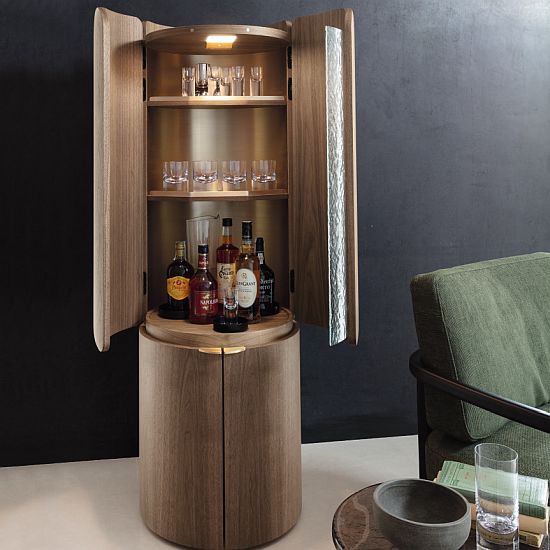 As you might imagine, as a company which sells mainly Italian high-end design, our favourite go-to tipple for special occasions is an Aperol Spritz or a Spritz Veneziano.  It's commonly served as an aperitif in Northern Italy and for us it is one of those glorious drinks that sums up Italian style. It's always best served in an old fashioned glass, over ice, garnished with a slice of orange.
If you're looking to add a little more glamour to your life, check out our full range of home bar furniture here.  Salute!