Small is definitely beautiful when it comes to small sofas. We like to think that we have a sofa size and style to suit any space. And we do.  But we thought we'd throw the spotlight here on small sofas as lots of you have been enquiring about them recently.
Small sofas – our top picks
According to a recent report in consumer magazine Which the average UK house is 20% smaller than in the 1970s.  Flats too aren't exempt from the shrinking process, with some now offering less than 30-square-metre floor plans. And apparently it's Living rooms that have suffered the most. So, to maximise your space, here's our top pick of some of the stylish small sofas on offer at Go Modern.
Saba Italia Geo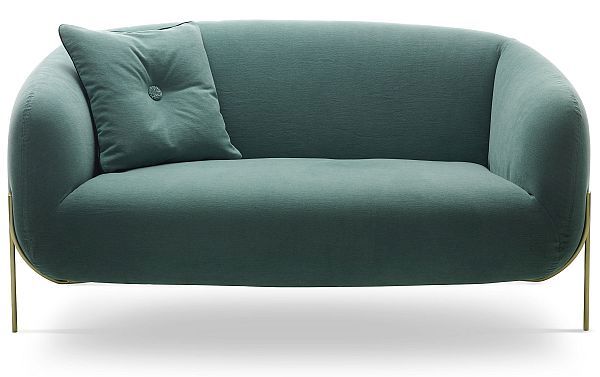 Saba's Geo sofa is one of our cutest and smallest designs. It weighs in at a perfect 153cm wide with a depth of 84cm and a height of 80cm. The Geo was designed for Saba by Paolo Grasselli – now a Professor of Design and a star in his own right, with many of his pieces displayed in design museums such as Frankfurt's Deutsches Architekturmuseum. 
The Geo is the perfect small sofa.  'Nest like' and designed to 'hug the body', its ultra-slim metal legs appear to suspend the sofa as if floating in mid air.
Vibieffe Level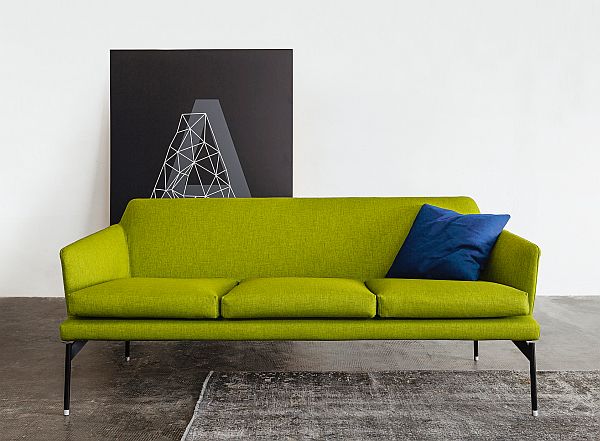 We'll level with you.  Vibieffe make exceedingly good sofas.  And this is one of our favourites. For over 50 years this stylish Italian company has majored in design, elegance and comfort. Their materials and attention to detail are always immaculate.
The Level is one of their smallest sofas, coming in again at just 153 cm wide. It's pure and simple elegance.  The narrow frame is also only 78cm high and 78cm deep.    We should also point out the unique legs which are angled at each corner – the kind of design touch that sets Vibieffe apart. If the lime green fabric is not quite what you're looking for here, you can supply your own, or we can supply you with any of the fabrics from Romo's Linara, Kirkby or Villa Nova collections. Samples can be seen in our Kings Road showroom or posted out to you.
Bonaldo Structure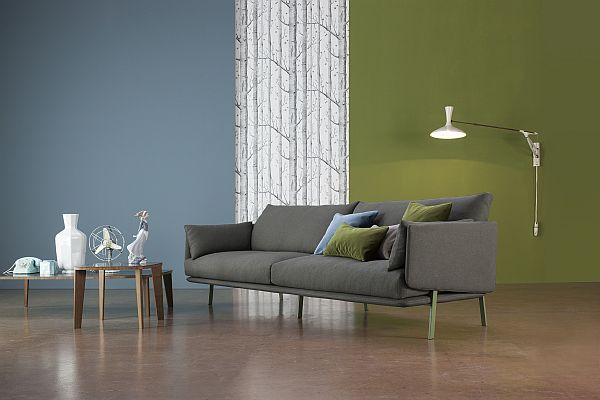 A little wider than the previous two designs, Alain Gilles' Structure sofa for Bonaldo comes in five different sizes.  The smallest is 170cm wide with one seat cushion. What it has in common with other compact sofas are the slim armrests and minimal feet – ideal for creating an aesthetic and practical sense of space. We've been on far too many photo shoots where big lumpy sofas have dominated proceedings. Not a good look. What also gives this little sofa extra style is Gilles' curved, cut-out armrests. A small but neat detail. And those slim legs? They're matt lacquered in a choice of white, anthracite grey, dove grey, green or black.
Saba Italia Avant-Apres
This is a clever sofa.  Where do we start?  It's clever because designer Sergio Bicego has made it modular.  Which means you can configure it as you want to.  The Avant-Apres' unique armrest/backrest system detaches with a simple movement, allowing you to position them where ever you want to.  Choose one single element – at just 160cm wide – and leave it at that.  Or combine multiple elements.  Chaise longue? Corner sofa? You can even add a Canaletto walnut side table (as above) if the mood so takes you.
Saba Italia Livingston
Well Saba have snuck into our 'top picks' again for small sofas.  Another fab design here with five sizes to choose from, the smallest Livingston is just 160cm wide.  Every size features a luxuriously comfortable goose-feather filled full-length seat cushion on a light but strong steel frame.  Designer Giuseppe Vigano has also added a smart detail whereby smaller cushions can be attached with a zip to the back-cushions, creating a raised head-rest. This is where we're allowed to say 'small, but perfectly formed'.
So, sofa so good.  Sit back and relax and take a stroll through our small sofa selection. You can use the filter on the left of the website to show you all the sofa designs in the dimensions you're looking for.  Or talk to one of our small, but always perfectly turned out, showroom team who'd love to help.