We're trying to ignore it but there's a slight nip in the air. Particularly at night. Those long barmy evenings of summer may be on their way out but that doesn't have to mean a retreat to indoors. Strategically placed garden lights will extend late summer evenings, and add a pretty ambience at the same time.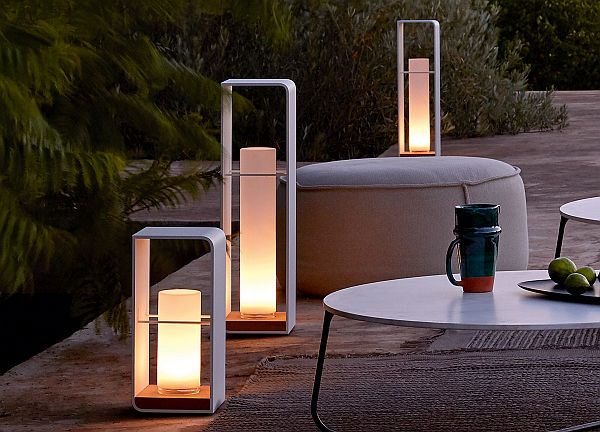 British summer time
UK weather has been behaving a little strangely over the last few years. 2019 has been confirmed as the 12th warmest year in a series since 1884.  And using our gardens and patios as an extra 'outdoor room' has been an ever growing trend, with the pandemic obviously adding to its popularity as a safer way of meeting up with family and friends. But as British summer time starts to slide towards autumn, having the right outdoor lighting and heating will make all the difference to keeping our outdoor space more useable.
Garden candles
At the height of summer garden candles work really well (we had a large Manutti Flame candle holder in the showroom – which received much attention – and you can also choose a fragranced outdoor candle for this design) but as the nights draw in and it gets a little breezier, LED lighting is a great choice. LED lights are also up to 80% more efficient than traditional lighting.
Manutti's stylish LED Flame garden lights, designed by Koen Van Extergem, come with optional remote controls, which is incredibly useful. These terrific looking lights are available in three sizes, with a white or lava frame and a neat teak insert at the base.  They look fab placed around a patio or garden seating.
Magical lighting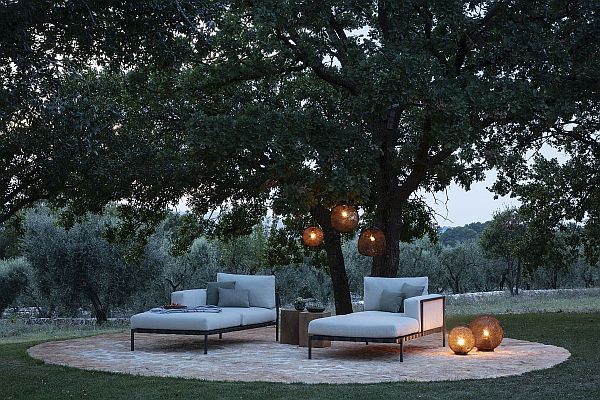 We had a complete crush last year on Monsieur Tricot, the latest lighting collection from outdoor specialist Tribu.  This amazing brand collaborated with designer Ilia Eckardt to create the beautifully unusual design. The result was a unique range of lamps with hand-knitted covers suitable for outdoor use.
Monsieur Tricot is the first ever range of dimmable, knitted, weather-proof lighting.  Sounds like a compete non-sequitur doesn't it – but they're stunning and totally weatherproof. Designer Eckardt's fascination with this hand-knitted technique stems from growing up in the world of Belgian fashion.  His mother, Hilde Frunt, designed for major Belgian fashion houses including Raf Simons and Dries Van Noten.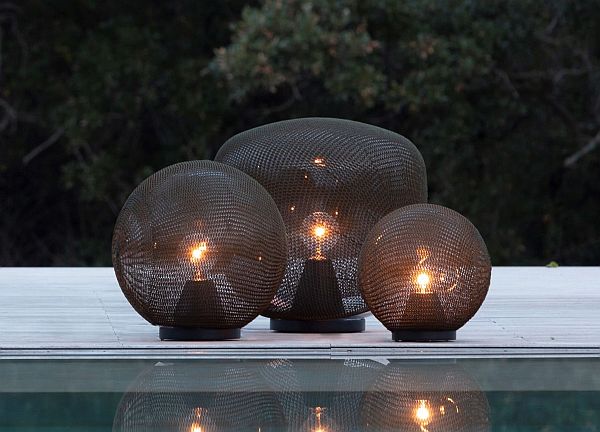 Eckardt's distinctive 'family' of lights come in different shapes: handsome Monsieur Lebonnet, graceful Madame Latoque, chic Madame Cachet and, the smallest, Monsieur Ellipse.  They are fun and magical. They'll also cast a warm glow and pretty shadows wherever they're placed. And there's a user-friendly app with timer-functions.  The standing lamps are battery charged and look spectacular grouped together.
Earth calling
Calma's Llum garden lights have an 'other worldliness' to them. The company is based in Empordà (Catalonia), the region where creative genius Salvador Dalí was born… so we like to think a little of the other worldliness may have rubbed off on this design.
We've used the image above to give you an idea of the size of the Llum lights.  The small version is 50cm in diameter and 85cm high, while the large has a 60cm diameter and stands at 120cm high. They look, to all intense and purpose, as if they've just landed from another planet.  And we love them for it. The shades are made from moulded Polyethylene with three slim legs in sustainable Iroko hardwood, perfect for outdoor use.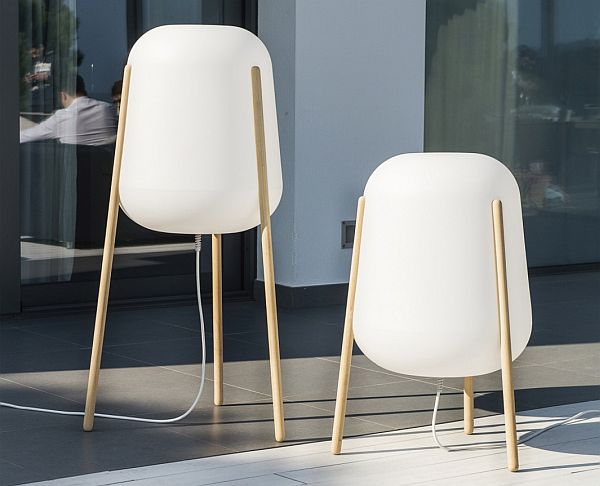 Llum look as if they may be able to hover above your garden (they can't) or suddenly glow green and emit ethereal beeping noises from the patio (which they also can't).  Sorry to disappoint on this front but they are, of course, exceedingly wonderful garden lights with a great minimalist, contemporary look.
Garden lights with a wow factor
Looking to add a little drama to your outdoor space?  Look no further.  The Cone garden lamp is a stunner. Manufacturer Emu, who are about to celebrate a 70th birthday, featured it last year in their outdoor pop-up event during Milan's Salone, and it was the talk of the town.
Cone weighs 17.6 kg, so not easy to shift around, but once in place it will be the talk of your garden. The steel frame is nearly three metres high (2.71 to be precise) and was designed by creative duo Alfredo Chiaramonte and Marco Marin for Emu.
The Cone look is obviously that of an indoor lamp.  Albeit one that has migrated to an outdoor space. But this of course fits perfectly with the trend for outdoor furniture which replicates indoor design. The shape is inspired by the elegant silhouettes of mid-century lamp designs. If you like the look but not the size, you can opt for smaller versions.  How about this cute table version with the same shape and printed white fabric shade.
Mesmerising lights
Luxury Venetian brand Smania have created the mesmerising Chios garden light.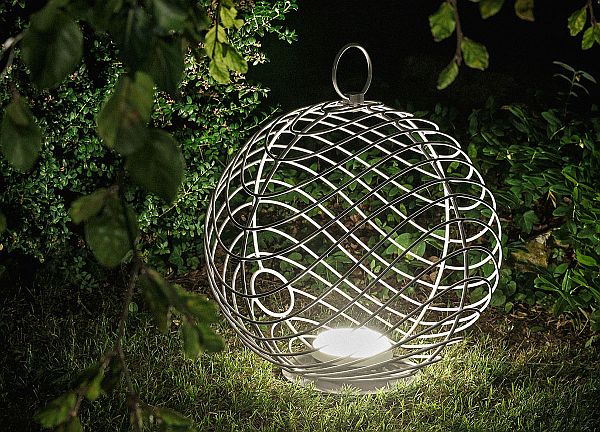 Chios can be placed around the garden, in shrubbery, on the lawn, corner of a patio.  It's another magnificent statement light (two sizes: 73cm and 93.5cm high) with a wire frame made from robust aluminium. The light comes from a fixed LED light placed at at the bottom of the frame. And if you want to add some colour to a winter garden, they come in Carob red or Midnight navy as a finish.  The version here is in Ice grey.
Turn the heat up
Finally, a little shout out here to our outdoor bio-ethanol fires.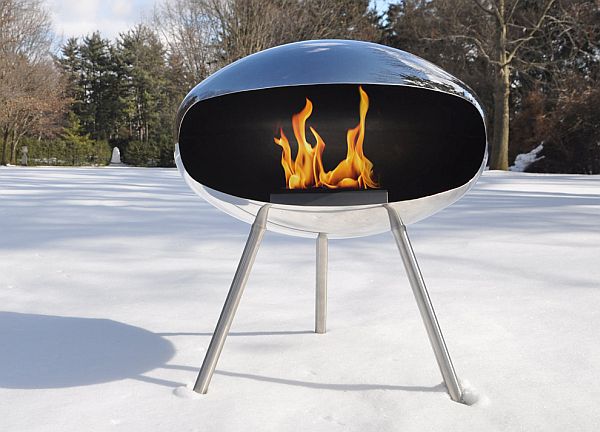 Along with fading light, the air temperature now is definitely a little cooler outside at night. Step forward our stylish bio-ethanol fires.
We have a wide range of designs for both indoors and out but the award winning Terra, from Cocoon, pictured above, is suitable for both. The outdoor version is made in marine grade stainless steel.
Bio-ethanol fuel is clean, safe and environmentally friendly (of plant origin – when burnt it does give off tiny amounts of CO2 but no more than the amount produced by a candle – plus there's no smoke with bio-ethanol).  For all of us wanting to linger longer in the garden, it will provide plenty of heat for up to six hours per 1.5 litre refill. After that, even the hardiest of us should probably think about turning in for the night.
You can browse all of Go Modern's outdoor lighting here.