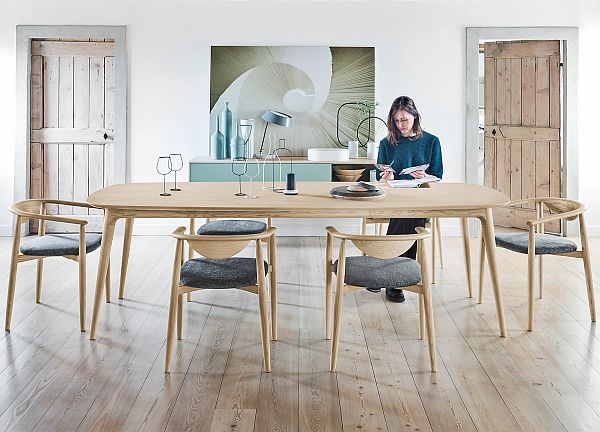 According to various social media platforms one of the most searched for interiors terms for 2020 so far has been 'Scandinavian' or 'Scandi style'.  Google tells us this has currently 121,600 searches a month in the UK!
This, we might add, is nothing new. It began a few years ago with the emergence of the Danish word 'hygge' – (pronounced "hue-guh" – but you probably already know that) which we all now know means to 'acknowledge a special or content feeling at home with family or friends'. In fact back in 2016 it was even one of the Oxford Dictionary 'word's of the year'.  It's a word that encourages us to take pleasure in simple, soothing, natural things.
So Scandi style has long been on trend and this beautifully simple, pared back look appears in many of our best loved furniture and lighting pieces.  Think Scandi style meets Italian design; or Scandi utility meets Italian chic.
And it's a look that we think will continue to be around for quite awhile.  To coin a well-worn phrase 'it's a timeless classic'.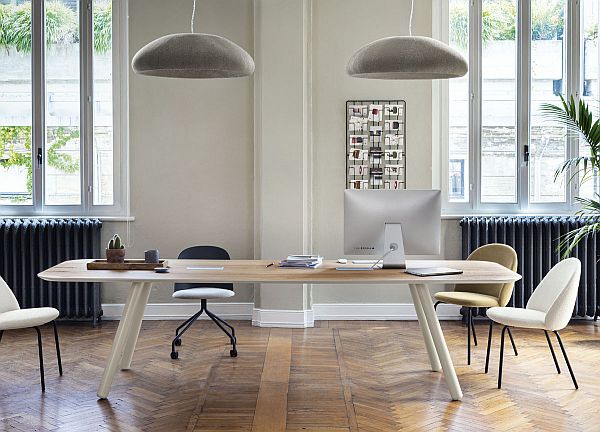 Pure design
Scandi style centres around pure design: functional, extremely well-made objects, using modest but high quality materials. It ticks all our boxes.
Materials include natural beech wood, pale ash or warm oak, fabrics are soft but robust, colours lean towards the more muted neutral shades (but thankfully not just taupe!).  Form follows function but doesn't lose anything along the way.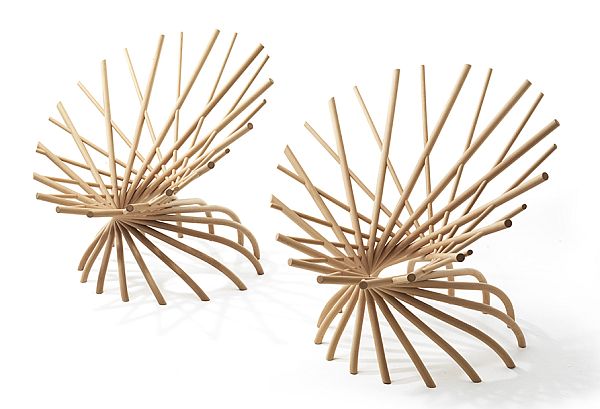 Swedish designer Markus Johansson's studio is in central Gothenburg and his Scandi roots are more than evident in these beautiful sculptural Nest chairs created for quirky Italian brand Mogg. Markus describes his chairs as:
"A bit of nature moves into the cozy homes and breaks the straight, rigid and traditional forms, a location in your home where you can curl up for a moment of rest or for a fairy tale moment." – Markus Johannsson
Which kind of sums up lots of designs that have that Scandi feel.
Pared back colours
Classic pared back shades layered with natural finishes have long been a staple of Scandi style. Think shades of grey, nudes or various whites.  Clean, fresh and minimalist. These design staples also all sit comfortably against white backgrounds and instantly create a relaxed feel. Hygge.
The Go Modern website side-bar filters usefully allow searches by colour and finish, of which we offer a dizzying array.  At the last count we had 187 sofas in neutral fabrics, 186 in grey and 187 again in white. And if none of those suit, there's the option with most designs to supply your own fabric.
Designed by David Dolcini for luxury Italian brand Porada, the Argo sofa offers Scandi style in buckets. As well as being flexibly modular (i.e. create it as you want it), it features a slim but solid natural Canaletta Walnut wood base, with deeply, deeply 'soft' upholstered seats. It's 'hygge' on legs as far as we're concerned.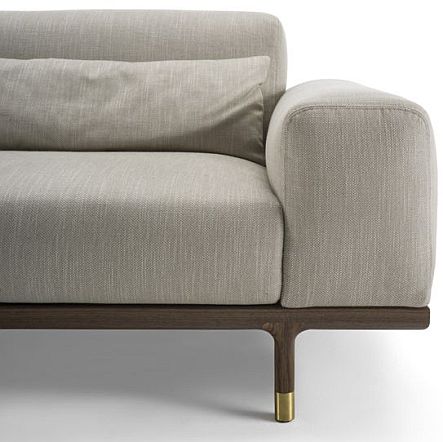 Scandi style = simple pleasures
If 'hygge' means to enjoy simple pleasures, then Vibieffe's Class Chaise Longue is right up there on the 'hygge' list.  Clean, simple lines.  Very high on comfort. A frame in solid wood, and deep foam cushions with a layer of feathers. This chair has proved incredibly popular with our customers – and it's not hard to understand why. It's a contemporary meets classic that fits so well into any style of room.
Keep it tidy
Scandi style also generally means uncluttered. Those clean, minimalist lines only work if it's possible to create storage for all those necessary bits and pieces you want near at hand, but don't necessarily want on show.
Storage in the form of wall units and bookcases are one of our specialities.  We have a large selection of floating shelves, and stand alone wall units to suit any style.
Although these are best installed onto structural walls, it's possible to hang them on plasterboard (but you will need extra fittings). We can usually install these for you too, so please talk to our design team about what's possible.
The Ginza  wall unit (composition No 02) by Portuguese brand A. Brito is made up of several different modules which are all available in a variety of sizes and finishes. It's incredibly versatile and can be adapted to suit your individual space and storage requirements. Its clean, minimalist looks include doors cut on a 45 degree angle, which adds a beautiful finishing touch. You can also add a lacquered colour to the inside of the open compartments (as shown here), or keep it all one shade.
Keep it personal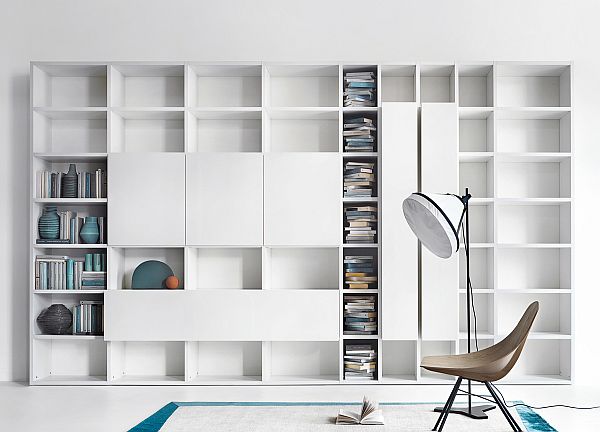 High end Italian manufacturer Lema are experts in 'compositional flexibility, modularity and customisation'.  Their materials and manufacturing are always second to none.
Lema's Selecta system is a perfect example of what they do so well.  It's an innovative system of individual storage components and shelves.  Each of these has various widths, depths and heights, which allow you to build up a personalised unit perfect for exactly what you need.
The unit shown here, Selecta 03 Bookcase/Wall unit, is just one example of the endless possibilities offered by this cleverly thought out system.
Scandi style – part of the DNA
If you've had the pleasure on visiting any of the 'Scandi' countries you'll know that they all seem to have style naturally running through their DNA.  You can pop into the furthest flung cafe on a windswept bit of coast and the attention to design style and detail is phenomenal.  Right down to the choice of lampshades.
And who hasn't been glued to Scandi TV dramas over the years – think Borgen, The Killing, The Bridge – where you find yourself coveting a table or lampshade in some government office.  And that's usually where you start to lose track of the plot!
The all important finishing touches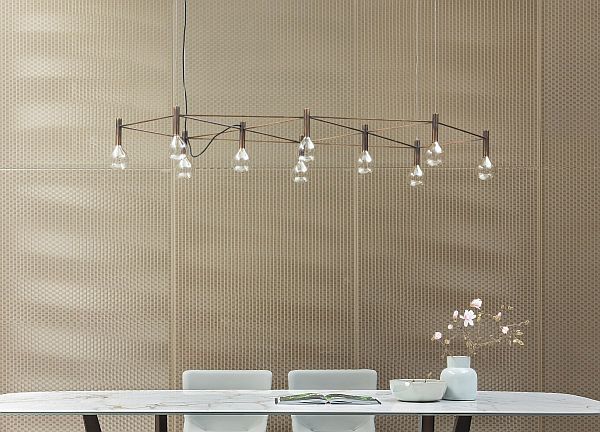 As with fashion, the addition of the right pair of earrings, bag or jewellery can transform an outfit.  So it is with the right lighting.  Lights are not just for illuminating they are also important for adding a touch of class to the simplest of designs.
The right lighting has the ability to pull a room together.  It can also change the mood and draw the eye to a certain area.  The Sofi chandelier lights (above) by Bonaldo have been used here above a dining table, perfect for dinner parties where you want the attention to be simply on the table, your guests and the food.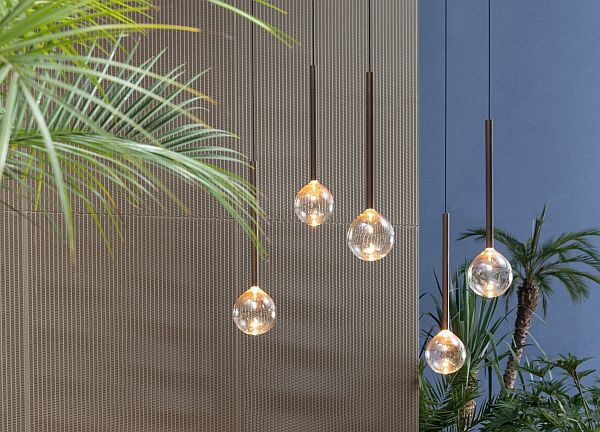 These beautifully simple, stylish lights can also be bought as a single light.
So – we're guessing this timeless look will continue to be, well, timeless.  And if it's the look you like, keep it simple and natural.  Light a few candles and enjoy your hygge.