Award-winning architect and designer Monica Armani has design ingrained in her DNA.
Growing up in rural Italy, Monica's rationalist architect father designed the family house, and his design influence can still be seen throughout their home town of Trento. Part of his design aesthetic also involved the continuous flow from inside to out.
Fast forward to 2020 and Monica's own design portfolio now includes many major collaborations within the international design world. She is also an outstanding name in the design of outdoor furniture, working with high-end Belgian specialist Tribù.
'Living the good life outside'
Tribù's motto is 'living the good life outside'. A family run business of over 50 years, they were one of the early proponents of the idea that our outdoor space should be another room of the house. A philosophy we like to think Monica's father would have approved of.
Monica Armani x Tribù
Monica's design portfolio for Tribù is hugely impressive. In fact there are numerous adjectives we could choose to describe this incredible design duo, but perhaps 'sophisticated', 'elegant' and 'chic' are the words they share in equal measure.
"Tribù asked me to design a collection with a 'feminine touch'"                                       Monica Armani
Capturing the public imagination
It was Monica's 2013 collection, Tosca, that first captured all of our imaginations.
Tosca's distinguishing features are many.  However, it was the use of striking, extra-wide braiding that was particularly eye-catching.  To create this unique material, Monica used a foam mouse encased in a seamless sheath of textilene and polyolefine.  The idea was to make it weather-resistant but also extremely soft to the touch.
And it worked. Tosca's rounded form, with a frame in powder-coated stainless steel, plus the tapered legs, add to its supreme elegance. The deep and comfortable cushions also have a water-repellent filling.  And for fabrics?  Well, you're spoilt for choice, with 70 different types to choose from.
GM: Monica, you've described Tosca, as 'having a soul'. What do you mean by this and where did your inspiration come from?
MA: The inspiration for the Tosca collection came from nature; the weave recalls the outcropping roots of certain types of trees. Tribù asked me to design a collection with a 'feminine touch'. So I worked on rounded and enveloping shapes that would give the perception of a delicate product.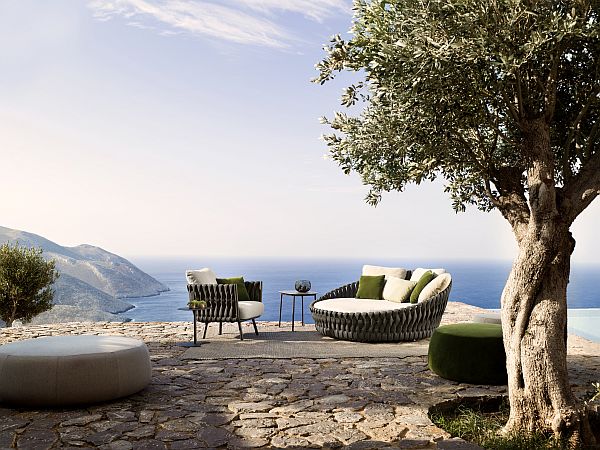 MA: The invention of the maxi-weave, the large-oversized braids, helped the female mood and made this product very elegant.  There is also a vibrancy in the game that the sun plays on the weave, creating an evident shadow/light effect.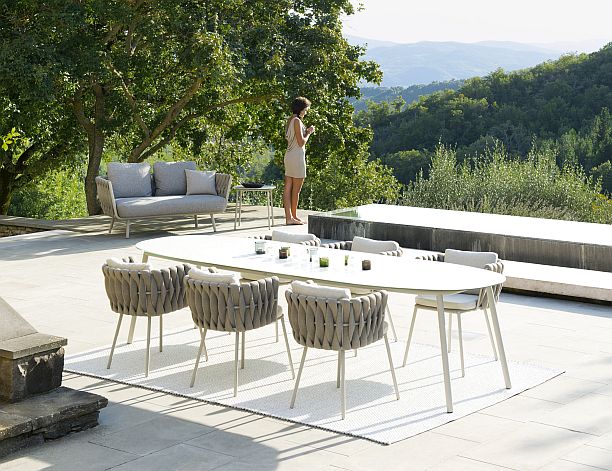 The Tosca collection consists of a garden club chair, 2-and 3-seat sofas, and a daybed. A dining table and chairs, plus coffee and side tables, complete this incredible collection.
The science doesn't stop with the braiding.  Tosca dining table tops are made from a ceramic, laminated on glass. This finish is spectacular for outdoor use – completely scratch, UV, water and weather proof; it also has a delicate cloudy pattern which gives it a beautifully subtle appearance.
GM: Designing furniture for outdoors obviously brings technical challenges: the need for it to be robust enough to withstand the elements but also look beautiful. How do you combine form and function or science and aesthetics?  Which comes first?
MA: Designing an outdoor collection involves solving many problems related to atmospheric agents. You have to pay great attention to all the materials you use, from the type of metal, to painting, to fabrics, etc… the balance between all these aspects is fundamental to design an outdoor product.
GM: What would you say is the best and worst part of any design process?
MA: I always say that when a product comes onto the market and is successful, this is a miracle! In the sense that the design process has to overcome a lot of obstacles along the way.  This goes from the company's belief in your design, to the technical balance with the company's know-how, to how the company will market the product.
"I wanted to experiment with lightweight concrete for this project"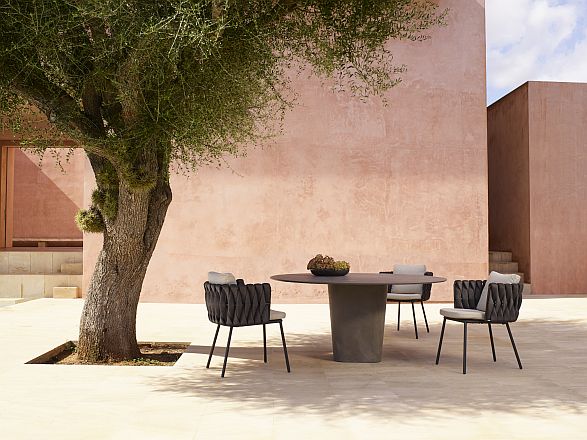 GM: The Tao table collection is your newest creation for Tribù.  Again, it's a hugely innovative design using unusual material. What was the thought process here and the choice of such material?
MA: I wanted to experiment with lightweight concrete for this project. This material was perfect for making an iconic table. The reduced thickness of the top is due to the "ingredients" of the mixture. Glass fibres mixed with the cement gives the opportunity to create a strong table top but with a very reduced thickness. I designed the central base with a simple shape but at the same time with a very important radius.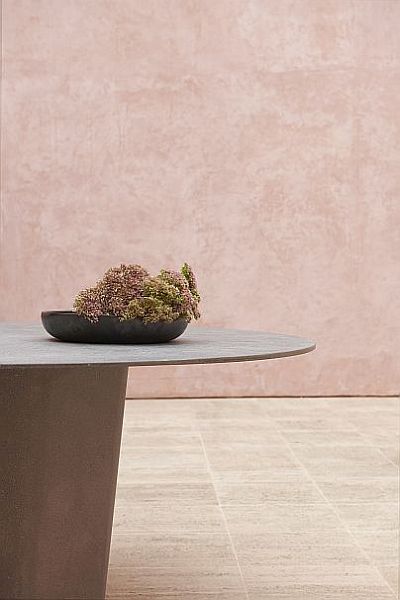 The dense micro-structure of the material used for Tao creates a table top that offers a high resistance to abrasion as well as being frost and fire resistant. Each table is then hand-finished with a conditioner that produces a soft to-the-touch surface.  This also minimises moisture and stain absorption and ensures the table top dries quickly after rain. The production process involved with the manufacturing of Tao also make each table unique.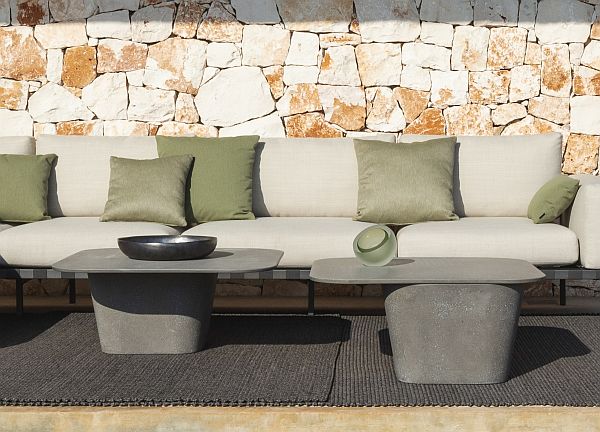 "Regista is a sophisticated reinvention of a design icon"
GM: There is a lot of glamour attached to your designs. The Regista chair, for example, pays tribute to the classic film director chair.  Why did you decide to reinterpret this and how did you give it your own personal look?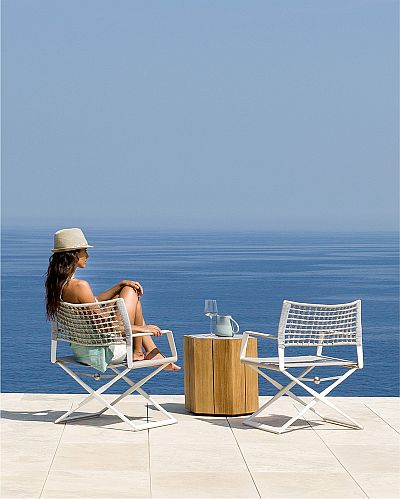 MA: Regista is a sophisticated reinvention of a design icon, a classic addition to Tribù's stylish outdoor world. It's a perfectly balanced chair which combines high-tech materials and meticulous attention to detail.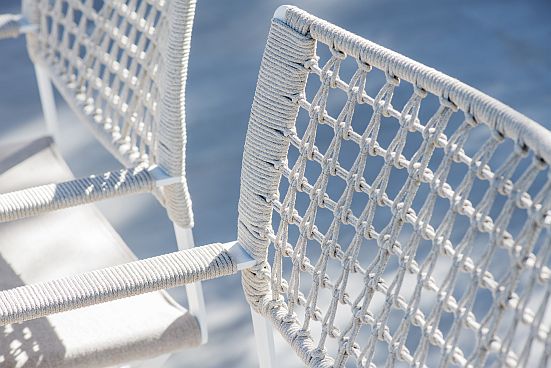 For this I worked on the woven backrest.  Because it can be opened and closed, it was as an important challenge as the backrest changes shape. The idea was to add a craft element to a chair that is usually upholstered with fabric.
The lattice back has the natural look and tactile appeal of the rope. It's also hand-woven using an innovative weather-resistant fibre.  The slim, elegant profile is possible because of the use of powder-coated stainless steel. It allows the arms and backrest to be thin and yet very resistant.
"The proportions & design of the elements make it majestic but at the same time light weight"
GM: Pavilion is your outdoor day bed for Tribù. It is like a four-poster bed for outdoors.  What was the thought process behind creating a day bed with this dramatic look?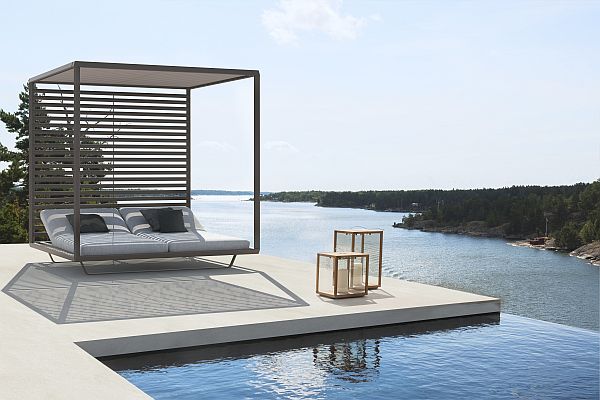 MA: The inspiration for Pavilion comes from the classic canopied, four-poster bed.
The proportions and design of the elements make it majestic but at the same time light weight. The bed can also be personalised with a choice of sheer curtain fabrics and paint finishes, while the back and ceiling can have either teak or aluminium slats, or Sunvision. The curtains also give a sense of privacy and move wonderfully in the breeze.
GM: Tell us about your outdoor collection Nomad – it has that classic ability to look as it it belongs indoors and out. A bit 'nomadic' in fact!
MA: For the Nomad easy chair I worked with teak wood and a cushion, and played with the dimensions. The idea was to create a product that is extremely comfortable but at the same time with an outdoor 'mood'. But, for sure, it's a product that fits perfectly indoors as well.
GM:If you could choose just one piece, from all that you have designed for Tribù, to take to your own personal 'desert island garden' which would it be and why?
MA: No doubt: the Tosca daybed. It is my 'rescue place'!
GM: Finally, what is your own personal garden style?
MA:  Well in my garden I have the Tosca collection.  I love it because it gives my garden a touch of chic.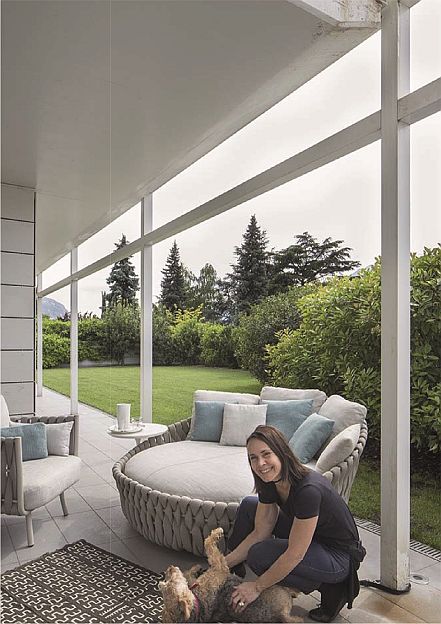 *Monica Armani portrait image by Berth Heinzlmeier