Floating Furniture – visual tricks and clever furniture for small spaces
You may not have come across the concept of 'floating furniture' before, so let us enlighten you. We have a number of pieces of furniture, from beds to sideboards to wall units, that appear to 'float'. They obviously don't. They merely give the impression of floating.  We know from some of the interior designers we work with that this style of furniture is a great way of creating an illusion of more space in a small room.
Small rooms and British new-builds
British new-build homes are amongst some of the smallest in Europe. This will probably come as no surprise to anyone who has moved into one recently.  There's also been plenty of research in recent years showing some startling figures, siting UK new-builds as having an average floor space of just 76 square metres. The next closest offender is Italy, scoring a little better with 81.5 square metres. Compare these figures with Denmark, at the other end of the spectrum, which claims a mighty 137 square metres.
So if a move to Denmark isn't really on the cards, we suggest considering furniture designed especially for small spaces.
Night-time Floating
The Soma contemporary bed, above, has a base with legs tucked in far enough to make it appear, from most angles, as if it has no legs. This recessed style is what creates its clever 'floating' look.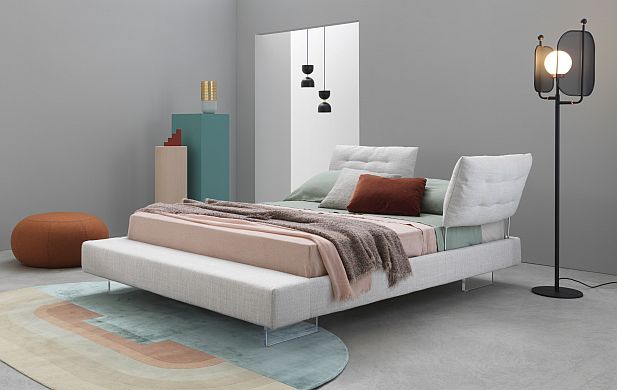 Another example of a great 'floating' bed is the Limes Bed, above, designed by Sergio Bicego for Saba Italia.  Saba describe it as a 'mobile island that navigates by lifting up light sails that orient like dreams'.  Which is another way of saying that the split-headboard can be positioned anywhere along the frame. And those stylish transparent feet create a dreamy, floating appearance.
More night-time floating
It's not just beds that can float.  Bedside tables are a must for most people but they can take up a lot of floor space and frankly look quite clunky and boxy.  Most of us need somewhere to place our phone, a glass of water, or whichever book we have on the go at the moment.  So quirky Italian brand Mogg have the answer.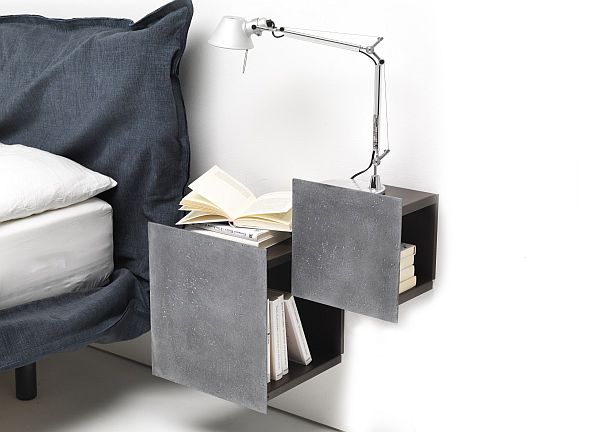 The DPI wall units are an amazingly flexible and very stylish series of open-sided, wall mounted, shelf/container ideas. Not just for the bedroom – they actually look great anywhere but we particularly like them as they've been used here at the side of a bed. The design is modular and there are four different sizes which can be mounted on the wall in any number of combinations to create your own bespoke arrangement. They are open-sided (both sides) and the structure is metal painted in anthracite.  The fronts of the modules are available in a textural finish (white tuff or grey lava), mirrored, or painted anthracite to match the structure. We absolutely love them.
When it comes to general storage, consider a 'floating' wall-hung sideboard. The Avante Wall Hung Sideboard  is part of a great collection of sideboards and wall units from Portuguese manufacturer Brito. The Avante is designed to be wall-mounted (on a main structural wall) and if you're not quite brave enough to go with the 'carrot' colour shown here, there are 25 other colours or various wood finishes to choose from.  This design also comes in a number of different widths and it's possible to fit glass doors or leave sections doorless.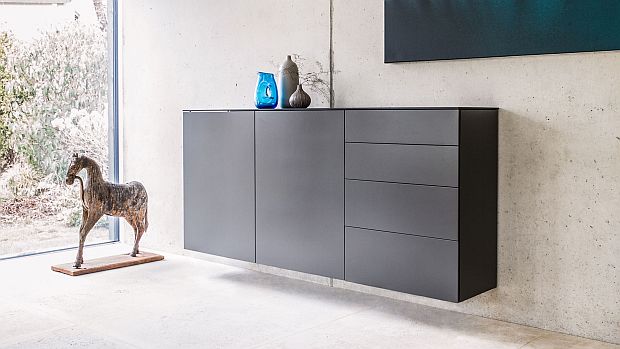 Tiny hallways
Tiny hallways are another problem our customers tell us about.  So German manufacturer Schoenbuch is one of our go-to suggestions for this.  The company specialises in designs for small spaces, including hallways, with a series of stylish storage products that are ultra-slim.  The 'floating' S7 sideboard, above, is a great example of the kind of idea they've come up with to tackle this growing problem.
The S7, designed by Dante Bonuccelli, is a beautiful piece and totally flexible in its style of design.  It's modular with each of its elements (panels, doors, drawers etc) available in a number of different widths and heights.
Floating Accessories
If you like, the floating idea can even extend as far as accessories such as poufs and footstools.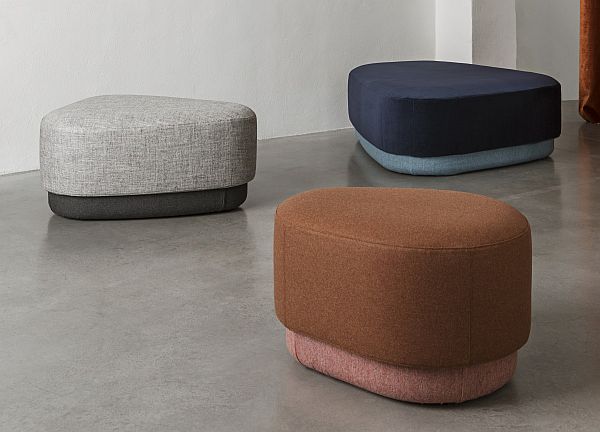 Saba Italia have been creating stunning, fashionably stylish furniture since 1988.  Their designs are not only technically excellent but beautifully crafted and definitely at the cutting edge of design. Take their Island poufs, above, which pair two different fabrics across the base and seat, creating a floating effect.  Simple really, very stylish and look how they seem to levitate just above the ground.  And importantly, they're also extremely comfortable.
And then there were three…
A small flat or house that seemed just about perfect when there were only the two of you, can obviously start to feel very cramped with the addition of a new family member. So if you find you're now squeezing an additional small person into an even smaller space, take a look at some of our specialist furniture for children and teenagers.
The floating Yucca desk above is part of our Nidi children's bedroom furniture collection. It's a fab design, very reasonably priced, and comes in neutral colours as well as zingy primary shades.  It's also available in two sizes with two different desk thicknesses.
If you don't particularity want to have to use up desktop space with a lamp, then opt for LED lights which can be added to the top of the structure. The floating cube wall units, called Tynn, seen to the left of the desk here, are another useful 'floating' small-space idea. Great for storing books that you want near at hand or for simply keeping stationery neat and tidy.
So don't despair.  When it comes to small rooms there are lots of ideas out there and opting for some clever floating furniture might make all the difference.