We've always been very press friendly at Go Modern.  Our showroom isn't huge but we have a number of stand-out pieces from our top manufacturers, along with fabric samples, wood, glass, lacquers and weaves if it's garden furniture.   So, when the team at House & Garden asked if they could borrow our Big Table from Bonaldo for a shoot we were happy to oblige.  The Big Table by ultra talented designer Alain Gilles is a favourite, so we're always ready to do a little showing off with it!  This one is in canaletto walnut with striking coral red, orange, green and lilac lacquered metal legs – a real show-stopper.  And the talented styling team at House & Garden included it in their great July feature 'Block works', using abstract prints and primary colours , mixing mid-century design with contemporary.  It looks terrific – what do you think?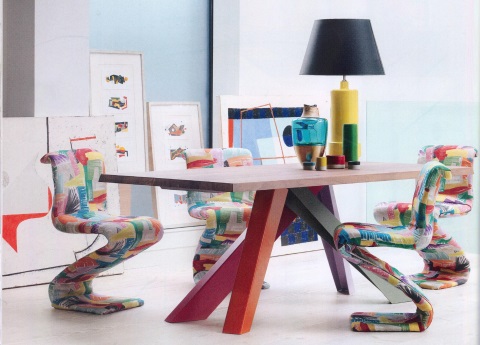 Big Table gets around – it also made an appearance in a beautifully styled piece in April's Living-etc.  This time the focus was bold, bright and beautiful, taking influence from patterns and hand-crafted treasures, and the styling team created a modern masterpiece (with Big Table's help of course!).
Pop in and see Big Table for yourself – there aren't may tables that can say they've achieved 'celebrabrity status'!
But BT is not the only piece to have been stealing the limelight.  Our pretty Dentelle 'lace' parasol (it looks like lace but it's actually tough outdoor fabric) from Belgium designers Sywawa was chosen by the Sunday Time's Style magazine as one of its favouritesin their aptly named 'shady business' feature.  Great choice guys!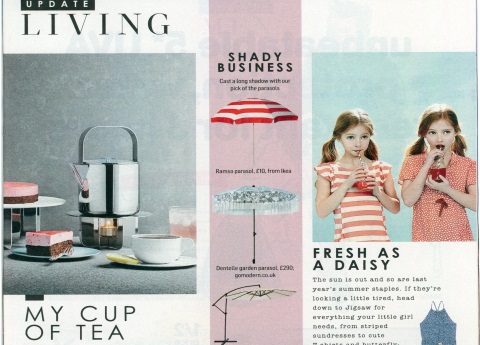 And July's Grand Designs opted for our Manutti Mushroom Parasol in their 'shady business' feature.  They loved the wind-up mechanism, tilting pole, contrasting spokes and fantastic weatherproof fabric… Yay…so do we…that's why we chose it!
So, pop in, give us a ring… look out for us in the press … come and meet a few celebrities!