Kids have an abundance of imagination. Their bedrooms are their dens – places to play, study and sleep. Which is why we love Nidi, the children's bedroom specialists.  Nidi are our go-to experts for wonderfully imaginative furniture for kids through to teenagers.
Intuitive design
Everything Nidi does involves intuitive design. Their clever bunk beds, for example, can also incorporate space for a child's favourite books and toys. And as they grow they'll also need space for playing and homework too.  So Nidi have created systems for adding tailor made desks and clever storage. The customised possibilities are endless.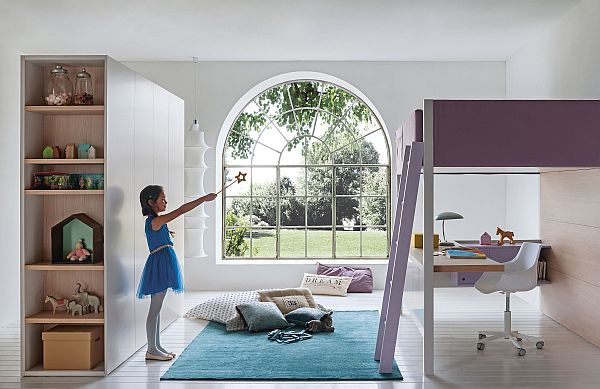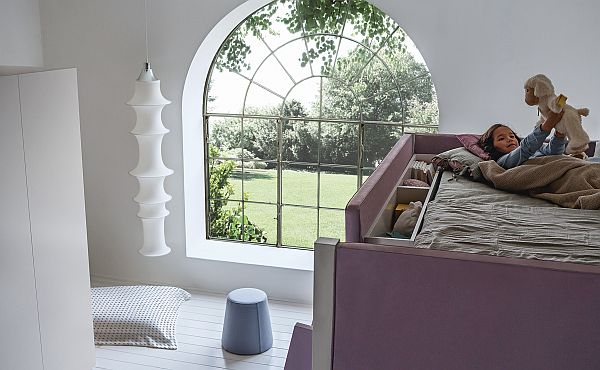 A star is born
Nidi itself is a relative youngster, coming into this world in 2013.  Its parents however are the distinguished and highly regarded Battistella, who for nearly 70 years have been a leading name in Italian furniture. And Nidi shares exactly the same values of craftsmanship, sustainable design and quality.
Choosing a name
Deciding on a name for their off spring was a no brainer. Nidi means 'nest' in Italian. Which in turn means a cosy, protected place for raising youngsters. Which is exactly what they had in mind for their carefully nurtured project.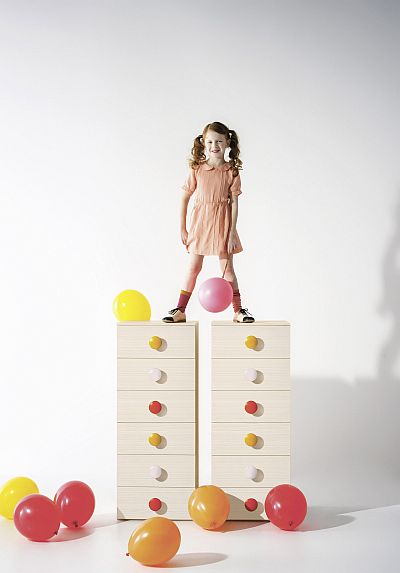 Nidi specifically look at the way spaces influence children's lives. Beauty, ergonomics, safety and function are top of their list. But each product or space also needs to be stimulating, inviting, safe and relaxing.  And also to create the best possible place for playing, sleeping, learning and growing.
They understand that playtime particularly is a powerful and necessary learning tool for young ones. It's critical to a child's social development, to expanding and using their imagination, and developing language and motor skills. So Nidi places importance on creating fun spaces for playing – they know our future innovation depends on it.
Colour
Young children love colour! It catches their eye and grabs their attention. By the age of three or four most children can begin to recognise and name basic colours. So they might not be interested in which wardrobe or bookcase would be best in their room – but we bet they'll love to choose the colour of the doors or the door handles.
Which is why Nidi's designs are offered in a rainbow's worth of them – from zingy brights to muted neutrals. Just as with children's imaginations, there are no limits.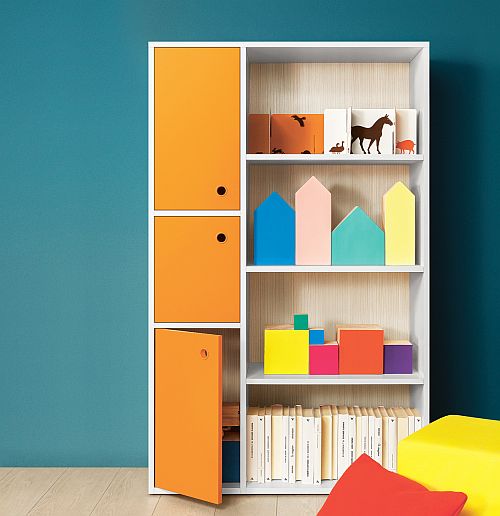 Design inspiration?
That's simple really.  Nidi looks at the needs and wants of children and strives to design spaces and products just as kids would themselves (but using their own very grown up machinery). And if you're searching for inspiration for a room, Nidi also offers complete room sets, designed to fit existing spaces. And they're careful to use every last centimetre in a room to accommodate the many different ways children use them.
Wardrobes
Space for keeping clothes, shoes, toys, books etc is always at a premium with little ones.  Nidi work very hard to design products that fit snuggly together, utilising every possibility for extra storage.   Their wardrobes are fitted or freestanding.  And each design can be customised with a mixture of hidden and exposed storage such as corner shelves and under stairs.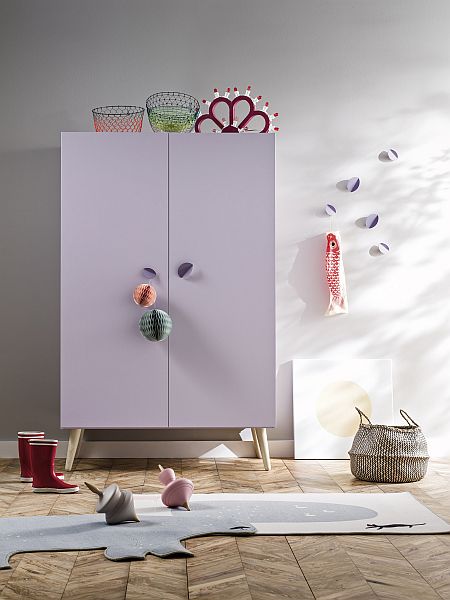 Encourage the creatives
It took me four years to paint like Raphael, but a lifetime to paint like a child – Pablo Picasso
It is said that we are all born with an innate ability to draw.  Somewhere along the line it gets squashed out of most of us.  So Nidi have created something to encourage our children's inner creativity with the introduction of clever rewriteable melamine finishes.  Which mean that any children following in the footsteps of Banksy can have great fun. But with no tears before bedtime.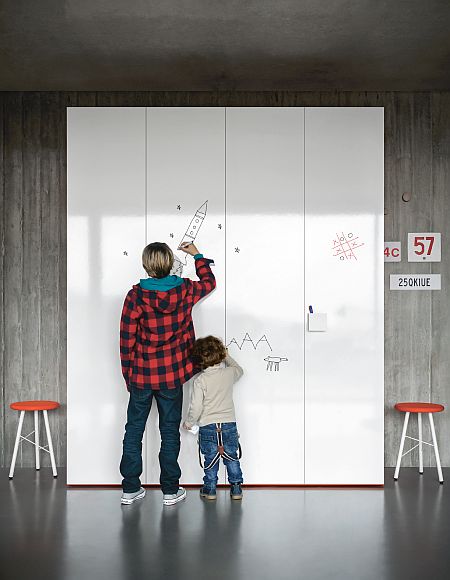 These 'Graphic' rewriteable surfaces are available with a selection of desks and wardrobes, and they're supplied with wipe- dry marker pens along with a pen holder that doubles as a door handle.  Top marks in our books.
And off to bed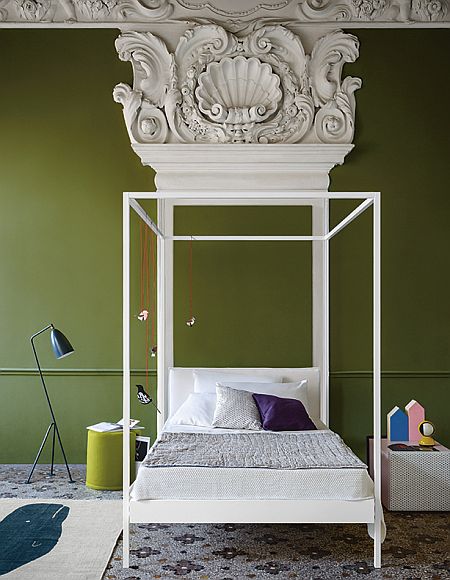 From single beds to four poster beds, trundle beds or beds designed to fold-away (when not in use of course) to ingeniously reveal a hidden desk underneath.  Nidi will have them tucked up in no time.
The Gino, for example, is more than just a stylish bunk bed.  The design cleverly hides an extra pull-out bed below the lower bed – perfect for any family or friends who come to stay. All of Nidi's designs are incredibly versatile, offering, as with Gino, an optional back 'wall' (useful if the bed isn't positioned against a wall), steps to the side or rear, and there's an optional tipping mattress for the top bunk. The pull-out lower bed can also be swapped for storage drawers. The choice is entirely yours. And as always, there's a fab fun selection of colours to choose from.
We also have a carefully chosen selection of handmade mattresses, made in England. Dreamily comfortable and perfectly sized for Nidi's beds (as we know that getting a good nights sleep is always top of everyone's list!).
The teenage years
Children grow.  And they grow up fast.  So Nidi have also created a range of stylish furniture designed to cover those important transformative years.
Identity
Teenagers definitely don't want a look created by their parents. End of. Slammed door.
Teens want furniture that will reflect their world.  They like desks and shelving to support televisions, mirrors or USB sockets, Bluetooth loudspeakers or rechargeable LED lighting with sensors – from our experience, all things that are definitely on their wish lists. Nidi can tick everyone of these boxes – so please get in touch with our showroom team to find out more. You'll be pleased to know that we very rarely get a slammed door!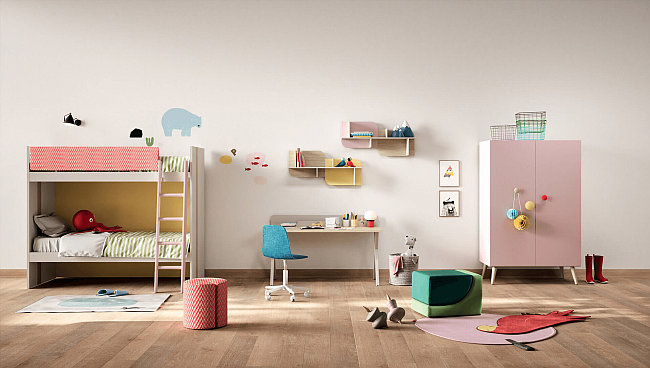 Protecting the future
Nidi furniture is created at the Battistella plant in the foothills of the Italian Alps, an area famous for its history, natural beauty and known for the quality of its products. And they'd like to keep it that way.
Ethics are an important part of the company's design philosophy, which can be seen in their environmentally sustainable choices.  It's a key factor in their production process and the measures they take to protect the environment around them.
And they don't shout about it much (so we will for them) but they also support the I Bambini delle Fate foundation, a social enterprise established in 2005 that is involved in ensuring economic support for social inclusion projects for families with autism and other disabilities.
If you'd like to see more of Nidi's wonderful designs click here.  And in the meantime we'll leave you with some words from one of the loveliest of all children's stories that we think fit perfectly with Nidi's world:
"To live will be an awfully big adventure."
― J.M. Barrie, Peter Pan