Baubles, bells and Christmas flowers are beginning to pop up everywhere at the moment.  There are of course the usual grumbles about 'Christmas getting earlier" – but on the whole we all love it don't we? It's the time of year when garden flowers have all but disappeared and the urge to 'bring nature indoors' or go wild with a bit of greenery is very strong. So we thought we'd bring you some insider tips from one of London's top florists! Christmas flowers are just the perfect cherry to top your other Christmas decorations. If you're looking for Christmas decorations, check out Holyart for great nativity scene decor.
Local flowers
Go Modern is lucky enough to have a number of fantastic florists in the Chelsea area including Moyses Stevens, London's oldest and most prestigious florist (dating from 1876 and possessors of a Royal Warrant no less).  Ordering online flowers arrangements is a great and convenient choice during the holiday seasons.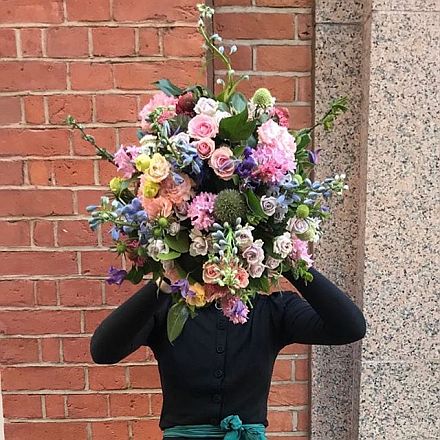 They've got a number of London shops, including one just up the road from our showroom, near Sloane Square.  They also run a Flower School at the newly developed Battersea Power Station over the river.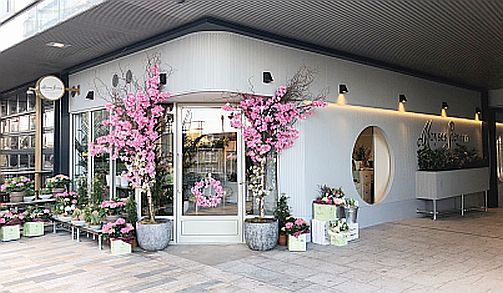 Moyses Stevens' courses are for budding amateurs through to more in depth classes offering advanced techniques.  Whatever level you're at, we think you'll agree that their floral arrangements are incredible – more like works of art.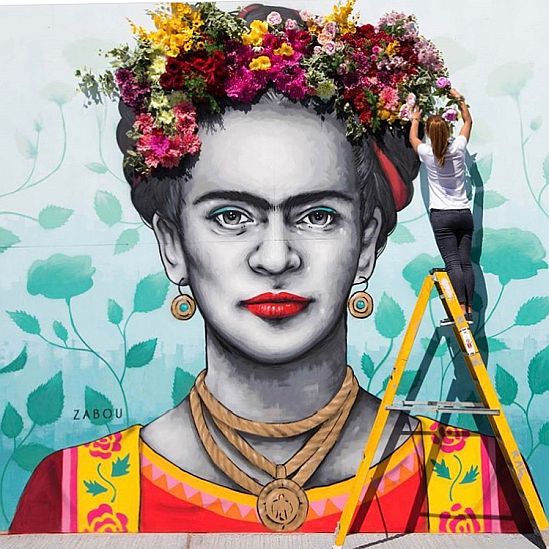 So we asked Moyses Stevens' Flower School tutor Gemma Kavanagh to lay down her scissors and twine for 10 minutes to share some advice on how can we get creative with some sensational seasonal flower arrangements.
A love-affair with flowers
Gemma began her lifelong affair with flowers as a school girl, working weekends for a local florist.  She then studied for a fine-arts degree and joined Moyses Stevens around 15 years ago.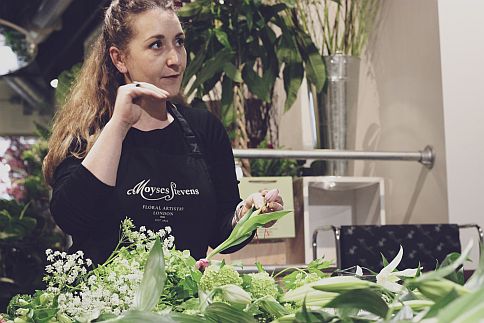 GM:  First question Gemma – if the only Oasis you know anything about is the music, are you going to be any good at arranging flowers? How creative do you have to be – is it something you can learn?
GK: It's all about technique – floristry is definitely something that can be learnt.  Once you know and understand the basics, your creative side tends to kick in. Colour and texture are the main things we focus on when picking online flowers and foliage.  I always suggest keeping things tonal… and having a little fun with the foliage!
GM:  It's definitely getting colder and darker outside.  What are the best seasonal flowers and foliage to buy right now for home arrangements?
GK: Always eucalyptus for foliage…you just can't go wrong with it! It's long lasting and will eventually dry out, leaving you with a product that can last for months. Plus it smells so good. I also have a soft spot for Chrysanthemum blooms as they are big and blousy and come in so many colours. They work well as a stand-alone flower, or mixed with seasonal berries and winter foliage.
GM:  Where do the bulk of your flowers grow and how long does it take to get them from field to flower bucket?
GK: We are lucky to work with growers all over the world. Columbian farms grow hydrangeas all year round.  That's perfect for us as these are one of our best selling products, alongside roses. A shipment such as this ordinarily takes three days from field to vase.
GM:  What are the current trends for floral arrangements?  Do people still prefer very formal arrangements? Is there a move towards more free flowing styles?
GK: The trend at the moment leans towards the wild and wondrous style of flower arranging. Think field picked flowers placed casually. That said, our hand tied bouquets haven't changed much in our 140-year history, so I feel that we have definitely created a look that is timeless.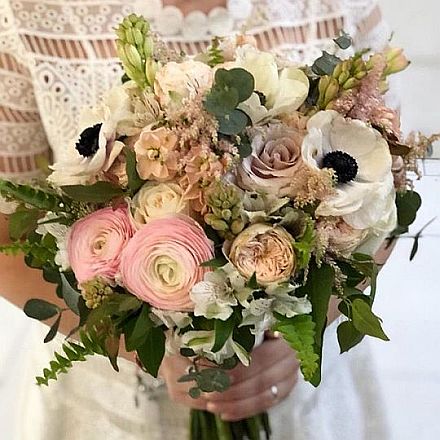 GM: What's the most creative (or nearly out of your comfort zone but exciting!) floral arrangement you've ever been commissioned to put together?
GK: That's such a difficult question! I have been a florist for over 25 years so I've been fortunate enough to work on so many wonderful jobs. Last year we worked with ITV on the This Morning "Wedding of the Year".  That was both creative and stressful! Not only did we have just one month to plan, we were given just four hours to transform the Royal Albert Hall into a wedding setting.  Something that had never been done before!
GM:  So what are the main rules of thumb when it comes to creating a floral display at home?
GK: Like most things in life, preparation is key. Remove any excess leaves and thorns (we call this conditioning) and allow them to drink plenty of water before you start.
GM: Are there ever any flowers you wouldn't use in a floral arrangement?
GK: There are no flowers that I wouldn't use.  But… some are trickier than others!  For example, spring blooms such as hyacinths and daffodils are difficult in oasis as they have soft, spongy stems. I also struggle with using flowers from the garden as they don't have the longevity of cultivated stems.
GM:  Any tips for keeping an arrangement fresh and avoiding droop? Does flower food work (we've seen everything from aspirin to vinegar, sugar to bleach recommended)?
GK: I avoid adding anything to the water, and prefer to just change it completely every two to three days. I always wash my vase before re-filling (don't be tempted to just top it up!) and re-cut my stems before placing back into the vessel.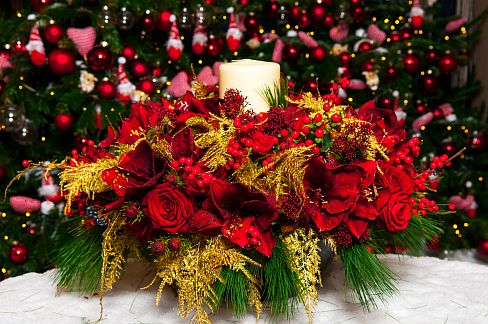 GM:  Christmas is just round the corner and it's generally about bold statements in the interiors world. What's your advice on creating a dramatic table centre piece (that won't block line of sight and conversation!)?
GK: Pick a colour scheme and stick to it. It's easy to get carried away so keep to one or two colours only. Foliage such as spruce, eucalyptus, leylandii are all a must have.  These also work well out of water so can be placed along the length of a table to create a garland, then placed back into water once the table is cleared. To bring it all together, try a scattering of candles and a few of your favourite baubles dispersed amongst the foliage.
GM: Christmas door wreathes have already started to spring up everywhere.  Can you give us some tips on how to go about making a simple one at home? Where to start?  What to use?
GK: I love using masses of foliage when making a wreath. Anything circular will work as a base (for extra-large wreaths I have used hula-hoops!), but for ease you can always purchase a ready-made base from a local florist. For a full ring, always place the foliage in the same direction and "bind" onto the frame or feed it into the pre-made option. This can then be decorated with dried fruits, pine cones or any Christmas decorations you may have. I always finish my door wreath with a large luxuriant bow.