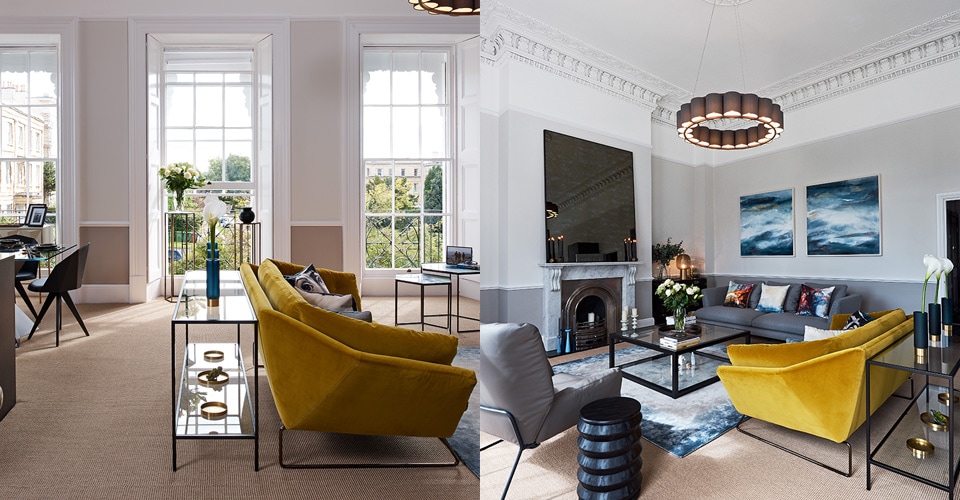 We work with some truly talented interior design companies at Go Modern.  So we are delighted to share with you an incredibly impressive project for which we provided some beautiful furniture.
Furnish Interior Design
Furnish Interior Design is based in the heart of Cheltenham, Gloucestershire.  They're a fun, creative bunch and passionate about what they do. The Furnish brief was for the interior design of a magnificent Georgian apartment in Cheltenham.  We think the end result is fabulous.  Look out for our Lars sofa and Nikos armchair from Bonaldo. Plus Saba Italia's beautiful New York Suite sofa.
The Design Brief
Furnish Interior's clients requested a scheme that would be 'luxurious, rich and calming'. However, they also wanted a little contrasting edginess. Director Daniel Cook described the project to us.
"The scheme was a delight for Furnish to work on.  We were totally bowled over by the apartment's Georgian architecture. Big, tall ceilings, room proportions and lots of original features.  Likewise, the fireplace and decorative hand-crafted coving contribute to the strong character of this apartment. These were of course all elements that we wanted to consider and celebrate within the design.
"Bursts of blues, mustard yellows and magenta showcase as signature colours"
"Our clients asked us to create a space with a subtle connection between each room.  In addition, they also wanted to maintain some intrigue and a sense of individuality. The colour palette of the reception sets the scene for the rest of the apartment.  Punches of colour and geometric shapes can be seen throughout.
"We decided on earthy grey tones for the walls.  This was inspired by the same shade that exist in the marble fireplace. The neutral walls and organic nature of the sisal carpet helped to set the calming backdrop. Juxtaposing this, bursts of blues, mustard yellows and magenta showcase as signature colours.  We used them on the sofa, rug, cushions and accessories throughout.
"A huge bespoke antique mirror rests on the fireplace"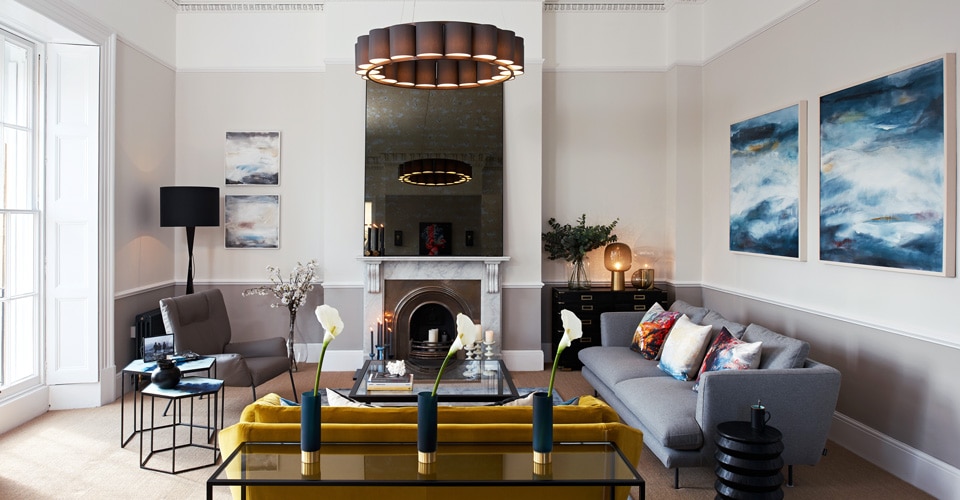 "Then there's the amazing Saba New York sofa in front of the black sculptural furniture.  It adds the perfect injection of colour with its stunning mustard yellow. Also of note is the artwork here, by Miranda Carter, and specially commissioned for the client.  This subtly picks up on these yellow tones and adds some gentle blues.  This is also reflected in the cushions by Jessica Zoob.
Alongside this, a huge bespoke antique mirror rests on the fireplace. Due to its size, this allows the details of the ceiling and large-scale gliding pendant light to be reflected back into the room.
"This was quite a tricky project for Furnish because our client was based in Bermuda. Therefore most communication, design presentation and development had to be achieved via Skype and emails. We did this using intricate and detailed mood boards.  We were able to clearly determine, communicate and successfully achieve the look and feel for our clients using material sample boards, technical plans and drawings. They are delighted."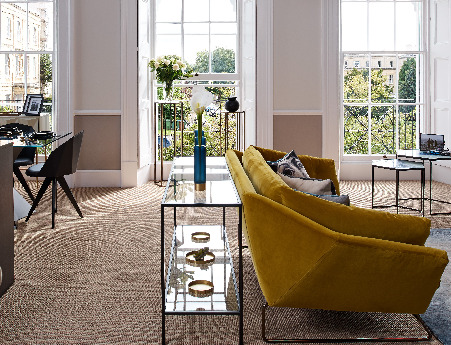 So, job extremely well done Furnish Interior Design.  We look forward to being of service for your next exciting project.