Autumn is definitely in the air and we've also started thinking a little further ahead to Christmas.  The season of goodwill – and playing host to a myriad of family and friends. Which is great but, if you are anything like some of us at Go Modern, the perennial problem of where to put everyone/no room at the inn is, well, a perennial one.
So we got to thinking about how we could help and make everyone a little happier.  And thus the idea of a special sofabed, exclusive to Go Modern, was born.
The Happy Sofa Bed will, we're hoping, be the bed of your dreams (and those of your guests).  Designed exclusively for us by Italian specialist Vibieffe, Happy is a stylish two-seater sofa that looks for all the world like the up-market, high quality, contemporary sofa that it is. But it's also so much more.
Within its sturdy tubular steel frame, and deep sumptuous foam and feather cushions, lies the answer of where to put your wise men and ensure they have a good night's sleep: A highly sophisticated bed mechanism with a comfortable 13cm sprung mattress ingeniously hidden inside the sofa base.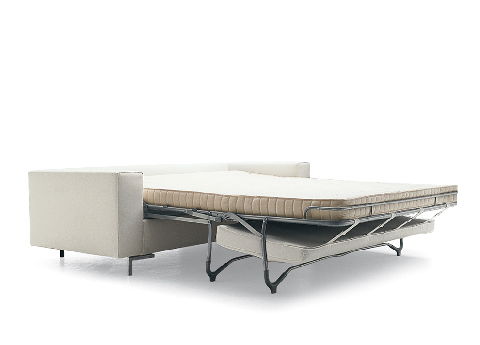 Happy is good looking enough to deserve taking centre-stage in your living room, spare bedroom or guest room. It's also available in three sizes, with fully removable covers in cotton, linen, leather or own choice fabric. Its discrete angled feet are in chrome-plated aluminium. Made in Italy. Which all in all makes us very happy and we hope it will make you happy too.
We have a Happy on display in our Kings Road showroom at the moment so please pop in and try it for yourself.  We can't promise angels, shepherds or wise men, just a very good, high-quality sofa bed that won't disappoint.
And to add to the all round happiness factor… we're offering a special 15% discount on ALL our sofa beds until the end of October. Simply use code HAPPY17 at the checkout, call us on 020 7731 9540, or talk to one of the team when you're in the showroom. We'll wake you with a lovely Italian coffee if we need to.