A new year and some fabulous new and contemporary art pieces adorn the walls of the Go Modern showroom.
We've displayed a few pieces before from the fabulous Allan Forsyth – his Pride and Glory – Roebuck Deer was much loved and had many compliments when it graced our Kings Road window.  Most of Forsyth's work is a mixture of modern technology meets nature, strikingly dramatic and eerily real – photographic in style, with a magical glowing quality set against a black background.  Tranquilizer, another 3D  motion lenticular (a photographic printed image giving the illusion of depth and movement when viewed from different angles), is the latest piece on display; a beautiful, shimmering butterfly, that moves gracefully and almost translucently within the frame.
And butterflies seem to be a bit of a recurring theme this year…
Artist Rebecca Coles describes her work as "…a journey travelling with a pencil, paper and a pair of scissors…".
Rebecca's beautiful three-dimensional decorative art is composed of hundreds, if not thousands, of hand-cut, carefully selected pieces of paper made from upcycled stamps and pins.  It's stunning and very detailed – a contemporary take on the traditional entomological art form where insects were captured and encased.  No cruelty involved here however – just thousands of colourful and delicate paper butterflies intricately cut, sculpted and pinned.  Love it!
From Stuart Hartley, one of his new Event pieces – an incredibly eye-catching, physical, colourful work, with a playful quality … it's incredibly hard not to want to reach out and touch this piece, a cross between art and sculpture. It draws the eye around the board, like a visual game, with a kaleidoscopic display of  brightly painted balls of varying sizes, all resting on top of, underneath or to the side of miniature ledges.  We're keeping tabs on the number of our clients who move towards it, hand outstretched..!
Event 19 – Just around the corner.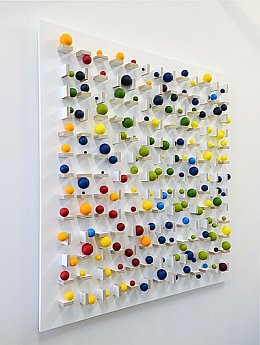 These are just a few of the art pieces we have at the moment.  Pop by to have a closer look – like most art it's hard to do them justice with small images, you have to see them in the flesh to get a feel for how wonderful they are.
 Happy New Year from all at Go Modern!