We love a good flower show at Go Modern – we're lucky enough to be just up the road from The Chelsea Flower Show (which we also exhibited at one year) and this year we're involved with The RHS Hampton Court Palace Flower Show.
Award-winning garden designer Tracy Foster got in touch to say that she was creating a hedgehog-inspired summer garden for the Peoples' Trust for Endangered Species (PTES) and The British Hedgehog Preservation Society (BHPS) to show at Hampton.  Hedgehog Street is the name of the garden and the idea is to showcase a number of hedgehog-friendly features to encourage gardeners  to make the land on their doorsteps more hedgehog friendly.
Once we'd stopped Simon from doing a fairly good impression of the 'Not The Nine O'Clock News' 'I Like Truckin' song (you probably have to be over 30 to know this!) and looked at the garden plan and Tracy's ideas – we realised it was an incredibly good idea… and a beautiful garden.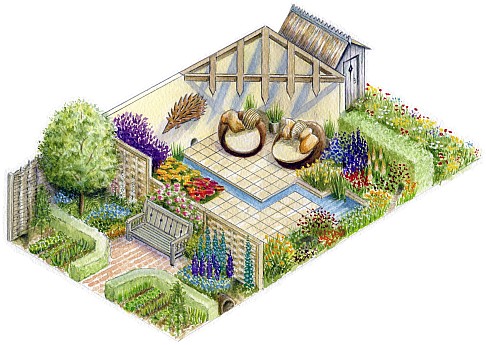 So, how does Go Modern come into this we hear you ask?  Well, Tracy had the inspired idea of using a couple of our garden chairs as part of the design (you can see them in the sketch above). Our Bubble garden chairs, she thought, looked incredibly like large hedgehogs (without the prickles of course!) and once she'd pointed it out we had to agree!
The Bubble chairs are some of our most popular garden chairs, made from synthetic rattan, all-weather material, and designed to sit in your garden all year round.  They're virtually indestructible (unlike the poor hedgehog), cool in the heat, dirt-repellent, fade-proof, water and frost resistant, biodegradable and recyclable.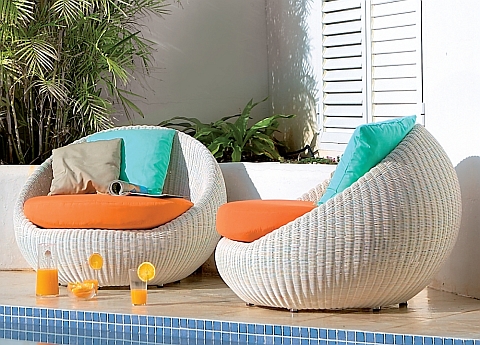 Tracy borrowed our 'toasty' coloured ones which looked a bit more realistic than the white ones above.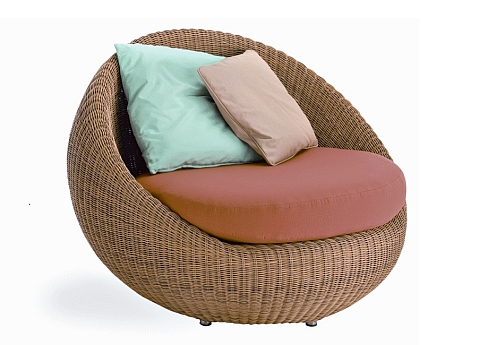 We haven't got any images of the finished garden yet (the show's open from 8-13th July) but we'll share them with you when we do.
Of her garden design, Tracy says:"It has been an enjoyable challenge designing a multi-purpose space to inspire gardeners but also help hedgehogs. I was alarmed to discover that hedgehog populations are facing serious problems in our gardens, particularly in moving between garden boundaries to find food and mates. This design will demonstrate that practical access routes for hedgehogs need not come at the expense of aesthetic style."
So, pop along to the show if you've got time, it's always a lovely day out, and pick up a few tips from Tracy and Hedgehog Street to keep our Mrs Tiggy-Winkles going.