When we come across a design that we instantly know will be a big hit, it's a moment to savour. So it was in 2018 with a garden chair designed for Tribù, world experts in outdoor furniture. We weren't alone in our thinking as, shortly afterwards, the brilliant Nodi outdoor chair, designed by Canadian design house Yabu Pushelberg, become a prestigious German Design award winner.
We always try to avoid hyperbole in this space.  It's not our style.  However, it would be an understatement to describe Yabu Pushelberg's 40 year portfolio as anything other than incredible. Even if their own description of themselves appears somewhat modest in comparison:
"We design places and products: immersive environments, compelling destinations and considered goods" – Yabu Pushelberg
The company has earned many awards in its time, including Officers of the Order of Canada, a place in the Interior Design Hall of Fame and it was also named as one of the world's most influential design studios by Wallpaper* and Elle Decoration.  But as they say themselves, "the trophy shelf is not our main concern."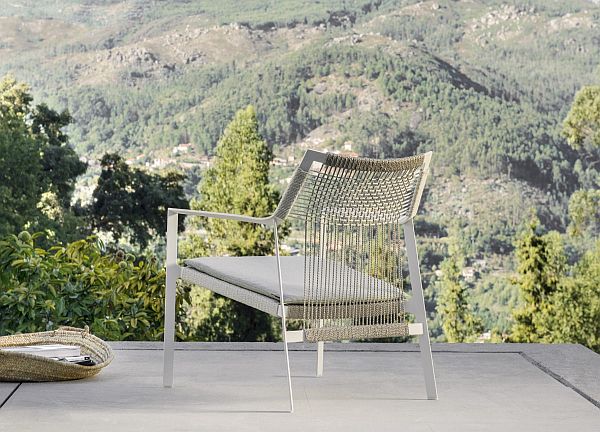 "For us, it's all about designing the world we want to live in"
We caught up with the dynamic duo behind the company, Glenn Pushelberg and George Yabu, who are currently in lock-down on the other side of the Atlantic.  From there they shared their thoughts on everything from life in the current climate, to their design philosophy, and working as business partners along side being partners in life.
"The defining element to who we are is the way that we imagine how the world can be. We see possibility in everything, and quite honestly keep our sights set on the next biggest challenge we can conquer" – Glenn Pushelberg
Go Modern: Hello! Your company is now into its 40th year. Happy Birthday and many congratulations! Did you ever imagine 40 years ago that your output and design influence would have spread around the world as much as it has?
Glenn: It is a pinch-me moment every step of the way. We are beyond grateful to be on this journey and to share it with our team of designers and collaborators.
GM: You're in lock-down and we unfortunately haven't had the opportunity to meet you in person, but we are told by the team at Tribù that you are both "great fun"!  At times such as these, how do you hang on to that happiness?
Glenn: We would describe Tribù similarly! It is always great fun collaborating with them and celebrating our shared achievements. When you are in the same place for too long, things can easily begin to lose their colour. Your environment feeds your attitude, so if you feel stuck, it will show through your mood and your work. In these moments, movement becomes essential. Through simple, incremental changes to your home and routine you can create new points of view that can make your home feel refreshing, even exciting.
George: Being at home all day has made us realize how much crockery we have accumulated from friends over the years. Instead of returning their empty plates, we have made it our weekend mission to freshly bake pastries, treats and dinners to fill their dishes before leaving them on our friends' doorsteps.
GM: You met at Ryerson University in Canada, studying on the same design course. But taking you back before that time – what drew you both first to the world of design?  Did you have a 'light bulb moment'?  Or was there one particular product where you thought, "Yes, that's what I want to do"?
George: I grew up watching my father build boats, a meticulous process that encompasses engineering and craftsmanship. I would observe how he interacted with his imported Japanese tools, and use them to communicate with his materials. One of my first memories of being impressed with his design technique was seeing how a Japanese saw was used. Unlike Western saws where you push, increasing the possibility of the saw wobbling and having a less accurate finish, the ore of a Japanese saw requires you to pull up, creating a more precise, controlled cut. It was captivating to see the process behind the product.
Meanwhile, my mother was a trained seamstress. She was always driven to learn how things worked and how to fix things through very clever, cost effective means. She looked at things through industrial design and engineering principles, a trait she has transferred onto me.
Both of their outlooks had a huge impact on me and ultimately drove me to where I am today.
GM: What was the very first design project you undertook together?
George: Our first major design project as Yabu Pushelberg was Club Monaco in Toronto. We began our career with retail design and 40 years later, we are designing the renovation of the Paris department store, La Samaritaine. It's incredible to see our personal and professional growth, and the faces and places that have followed us along this incredible journey.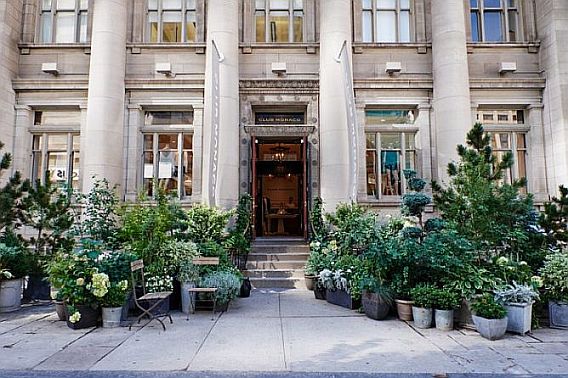 "No detail is too small and, quite frankly, the details are where the magic happens"
GM: The Yabu Pushelberg 'company statement' says that your design focus goes "well beyond what something looks like, to how they make people feel".  How do you do that? How do you tap into emotion?
Glenn: Our studio is an integrated practice, meaning our various disciplines sit at the same table.  It's true collaboration – not just various trades under one roof.  In our view, it's the only way to create the kinds of cohesive experiences that resonate with our clients.  It also means we can touch every single element of the Client's experience, from the overall vibe of a room, to the couch you sit on, to the wine glass you sip from, to the Instagram account that lured you there in the first place.  No detail is too small and, quite frankly, the details are where the magic happens.
GM: Your design projects include buildings, interiors, landscapes, lighting, furniture, objects and graphics.  Is it easy to switch from the design of a building to something so much smaller such as outdoor furniture? How do you put space between the disciplines?
Glenn: The defining element to who we are is the way that we imagine how the world can be. We see possibility in everything, and quite honesty keep our sights set on the next biggest challenge we can conquer.
George: As designers, we are always thinking about the future and where it can take us. More than ever it is our jobs as designers to make sure that the future is considered, thoughtful, and nurtures the fundamental elements that allow us to even exist here.
GM: The wonderful Nodi garden armchair was your first design for Tribù.  Glenn you have described the design as being "like a person who stays in the background, says very little, but has an aura about them".  What did you mean by that?
Glenn: What I like about Nodi is that its personality is subtle, quiet while clearly distinguished. It is a quiet beauty that is timeless and not overly expressive. When I think of Nodi, I envision a chic woman walking into a party. She is mysterious and quiet, but her presence immediately draws all eyes in the room. When you see her walk in, you know you would like to speak to her at some point in the evening. Nodi leaves a long-lasting impression.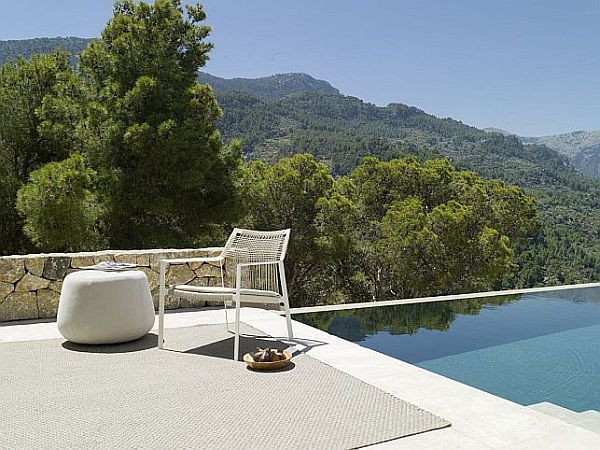 GM: George, you have talked about giving the Nodi chair 'sex appeal'. We agree!  It does have huge sex appeal.  But how did you do that with an inanimate object?
George: Like many things, if you have a good frame you can almost wear anything. Nodi has the most exquisite bones, perfect proportions, and our intention was to showcase this. The macramé weaving of fibre does not cloak Nodi's bones, it just enhances its beautiful profile. You may not see it so easily online, but when you meet it face to face, you can really see its sensuality.
GM: Moving on to your latest design for Tribù – the wonderful Elio Collection of outdoor sofas and chairs … Did you have a complete blank sheet of paper for this? Were their certain requirements from Tribù?  How did you arrive at the particular style and shape? Why did you choose those particular materials?
George: Tribù's only request was to work with their signature synthetic Tricord material which is uniquely a part of their DNA. At first, we grappled with how we can make a collection feel light and airy using this material but as we fiddled with it more and more, we found our footing.
We began to twist and bend the material to get a sense of its capabilities. One thing led to another and we began to weave the Tricord back and forth until we unknowingly created a macramé effect. This unique technique became the language of Elio.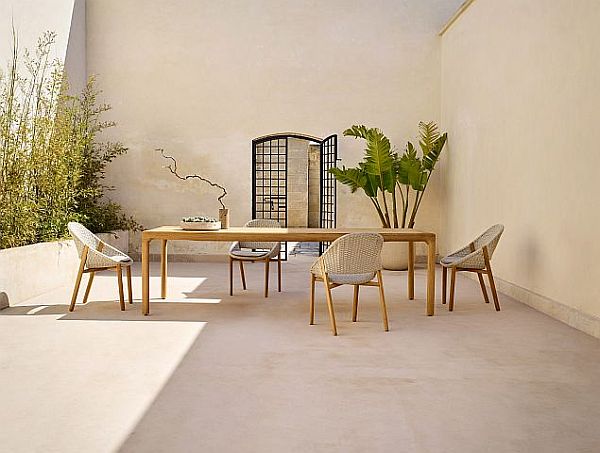 GM: Go Modern is based on the Kings Road, Chelsea, London, not a million miles away from one of your latest design projects, the super-boutique hotel 'The Londoner' in Leicester Square.  It's due to open sometime next year.  How would you describe the interior look for this?
Glenn: It's at the heart of Leicester Square and is an outspoken, theatrical hotel standing 30 meters high and 32 meters beneath street level. The Londoner is the first hotel of its kind to hit the city. Designed as an ode to the art of performance, we crafted archetypes of a theatre production's cast and crew to personify spaces within the hotel. Through layers of sky high and subterranean programming, The Londoner echoes Leicester Square's extroverted, playful and alluring voice.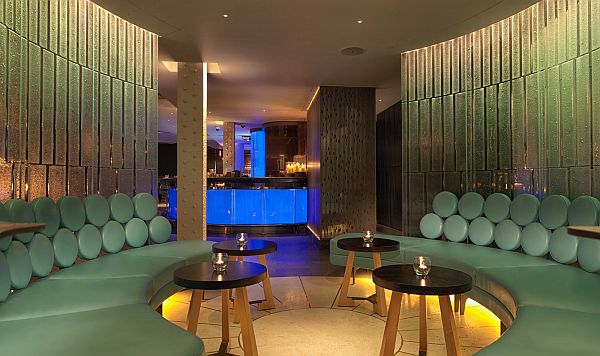 We've worked together going on 40 years. We share common goals, desires, and similar aesthetics – George Yabu
GM: You are business partners as well as partners in life.  How do you make that work as successfully as you do?
Glenn: George is an extremely creative, detailed person that can articulate the purpose of a project from the beginning. Towards the end of the project, he can refine it in the most interesting ways, so it holds its own voice. At each phase, he works with the team, listens and makes them feel supported.
George: Glenn listens to the client and understands what they are saying by reading between the lines. He sees and understands what their true desires are, and he can fulfil these specific requirements through his knowledge and experience in design. He knows how to express the needs of a client to a team pragmatically and explain things that are hard to always see clearly.
We've worked together going on 40 years. We share common goals, desires, and similar aesthetics. We cultivated and mastered the Yabu Pushelberg DNA – creating deeply thoughtful, distinctive projects that are appropriate to where we believe the client should be rather than where they are in the present.
GM: And what is coming next that we should look out for from Yabu Pushelberg?
Glenn:  We are celebrating the studio's 40th birthday! As we arrange the candles, we have been avidly reflecting on our growth, both as people and our work over this period of time. What we have realized is, what better way to celebrate our birthday than with the opening of new projects!
This year, LVMH's Paris department store, La Samaritaine will be re-opening to the public after its 15-year closure. We are also opening two hotels in London. Meanwhile, in North America, Fairmont Century Plaza Hotel, branded residences and residential towers will be re-introduced to LA. In Canada, we designed the EGALE Centre, a space for LGBTQ homeless youth to seek refuge. It is a big year for us, and we are beyond humbled to wake up every day and do what we love.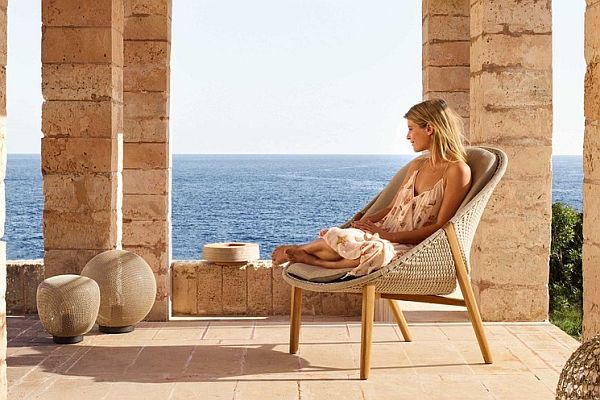 GM:  Thank you both once again – and many congratulations!  We look forward to seeing all the fruits of your creative labours for many years to come.
*******
For further information about Yabu Pushelberg's Nodi and Elio collections for Tribù hop over to our site.