The Shutter Shop Talks Windows
At Go Modern We're lucky to be situated in an area of the Kings Road known as the Chelsea Design Quarter, London's premier design destination. It's the perfect one-stop luxury interior design destination. We're surrounded by a diverse selection of specialists so it's fairly easy for us to nip out to ask their expert advice on most things from bathrooms to kitchens to… architectural hardware for doors (that's smart door knobs etc in case you're wondering). One of these experts is The Shutter Shop.
The company is one of the UK's leading interior shutters and blind experts. They're a very friendly bunch and a family run business of over 30 years who obviously know a thing or two about shutters.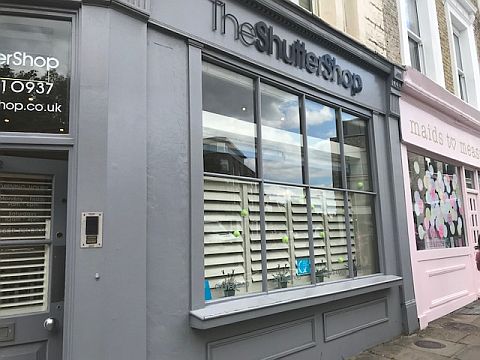 The Shutter Shop
So we caught up with them to talk windows, starting with the obvious:
GM: Why choose shutters over curtains or blinds?
TSS: As a significant investment, and an interior feature you are unlikely to regularly want to replace, deciding on shutters, blinds or curtains is something you want to get right! The choice between shutters, blinds or curtains usually comes down to budget, décor style, shape of window and window requirements. You can actually have all three! Some of the benefits of shutters include: providing privacy without blocking the light; long lasting and versatile; simple and clean; framing the architecture of a window rather than hiding it.  They're also ideal for period properties and equally stunning in a modern new build, providing additional insulation. Another wonderful option that you should consider if you are getting new windows are the lovely timber framed windows as they just look superb so definitely consider those too.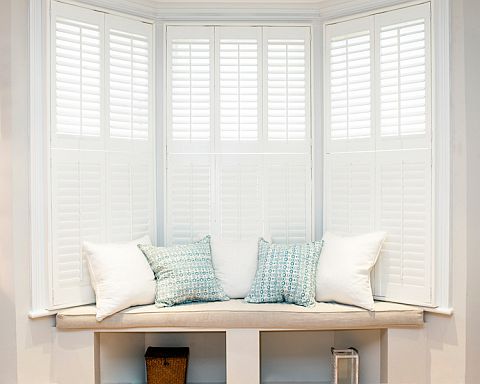 GM: That's an impressive list… but do shutters fade or chip over time?
TSS: Shutters are a very robust and hard wearing product.  However scratches and chips in paintwork can occur over time like anything, particularly if the shutters get heavy use. These can be easily touched up with paint – be sure to contact us so we can check your order to find the exact colour match! Our shutters are manufactured using UV protective layer to protect them fading.
The Shutter Shop and The Environment
GM: Environmental issues are at the forefront of everyone's mind at the moment.  Is this something you're able to consider in your manufacturing process?
TSS: Absolutely, we are committed to making sure that we only supply products from sustainable fast growing supplies.  We know exactly where our timber has come from, always managed forests worldwide. In fact earlier this year our factory in China made the decision that, in order to remain sustainable, they would no longer supply Sumatra, one of our premium shutter products, as it was manufactured using White Teak, which takes 25 years to grow. We now offer another premium level hardwood shutter, Samoa.  This is produced using fast growing Ayous hardwood and Fiji, which is also a hardwood product, produced using Paulownia one of the world's fastest growing tree species.  This matures in under 10 years and is also known for the natural beauty of its grain.
Keeping Shutters Clean
GM: That's good to hear. And now another pressing question: How easy are shutters to keep clean (are we introducing a major dusting job)?
TSS: In order to keep your shutters looking their best we recommend regular cleaning so that dust doesn't build up!  We advise using a feather duster as they fit through the slats easily and are soft so do not scratch.  You can then use a damp cloth to remove any dirt. You can also use a vacuum with a brush attachment if there is a build up of dust.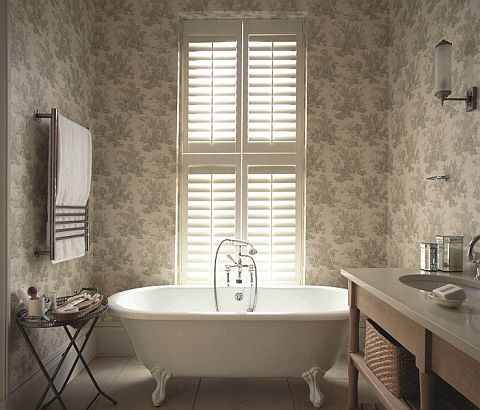 Shutters and Light
GM: Will shutters make a room darker overall and block out much of the natural light?
TSS: Hopefully a lot less than any other window dressing! Shutters are a great way of maintaining light in a room whilst providing privacy – this is a reason why they are particularly popular in overlooked city and townhouses. The design of the shutters means that the louvres (slats) can be angled to allow in different levels of light. In terms of styles, a very popular style when wanting to keep light is café style.  This is a half-height shutter, which means the top window is left clear so natural light can stream in. Most shutters can also be folded back so that you can have total natural light if you want.
GM: So for those of us completely sleep deprived during the summer… Are shutters the solution to keeping a bedroom 100% dark?
TSS: Whilst shutters do block out a lot of light, they are not 100% black out, particularly on a road which might have street lights directly outside. For clients looking for 100% blackout we would also recommend having an integrated blackout blind behind the shutter (this is something we offer and which also provides the additional benefit of blocking sound with additional insulation).
GM: Are there any windows you would advise against fitting shutters?
TSS: Shutters actually work brilliantly on unusually shaped or hard to reach windows, in fact we now also offer a motorised automated shutter range for difficult to reach windows. The great thing about shutters is that they are bespoke, so whether the window is arched, a large bay, circular, sky light or a standard sash window there should be a possible solution. On a rare occasion we may advise against fitting shutters, and this may be due to a particularly wonky window or lack of sill space.
So, there you have it.  Expert advice from the our friends The Shutter Shop.  You an check out all of their designs and more at www.shuttershop.co.uk