We're just back from our annual trip to Salone del Mobile – the largest furniture show in the world! It's based about 20 minutes outside of Milan in an exhibition hall (or to be precise 24 halls!) covering around 700,000 square feet. And sore feet of the human kind are what we usually return with! But far overriding that is a tremendous sense of what an incredibly creative industry we work in. It's humbling to be amongst such a hugely talented number of people – from the designers to the manufacturers – who each year come up with even more inspiring products and ideas. It's also the place where, as a retailer, you get a sense of the trends – what's coming next in interiors. So 'Milan- the Trends' is what we can then share with you, along with some amazing new designs.
Milan -the Trends
Having said all of that, we're not great ones for following 'trends'.  It has a slight 'here today gone tomorrow' feel to it.  And that is definitely not what Go Modern is about. Although 'modern' and 'contemporary' run through our DNA, high quality, longevity and value for money are equally important.
However, it's hard not to see recurring patterns or trends while you are taking in the visual feast that is Salone.  So, the following is a brief round up of what caught our eye.
Milan – the Trends. Velvet.
Yes.  Velvet.  It's been around forever and began to make a big comeback a few years ago.  And again, it was everywhere at the show. Luxurious, comforting and stylish.  We love it (we also saw it on a fair few Milanese – and who can disagree with the residents of what is after all the fashion capital of the world!).
The beautiful new gently curved sofa, Rendez-Vous, above was designed for Saba Italia by Sergio Bicego.  For the show it was covered in the most sumptuous pale blue velvet.  We're ashamed to say that we spent a lot of time admiring and stroking this particular version.  The new Rendez-Vous is also a  modular design with various elements that can be fixed/moved according to taste – which was another great Milan trend from a number of suppliers (although we have championed modular design for many years).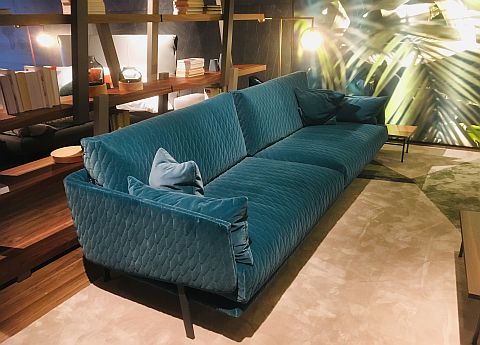 And here is more velvet, seen above on a new Bonaldo sofa, this time with some creative quilting in beautifully organic shapes, rather than the traditional diamond shape we usually associate with this style. We saw a great deal of quilted fabrics around and it definitely ticked all the right boxes for us.
Milan – the Trends. Colour.
As far as colour goes – there was a lot of it.  Many brands paid tribute to 'Living Coral', Pantone's colour of the year.  Stands were bathed in shades of terracotta, mustard, orange, deep pinks and all the many vibrant, associated colours.  We love shades of grey, usually run a mile from taupe, but totally embrace this new move to a more colourful world.  We definitely need more colour in our lives at the moment and designers are obviously responding to this universal feeling.  One colour that did jump out at us, and which was used by many of the exhibitors we visited, was bottle green.  It's a colour some of us associate with school uniforms (OK – just us then) but this time we completely fell in love with it.  And it wasn't  just fabrics – it also appeared in lots of marble finishes too.
Seen above is Alain Gilles' Big Table, which is celebrating it's 10th anniversary this year.  And to mark the occasion, Bonaldo showed it in Milan with the most stunning green table top, St Denis, a marble that is quarried in Italy.  There was also lots of creative use of foliage, either in wallpapers, fabrics, or the real things.  So continuing the trend for keeping in touch with the natural environment and decorating with plants.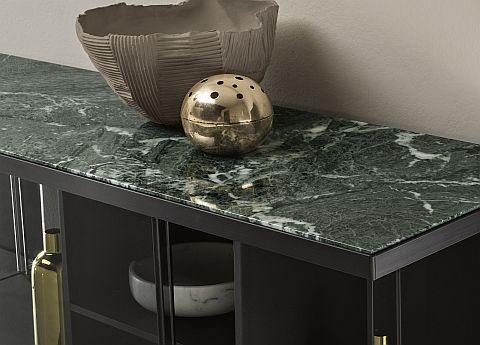 More green marble (above) spotted on the Tonelli stand (which by the way was designed by Uto Balmoral this year – and very striking it was too!).  Here it is on their new Eastside sideboard, with the top in a beautiful and very striking green Guatemala marble.  It also comes in a red Arabesque marble.  See what we mean about colour everywhere this year.
Milan – the Trends. Metallics.
Another recurring theme and of which none of us appear to have tired is metallic. There were some fantastic finishes on display using leads and bronzes on tables, beds, chairs and mirrors.  A metallic finish adds a real sense of drama to a piece and can lift a routine design to another level, adding style and a touch of luxury.
It also doesn't need to be all over a design. The old adage 'more is less' or 'don't gild the lily', literally, works well here.  The coffee/side tables above have legs and table top rims in various metallic finishes which look superb.
Milan – the Trends.  Wardrobes.
We love them.  Go Modern specialises in wardrobes.  If you are looking for the perfect wardrobe to fit a difficult space, or simply the latest, most innovative ideas for making the most of your storage space talk to us.
But if the thought of 'wardrobe talk' makes you glaze over, think again. We spent time with wardrobe specialists Jesse and Novamobili talking through their latest innovations.  There are now so many clever ideas out there that even the most sartorially challenged of us will be amazed and impressed.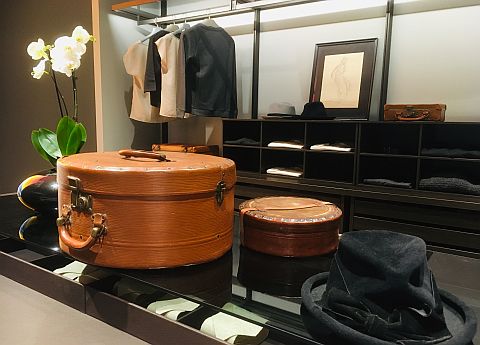 And there really are some big new developments in this area. If you're in the middle of choosing a wardrobe you'll know how important it is to get it right from the earliest planning stages.
Amongst the latest innovations are illuminated shelves that can be re-positioned without the need for rewiring, all using eco-friendly, low power.  Also discreet humidifiers with scented fragrances (the new equivalent of lavender bags), alongside pleasingly soft-close doors (hinged or sliding)  guaranteed to enhance marital harmony (well… we cant guarantee that one but it all helps!).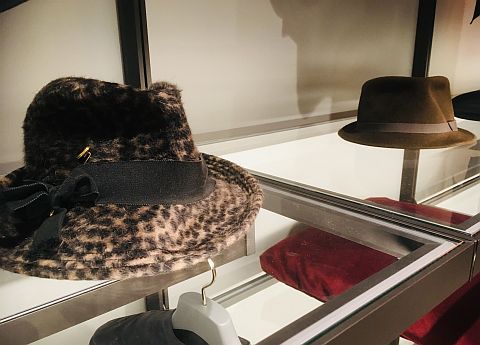 Milan – the Trends. Children.
Well not children exactly.  But designs for children.  Along with clothes, Italians are well known for adoring little ones.  Which might explain why one of the best companies around producing furniture for children is Italian.  Nidi is an extraordinary brand that has cornered the market in clever, imaginative and stylish ideas for children's bedrooms or playrooms.
This year the look was very much more Scandi.  More pastels and neutrals and a great sense of order and calm – kids, in our experience, will never be short on adding their own sense of drama. We were seriously impressed with the styled room sets and the impressive quality of the materials, plus the company's impeccable attention to detail.  Nidi's social media tag for the show was #NidiWow.  And we'd so agree with that.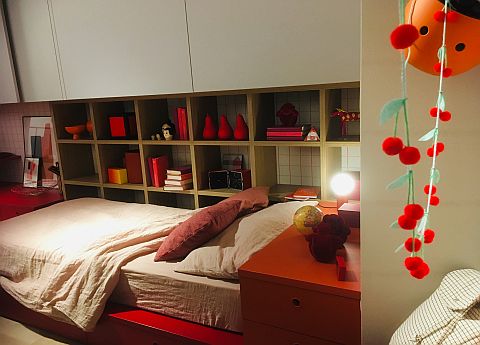 From storage beds to wall units, writing desks with pin boards and adjustable shelving, to corner seating with storage (have you spotted the recurring 'S' word here?) Nidi has it all.  The name means 'nest' in Italian, a cosy, protected place for rearing youngsters.  The beauty, ergonomics, safety and functionality of all their design is incredibly impressive. They simply produce the best possible furniture for playing, sleeping, learning and growing.  #NidiWow – just WOW!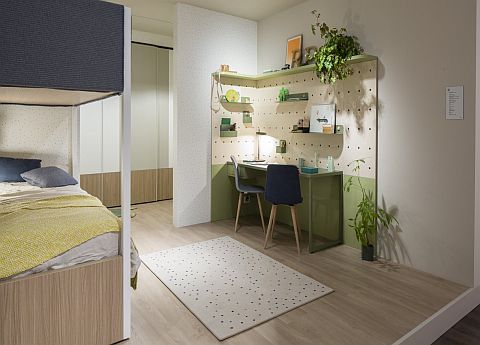 So there you have it.  Milan – the Trends.  Even though we don't entirely approve of trends.  Hopefully that has given you a  small taste of this year's Milan highlights.  Look out for all the new additions being added to the Go Modern website very soon.