Confession:  At Go Modern quite a few of us are fashionistas – with wardrobes. We love clothes. And shoes.  And handbags. Our trips to some of Europe's capitals to meet with suppliers and discuss new designs are often punctuated with a (very) quick dash into the odd boutique. And of course London Fashion Week starts next week.  So as usual look out for some of the most exciting shows on the planet!
But how to store it all is the question?  Well, come talk to us because wardrobes are one of our specialities.  Without blowing too much of a trumpet, we have probably the largest range of Italian made freestanding and fitted wardrobes in the UK. All of our wardrobes can be built from two doors wide to as many as you need.  And, most importantly, they have a HUGE choice of internal storage options.
Clever wardrobes
We have a myriad of clever storage ideas for shoes, bags, umbrellas, sports equipment, keys… some even have chargers for mobile phones and other electronic stuff…and, of course, space for your glasses online uk. There are pull-out apothecary-style sections, corner cupboards with swing out trays, pull down rails  – in essence our made-to-measure wardrobes are the 'haute couture' for your home.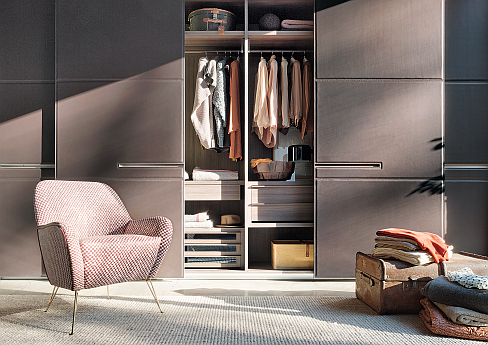 Colours, textures and finishes
And if you're a fashionista you're almost certainly into colours and textures. We can do that too. Most of our wardrobes come in dozens of beautiful fashion-led colours or finishes, such as the stunning Lema Warm wardrobe (above) which is upholstered in hide with the profiles and handles in an uber-stylish bronzed anodised aluminium.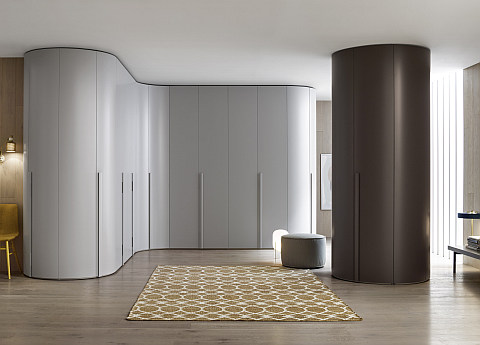 Got an angled wall or an awkward corner?  We love those. The Novamobili Curved wardrobe above is a fabulous example of what you can do with a space you had no idea what to do with.  We work with a number of different wardrobe manufacturers with a huge range of designs and we've never come across any design like this.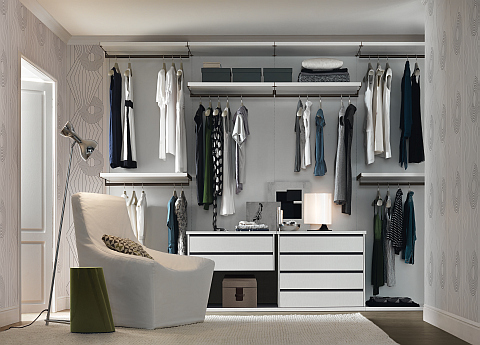 Walk-ins
Jesse make an incredible range of wardrobes.  The Jesse Walk-in Wardrobe (above) is in their fab new finish, satin white, and fulfils that fantasy all fashionistas have… a walk-in-closet!  It's a knee trembler isn't it.  One of our team once had a tour round Tammy Wynette's walk-in closet in her house in Nashville, by the wonderful woman herself no less, and it was seriously impressive, housing every single stage dress she'd ever worn, and a few more. But you don't have to be a famous country singer to have a walk-in.  No siree… if you have an L-shaped bedroom or even a large room that can be partitioned then darn it – Tammy would be proud of you!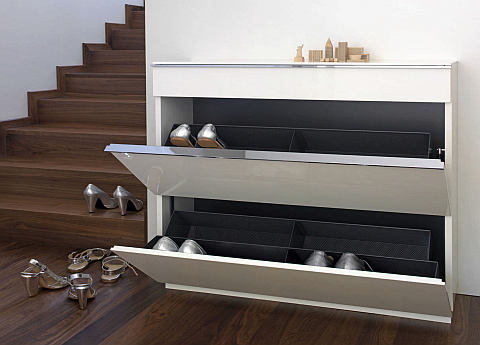 Shoe shuffling
Shoes.  Cant live without them.  Can never have too many of them.  That's why we love this slim line shoe cupboard from the masters of slim-line storage ideas Schoenbuch. Their Basic Shoe Cupboard is just genius and very neat.  We've got one in the Kings Road showroom at the moment, in a beautiful dove blue, and it's turning a lot of heads we can tell you.  And deservedly so as the design starts from a depth of just 20cm.  So if you're tight on space here's the answer!  The Basic also comes in 26 different gloss/matt lacquer colours… which should satisfy even the most demanding of fashionistas amongst us!
You can see the full range of wardrobes at Go Modern here. Happy shopping!