It might be grey outside, getting ready to rain but when the sun is shining there is no better place to be than on a comfortable sun lounger. My favourite? Also our most popular (& one of the most expensive) the Zendo sun lounger. Fully upholstered, all weather, ultra modern & easy to clean. Perfect. You can see the equally fab Zendo sofa in the background too.
Another favourite of mine is Cane-Line's Kingston One X Sun Lounger, I just love their white weave & it's got a fantastic matching sunchair.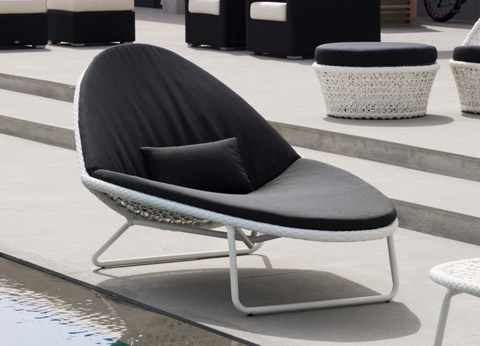 We have a good collection of sunloungers in our sunloungers section from £420 to £7660, by manufacturers including Smania, Manutti, Point, Calma, Cane-Line & more but if you are buying your sun lounger with other garden furniture its definitely best to talk to us on 020 7731 9540 as we can advise on what matches what!
We have even written an article – read our ode to sun loungers here.