Its official, we are now a Porada retailer!! This top Italian brand produces very grown up, sophisticated contemporary furniture in solid wood (combined with upholstery, glass & metal) and will make a fabulous addition to our other fantastic Italian brands (Jesse, Bonaldo, Lema, Tonelli, Contardi & Vibieffe to name just a few). We don't like to add new brands for the sake of it, they need to add their own unique value and Porada's collection of elegant dining tables, chairs, bookcases, sideboards & media units are not just 'more of the same' for us.
There's only one problem though. The collection is ENORMOUS. Their master catalogue is a whopping 471 pages. This is a good thing unless you happen to be the people responsible for adding it to our website, managing the image libraries & letting our customers and the Press know we have it. Those people are (mostly) lying down with a cup of tea at the thought of the work ahead. Several of our consultants already know the products so if you want to order anything just give us a call on 020 7731 9540 or pop into our London showroom – which is rather handily just up the road from Porada's Contract/Trade only showroom at Chelsea Harbour.
And our favourite Porada piece? Hands down its the new Jean table..soon to be on display in our showroom.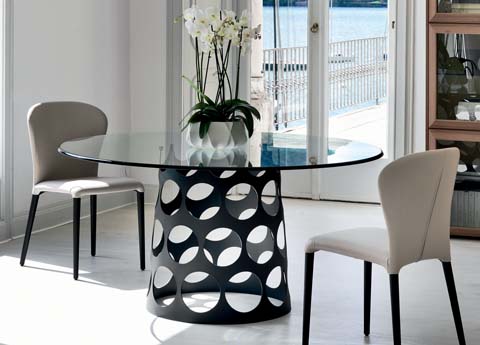 The most popular piece of furniture from Porada has to be the Infinity table, which comes in several different versions from coffee tables to dining tables. Below is the Oval version, with two bases & a wooden top, but the most popular is probably the round table with a single base & glass top. This shows off Porada's superior skills with wood rather well though, we thought!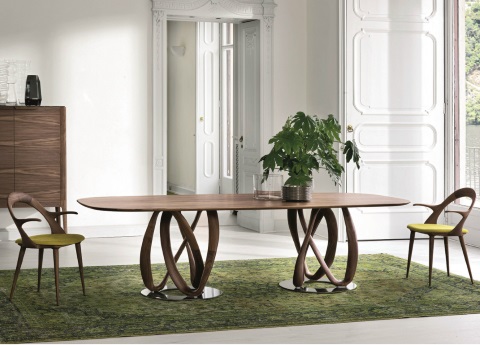 Our showroom pieces are all arriving early to mid March but in the mean time we have absolutely all of the samples in the showroom & our knowledgable staff can help you with any of their collection.