National Bed Month
We don't normally pay attention to 'national days/months' but… next month is 'National Bed Month' and it's one we quite like.
The Go Modern team have various bits of folklore about what they do and don't do to ensure a good nights sleep.  "No coffee or tea after 4pm… always  use ear plugs or a sleep mask.  Black-out blinds at the windows, no electric light ANYWHERE in the room.  Turn off all mobile devices.  Read at least one page of your current book (maybe not a thriller!).  Get  a decent mattress/bed".  It's beginning to sound like an obsession isn't it?
But, we don't think we're alone.  All the research around sleeping tells us that we spend about a third of our lives in bed.  So, it makes sense to get it right.
A decent bed is a big investment.  But if you're having difficulty sleeping and you've paid attention to the smaller things (coffee here's looking at YOU) one of the major things to think about is your bed.
A well made, comfortable and supportive bed can make the difference between a great night's sleep or a poor one. We all know that a night without much sleep means a tired and grumpy person the next day. And experts tell us that sleeping on an uncomfortable bed also robs you of up to an hour's sleep a night! Along side this, a decent night's sleep is good for the brain and the heart.  It also helps us maintain a healthy weight and helps us learn. We remember more, problem solve and make better decisions. It also cuts down on stress, mood swings and depression. It's a no brainer really isn't it.  
Beds at Go Modern
At Go Modern, we take beds very seriously. We have an extensive range of contemporary beds and bedroom furniture, much of it sourced in Italy. Our bed collections cover lacquered beds, wooden beds, upholstered beds and storage beds – often with crossovers between all of these styles.  Whatever you're looking for we're confident we can supply it.
And not just for adults. We also have a wide range of bedroom furniture for children and teenagers.
Beds for children and teenagers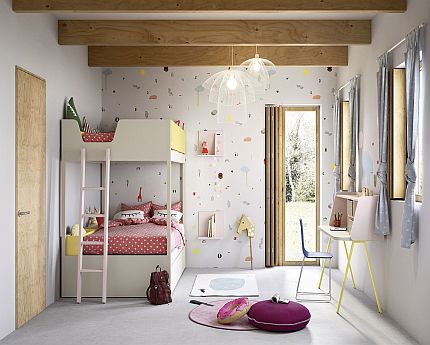 Our Nidi collection of beds for children and teenagers is extensive, extremely well made and full of imagination – hopefully just like our children. Most designs are modular and so can be adapted to suit the child or children, the amount of space and important things such as storage (of which there is never enough in our experience).
Three to 12 year olds are said to need between 10 to 12 hours a night sleep.  Good luck with that one! But it definitely makes sense (and for the sanity of the entire family!) to start with their bedroom environment.
At Go Modern we have cleverly designed bunk beds that incorporate storage space, beds with children's desks, trundle beds, and some which can even fold up into the wall when not being used. Plus, bookshelves, bedside cabinets, chests of drawers… all in a huge selection of colours and finishes.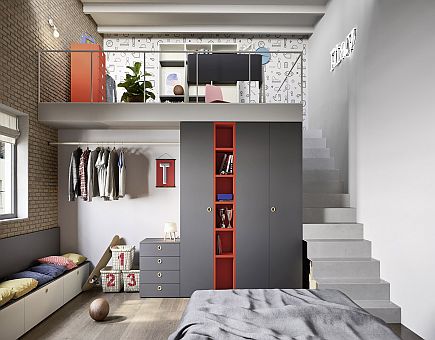 And if you're looking for ideas on how to persuade your teenage offspring to a) get more sleep at the right time of the day b) stop using the floor as a 'floordrobe' we can help with that too.  From comfy sleep inducing beds to stylish storage solutions in an array of trendy colours and hard-wearing finishes.
What style of bed?
There are lots of articles out there about 'what type of mattress to choose' but not so many on 'what style of bed' (although we also sell lots of very comfy, hand-made mattresses too).
The style of the bed you choose is a very personal decision and basically down to what your own interior design style is like.
If you're a minimalist, then a bed with a wooden or lacquered frame will probably be the kind of design you're looking for.  Both styles also come with a matching collection of bedroom furniture.  A tidy, minimalist room makes for a tidy mind… and a restful night's sleep! So, de-clutter and keep a space that's neat and simple. Blitz your bedside table, keep everything calm and unfussy.
Wood or lacquered beds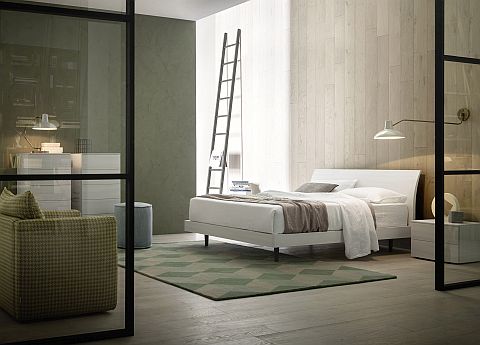 The Bend contemporary bed (above) has a beautifully curved headboard (shown here in rovere gessato – a white lacquer which has the grain of the wood remaining visible).  You can also choose from another 21 smooth matt lacquer finishes.  Our Kings Road showroom is simply not big enough to have a sample of all the beds we sell but we always have sample books of finishes and colours.
The Bend bed is also available as a storage bed, with a storage base and gas lift pistons under the mattress supports (slats), so that it's easy to lift to store spare clothing, bedding etc inside the sealed base.
The elegant Charles bed, (above) from luxury brand Jesse, has a sophisticated curved headboard and base which can be chosen in thermal oak (as seen here), or matt lacquered in a range of colours.
If this is a little too minimalist for you the designers, Alfredo Chiaramonte and Marco Marin, have cleverly created an upholstered back panel. This can be draped neatly over the headboard and comes in a huge choice of materials from lush velvets to soft leathers. Definitely the best of both worlds available here.
Upholstered beds
We have a wide selection of upholstered beds that includes everything from fabric to leather beds. Upholstered beds also offer lots of flexibility as there's a wide choice of materials to choose from.  And many of the fabric beds have removable covers, which is not only great for cleaning, it also means you can change the style of your bed relatively easily.
If you're sensitive to noise it makes sense to chose furnishings that will absorb any ambient sound. So, think lined curtains, thick carpets and upholstered bed frames – all worth throwing into the mix of ideas.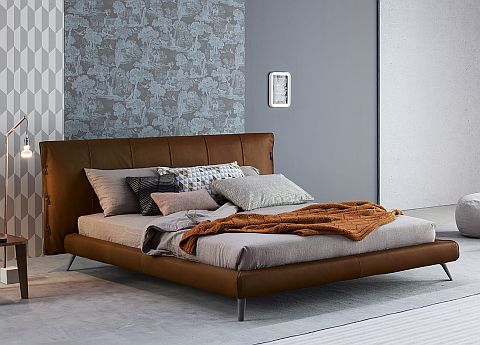 The upholstered Cuff bed (above) was designed by Mauro Lipparini for Bonaldo. It has some beautiful tailored details – from the frog fastenings that adorn the 'cuffs' to the pleating which makes up the vertical pattern on the headboard. It also has visible leather inserts on both the headboard and bed frame. It's shown here in leather but the Cuff bed can also be upholstered in both fabric and leather.
So, good luck with National Bed Month.  There are lots of fabulous ideas and sensible words of advise for those looking to improve their sleep from The Sleep Council.  
To see Go Modern's full range of beds and bedroom furniture hop over to the bedroom section of our website.  Sweet dreams!