How furniture this year is going graphic
Happy New Year! We hope you had a good break and that the house is now back in order with a sense of calm.  Good luck with that one!
If it's minimalism you are trying to achieve one of this year's furniture trends might just appeal.  The big one that struck a chord with us is the use of simple, graphic lines.  Look out for a fabulous fusion of minimalist design and illustrative style. Strong graphic silhouettes, sharp lines and plenty of drama.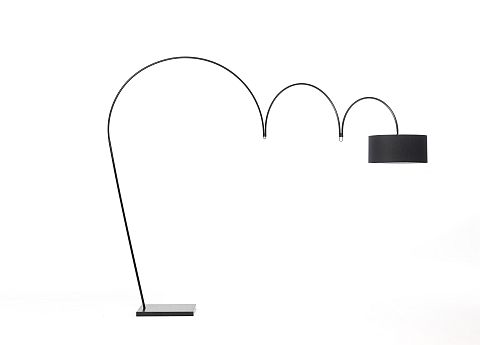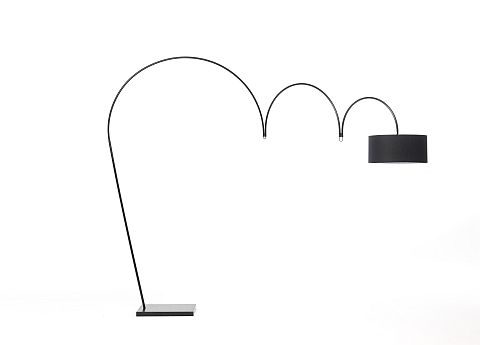 The Sott'Archi floor lamp (above) is a perfect example of what we're all talking about.  Standing at 240cm high, this witty design features perfect graphic lines in silhouette. The adjustable frame is also incredibly practical as it will stretch from a neat 140 cm to almost three metres wide.  This means you can adjust it to provide light wherever you want it. And if you're looking for a lighting design to also raise a smile, try these: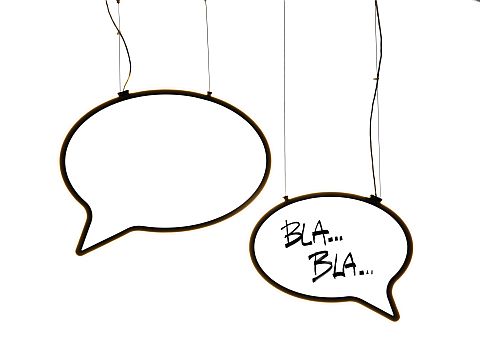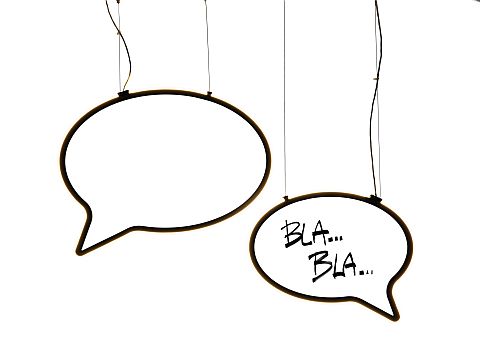 Mogg's Bla Bla lights by Emanuele Magini provide great ambient light… and a great talking piece! We absolutely love them.  Drawn as large speech bubbles you can have them made with or without the words.
Graphic lines as decoration
Graphic lines or patterns are also turning up as popular decorative finishes.  A number of sideboards this year feature some striking repeat graphics. We have all fallen for Miniform's new Celia sideboard.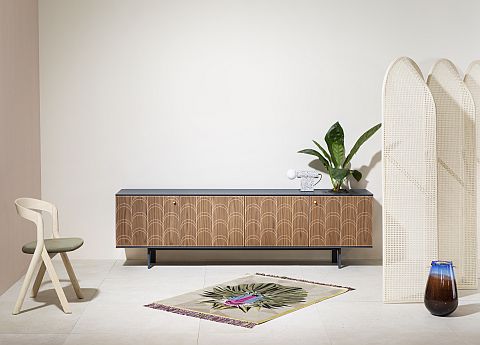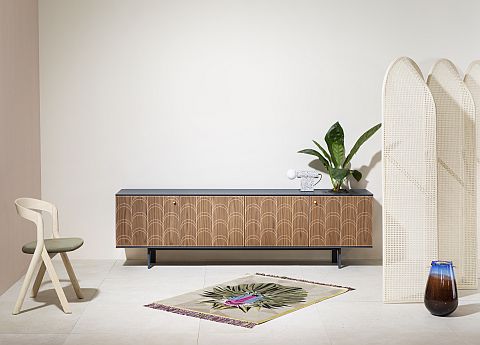 The style takes its inspiration from the Art Deco movement of the 1920s.  Its beautiful lacquered wood frame has been finished with a silk-screen graphic pattern.  A repeat crescent moon features across the doors which open like a book. For a touch of decadence choose handles in copper or lacquered metal. The sideboard above is in anthracite ash but you can choose from nine other colours including Apricot, Veronese Green, Intense Blue, or Masala Red.
Graphic lines meet stylish storage
At Go Modern we choose pieces where there is often a fine line between art and furniture.  Although every design always has to be highly practical.  Our customers are also often on the hunt for arty, stylish storage ideas and the Musa from Mogg fits the bill perfectly.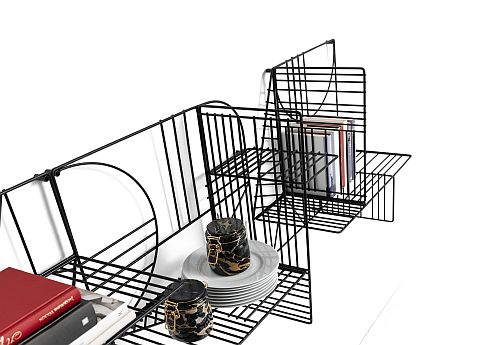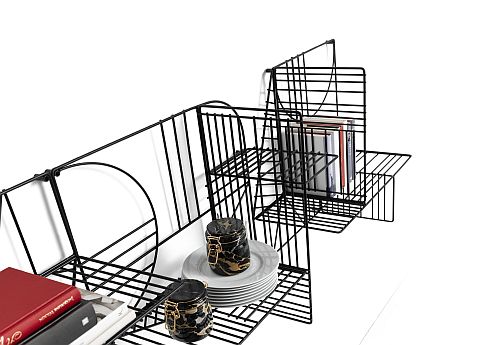 With its highly defined lines the Musa shelf, by Alessandro D'Angeli for Mogg, is part graphic wall art and part practical shelving. It's a modular design which means that you can group each section together however you want to. To make a real statement there is a version of the Musa with a gold lacquer finish or choose the matt black shown here for added drama. Each module measures 60.5cm wide x 26cm deep x 60.5cm high.
Graphic floor coverings
If you want to introduce some graphic style to your flooring we have the ideal suggestion. Rug maker Nani Marquina started making rugs back in 1987. She creates the most wonderful and extremely high quality designs.  Each  rug is made by hand in India by master crafts people using the finest New Zealand wool.  Nani's rugs are not only beautiful but are also investment pieces which will last for generations. Amongst some of her latest collections is a range called Rabari.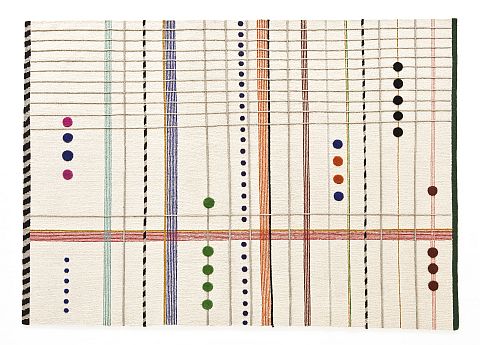 The Rabari collection was designed by Nipa Doshi and Jonathan Levien for the Nani Marquina company.  The designers' intention was to create a series of rugs that evoke the 'sensual and shiny world' of Indian tribal folk embroidery. Each of the three designs in the Rabari collection are different but each rug shares a strong graphic style. The hand-knotted and hand-woven designs uses the traditional Sumak tecnique. Each rug has a density of 124,000 knots per meter squared with a total pile height of 13mm.
Put graphic lines on the table
The very nature of table design means that incorporating a graphic look is pretty much a given.  But high-end Italian manufacturer Lema has taken this to another level with one of its latest tables.  The Alamo dining table, designed by David Lopez Quincoces, has a very strong minimalist style with an overall  theme of lightness. The essential, graphic outline create a timeless look which is added to by the use of combining different materials. The table structure is in bronze coated painted metal, while the top is in a reconstructed marble material in three colours inspired by natural stone: Blue Lapislazzuli, green Malachite, Belgian blue/black, along with heat treated oak.  And there are four different sizes to choose from.
Taking graphic lines outside
It's not all about the indoors when it comes to graphic design. Add some beautiful and striking structural elements to your garden or patio area with Saba Italia's highly innovative Shades of Venice space dividers/screens.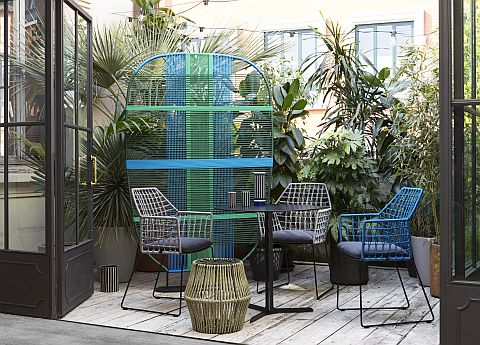 The new design features bright horizontal and vertical graphic lines to create a peek-a-boo effect, which subtly reveals or hides the space beyond. The flexible Shades of Venice also provide infinite styling possibilities and as well as well as being a great idea for the garden they can be used indoors too.
Plus there's a lovely story attached to the colours/shades (the clue's in the title!). Designer Marco Zito has used colours associated with different Venetian islands for his inspiration. Murano reflects the blue and green of the world famous Murano glass it produces.  Burano is known for the colourful oranges and blues as used on the island's houses. Giudecca is an island with many white stone buildings. While Sant'Erasmo grows an abundance of vegetables, such as artichokes, with their beautiful dusty greens, purples and browns. So there's a bit of detail to share on a sunny afternoon on the patio.
Graphic lines and our January sale
You can find all of these products on the Go modern site.  And if what you've seen hasn't tempted you enough, we now have our January sale up and running.  Use coupon code JANUARY when you check out (or speak to one of the showroom team) and receive a wonderful 15% off all orders where you spend over £1,000.  If that doesn't help to make a happy new year we're not sure what will.