Are you sitting comfortably? We can say a resounding YES to that question. Our brand new collection of Sofas and Armchairs will definitely ensure you're sitting comfortably. The latest designs were all launched in Milan in April and we're excited to share these edited highlights with you.
Contemporary styles. Clever designs. Investment buys.  If, like us, those are your buzz words you will love the crop of this year's exquisite new pieces.
Relax into your Living Space
Exciting new designs include soft and enveloping shapes, with a definite move away from sharp, angular corners. Many structures are clearly visible, and very much a part of the design aesthetic. Backrests and legs  run around the outside of pieces in a choice of  lacquered metals.  And fabrics are all about texture and colour.  Fans of velvet and bouclé will not be disappointed. Those who love quilting will be thrilled with the wide range of quilted finishes in fun, organic shapes.  Plus colour. It's all about colour at the moment.  Lots of it in an abundance of kaleidoscopic shades.
Visible Structures
Designers have definitely gone all 'Centre Pompidou' on us this year. And Bonaldo's Corallo armchair (above) by Paolo Grasselli is a perfect example of a piece that wears its internal structure proudly on the outside.
The slim, lacquered metal frame rises from the seat base to wrap and support the body. Grasselli has created a light-weight, branch like frame which was inspired by the shapes of coral.  Made for comfort, the extra deep cushions have removable covers in a huge variety of fabrics and colours. For extra drama, it's also possible to highlight the frame by choosing a contrasting lacquer. A fabulous accent chair such as this will always be a stylish and versatile addition to any room.
Meanwhile, Bonaldo's Structure sofa by Alan Gilles is a sofa of contrasts.  The Structure's metal frame is sometimes evident and at others concealed.  As a result, it's a sofa that enjoys playing a game with visuals.  Soft and firm surfaces. A visible and invisible structure. In the striking edition below, Bonaldo has used a stylish burnt orange velvet with a quilted finish.
The Structure collection is also modular with the option to create larger sofas and seating arrangements.
It's all about the Curves
Beautifully soft and enveloping shapes are the order of the day. Maybe its a sign of the times and we're all looking for a little more warmth and reassurance in design.  Or perhaps we simply want styles made for good old-fashioned comfort that will stand the test of time.
Rendez-Vous, by Saba Italia, is the name given to a new sofa with plenty of curves.  And the sofa's curved side modules perfectly complement the pure lines of the design.

Saba Italia Rendez-Vous sofa
It's a contemporary design for the home while being robust enough for public spaces. The style of the collection offers complete flexibility in the way it can be configured.
Look out for more curves from Saba's new Philo range (below).  Philo is a prefix of Greek origin that indicates love  and empathy towards people and things.  Just what you need for a chair! The minimalist look also incorporates deep upholstery and curvy silhouettes – an ideal design for homes and offices.
Contemporary Luxury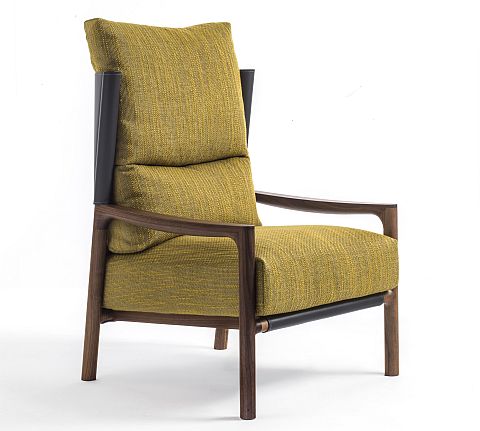 Every year we have a little swoon when we visit the Porada stand at Salone del Mobile.  For one simple reason. Quality and craftsmanship. OK – that's two.
The Vera chair (above) designed by Gabriele & Oscar Buratti is a great example.  It features their signature solid canaletta walnut with a smooth and delicately curved frame while the backrest is made in Cuoietto leather.  This is an updated version of their earlier design and features a majestic high backrest. Perfect.
Symmetry in Style
With the slimmest of arms and perfectly upholstered backrest there is ample seat space in Alivar's new Zoe armchair.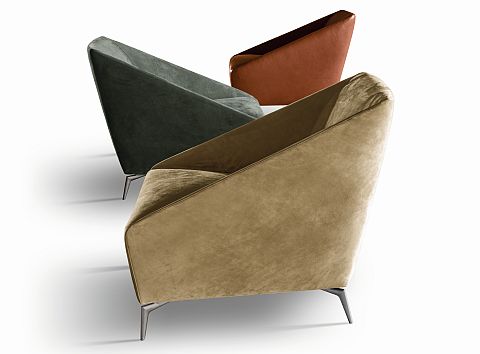 The design, by Bavuso Giuseppe, has a stylish symmetry.  It's pleasing on the eye and we guarantee this will become a future favourite. Add your own personal touch by choosing from a wide range of fabrics, suedes and leathers.
So, a small round up here of some of our latest Sofa and Armchair designs.  Not all are on our website yet but if there is anything you like please give our showroom a ring (020 7731 9540) for more information.  Our team are always happy to help and can offer samples of materials, fabrics and finishes for you to look at at home.  Oooh – and we currently have our summer sale,  so this could be the perfect sofa surfing time.