50 Shades of 'Living Coral' – 2019 trends
We rather like 'Living Coral', Pantone's 2019 colour of the year.  It may be diving in at the deep end for some, but we love all the associated shades of cinnamon, terracotta, orange, pink and amber that this warm colour embraces. And our brands seem to like them too.  So jump on in and take a look at some of our latest pieces in all the exciting variations of this on trend hue.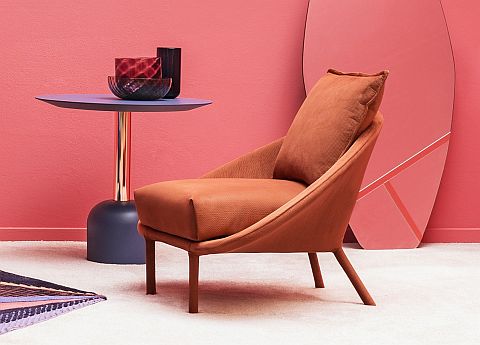 Shades of coral for fabrics
Quirky Italian brand Miniform's loves playing with colour and shape. Their latest design is Lem, a beautifully soft and sinuous collection designed by Francesco Beghetto.  The Lem design has a tubular structure and is fully covered in fabric. Their are four pieces in the range: a two or three seater sofa, an armchair (above) and a footstool.
Lem has 37 different fabrics to choose from, including lots of coral shades such as the wonderfully sounding 'regal orange', 'abstract yellow' and 'tram orange'.
Shades of coral for lacquer finishes
And it's not just fabrics that have gone 50 shades of coral.  Novamobili's new contemporary storage range, Cube, is offered in 25 different matt lacquer finishes.  Lots of beautifully warm shades… think ochre, tangerine, garnet and  salmon. Additionally, you can mix-and-match any of these colours, as in the styled image above, where Novamobili has used a combination of salmon pink and garnet red on the different drawer sections. We absolutely love this combination and the flexibility of the design.
Rock the coral look
Mogg is a relatively new furniture company that first exhibited in Milan in 2012.  We fell in love with them on the spot!  In short, they cleverly cross the border between art and design in a world where mass production has sometimes left this far behind.
The Closer rocking-armchair was designed by Marzia and Leo Dainelli for Mogg and it's a seriously sleep-inducing (in a good way!) piece of work. The deep upholstery envelops you in its dreamy softness, like a duvet locking out the coldest of winter chills. The filling is reinforced with feathers and the removable cover comes in velvet, finest wool or leather. Plus, the slim, black metal structure creates a rhythmic, gentle rocking motion.  It's perfect for a living room or nursery… or anywhere you want to feel hugged and cosy.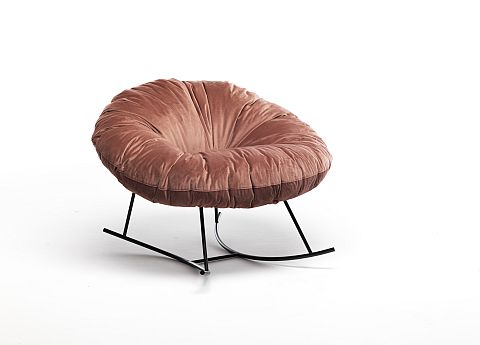 Translucent coral
We've seen shades of coral used across lots fabrics and lacquer finishes but the clever design team at Tonelli have also used it in some of their latest glass creations.  Each table in their new range, 'Country of Wonders', has been made using a unique technique where glass fragments are hand poured into cone and sphere shaped moulds.
And this striking coffee/side table is one of the amazing results.  We love that the translucency of the glass also adds extra warmth to the design.
Coral for any room in the house
We reckon Coral has 'shades of' that will work for any room in the house.  And depending on your taste there are variations that would fit with almost any style of interior. The deep, vibrant red of the plush velvet covers on Bonaldo's new Lovy armchair (below) look stunning against the white walls.  The stylist has also used a piece of modern art featuring large, over-blown flowers with shades of coral stripes on the petals that beautifully reflect the colours in the chair. The paler pastels of the carpet also allows the Lovy to confidently take centre stage.
The Lovy was designed by Sergio Bicego for Bonaldo.  In our book this would be a perfect armchair for a living room, bedroom or large bathroom.  It has an enveloping, oval shape and generous width. But if the dramatic colour used here is a shade too bold for you, there's a huge choice of fabrics and other colours to choose from.  The feet can also be finished in a wide range of lacquer colours, including stylish metallics.
Also brand new from Bonaldo is the Panorama collection.  In addition to the terracotta fabric used in the image below, there are up to 30 other fabrics and different colours to choose from, including supplying your own choice of fabric, and a great range of leathers.
Designed by Fabrice Berrux, the Bonaldo Panorama sofa is beautifully made and luxuriously comfortable with modular options to create a much larger sofa. The upholstery features a criss-cross design on the seats and the sofa comes in three widths of 200cm, 230cm and 260cm.
So what's the story behind Living Coral?
According to Pantone's website,' 'Living Coral' embraces us with warmth and nourishment to provide comfort and buoyancy in our continually shifting environment.' Similarly, they tell us, it is a 'reaction to the onslaught of digital technology and social media increasingly embedding into daily life….'.
Well three cheers to that!  We think that is a wonderful reason for choosing this feel good colour.  Anything that helps us switch off from the digital onslaught (although do finish reading this first!) gets our vote.  In short it's a wonderfully warm, optimistic shade – and we could all do with some of that at the moment.
Are you ready to dive in yet and take a chance with any of the wonderful shades of coral around?
If you are, now's a good time to take the plunge as our January sale is still on for a few more days.  With 15% off any order over £1,000, it's an offer that should definitely leave you feeling in the pink.