In Tribute to Bauhaus
The hugely influential Bauhaus movement celebrates its 100th anniversary in 2019. It's a style that has shaped everything that we now recognise as 'modern design'. The Bauhaus influence is also what we think of as 'good design', although it's sometimes hard to understand what all the fuss was about as the Bauhaus look is so popular and universal.
Contemporary design is at the heart of everything Go Modern represents. For us it's the vital fusion of art and craft, plus practical design and strong functionality. It's a rejection of the overly ostentatious in favour of clean lines and simple style. Without the Bauhaus influence there would be no Go Modern.
What was the Bauhaus Movement?
The Bauhaus was a fine arts and crafts institution founded in 1919 in Wiemar, Germany.  It kick-started an exciting new way of thinking that has gone on to influence the look of many things produced today.  It also created a new type of artist.  They were to be arts and crafts people, taught in workshops rather than classrooms, learning to turn their hands to anything.  The teaching philosophy broke down the barrier between fine art and applied arts.
The movement  strongly favoured a return to individual craftsmanship. It also rejected anything overly fancy, which was a style that had dominated earlier nineteenth and twentieth century design.   The style began to emerge across buildings, furniture and home accessories, and was recognised as something simple, rational, and functional.
The other signature look of The Bauhaus was circular shapes, angular frames and abstract blocks of primary colours.
Go Modern and the Bauhaus Influence
In tribute to the special Bauhaus 100th anniversary we've selected some of Go Modern's latest launches, many of which represent the very best of this iconic style.
We love the beautiful Mula dining chairs, designed by E-ggs for quirky Italian brand Miniforms. The curved shape echoes the ground-breaking Series 7 and Swan chairs by the great Danish designer Arne Jacobson.
Born in Copenhagen, Arne Jacobsen trained as a mason before studying architecture. He worked independently as an architect, interior designer, furniture, fabric and ceramics designer.  We think Jacobsen would have liked the Mula chairs – high on design and equally high on comfort.
The chairs can be upholstered in a variety of fabrics, including eco-leather, a superior faux material that looks and feels like the real thing. The legs are in lacquered metal.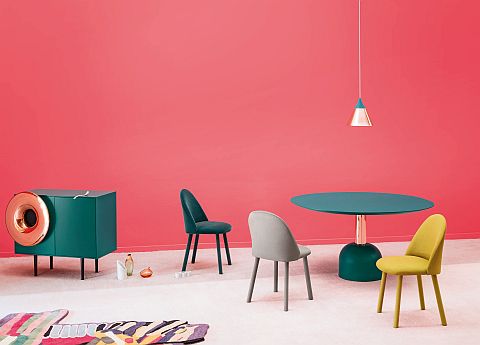 And staying with Miniforms, here's the new Illo dining table which was designed by their in-house team.  For us, it's the perfect fusion of art and craft.
The Illo's smooth, round table top can be lacquered in seven bold, bright colours including white, dusty grey, silk grey, black, intense blue, Veronese green or Marsala red. The central column can also be lacquered in any of the same colours or, for a touch of un-Bauhaus ostentation, choose a striking, shiny copper finish.
There's also an lllo coffee and side table to complete the look.
Bauhaus + simple style
Well, we all fell in love with these Mastea tables when we saw them last month.  The simple curved bases are made from beautiful blown Murano glass, which we think is truly inspired.  As you can see from the image, there are a number of different colours to choose from – amber, blue-grey or smoked grey.  The design has been topped and bottomed with Canaletto walnut or ash. Please form an orderly queue!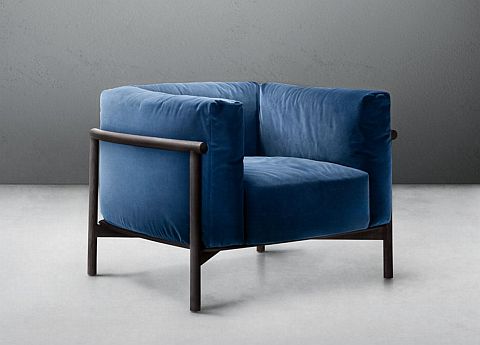 A brand we work a lot with is Lema; striking designs of the highest quality. New from them is the Taiki armchair, a reinterpretation of the classic 1928 modernist Le Corbusier design, with simple clear lines and beautiful, equal proportions. The Taiki was designed by Chiara Andreatti and is part of Lema's 2018 'modern living room' collection. The visible frame and legs are in heat-treated, oak tinted ash, and the deeply padded upholstery is carefully finished with hand-stitching.
Bauhaus + simple comfort
We thought it was time to feature something from our new bedroom collection.  So, taking things back to basics is Novamobii's new Dedalo bed.  It's simply a stylish 'no frills' but hugely comfortable bed with an understated contemporary elegance.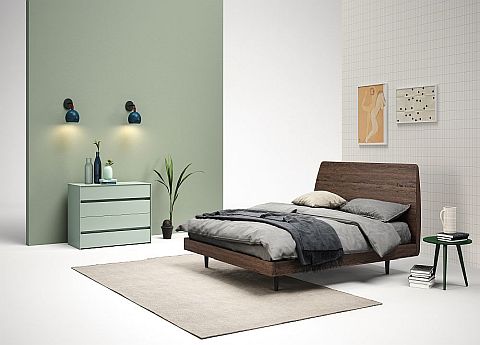 The design has a clean lines, a tapered headboard and a frame in eco-wood, which is a stylish but practical, hard wearing matt laminate. The design is also available as a storage bed which lots of our customers love – storage space is something that's always at a premium for everyone.  The storage version has an easy-to-use gas-lift mechanism (which we're reliably informed allows you to lift the bed while keeping all the bedclothes in place…. a very pleasing attribute!).
Bauhaus + practical comfort
Back to the living room, the new Geo collection from the wonderful design team at Saba Italia feels like a perfect piece of Bauhaus influence.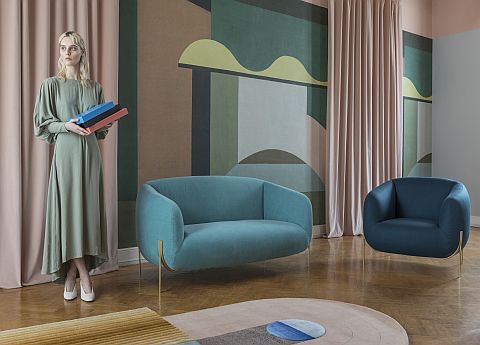 Designed by Paolo Grasselli, the Geo range comprises a sofa, armchair and pouf.  Each piece has very deep proportions and Grasselli's intention was for the shape to 'hug' the body. We can confirm that it does this so well that we developed a reluctance to move on to other exhibitor's stands when we first tried it out in Milan! The slim line metal structure and legs also subvert the design norm by being placed visibly outside of the frame.  This idea gives the  appearance of  everything floating above the ground – and not a glass of Prosecco in sight!
And talking of Prosecco… Celebrate this great design phenomenon next year.  There are lots of events taking place around the world and here in the UK too.  Look out for them and enjoy finding out more – we'll see you there!
Bauhaus events 2019
Some of the Bauhaus UK events we've found (let us know if you hear of more):