Easter has been and gone… is summer on its way?  We hope so. It's definitely the time to think about outdoor garden furniture and making the most of the warmer, lighter days. Our contemporary garden furniture is hand-chosen by us and made in Europe.  We work with the very best names in the business; family run companies who have been making garden furniture for a long time.  Their designs are created by named and award-winning designers, with an expert knowledge about construction and materials that can't be beaten.
Manuti and Tribù are based in Belgium, Point and Calma in Spain, Smania hails from Italy and specialist parasol makers Sywawa are also from Belgium.  Between them we are confident they offer the very best designs on the market today.
How To Choose? Outdoor furniture obviously needs to be incredibly robust, using the highest quality materials; cheap designs may seem a bargain but simply wont last and will look sad and worn before the season is out. Along with choosing a style that will complement your indoor look, there is also a decision on what kind of material to choose.
Teak is ideal for outdoor use, hard-wearing and natural.  It's a tropical hard-wood, sourced from managed plantations, and contains lots of natural oils making it durable enough to remain outdoors all year round. It will also weather beautifully with age.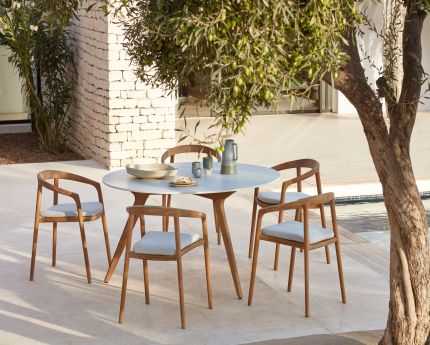 The beautiful new Solid chairs by Lionel Doyen for Manutti are hand-carved in natural or brushed nero teak. Manutti's Torsa table has a sleek ceramic table top and a smooth, curved teak base with adjustable feet.
Woven material is a very big trend this year with most specialists including it in their summer 2018 collections.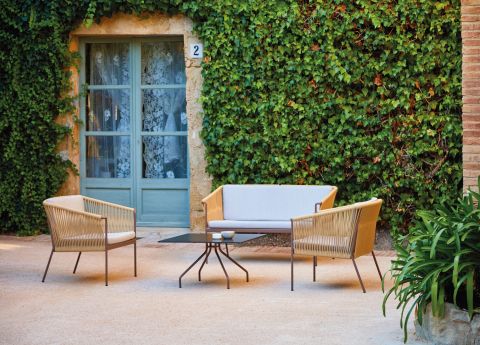 The Weave garden range by Vicent MartÌnez for Point, specialists in fibre woven-material.  Their contemporary outdoor designs are amongst some of the finest in the world. This beautiful new range is woven with 8mm polyester rope, and is sunlight and weather resistant as well as being completely colour fast.
Below is the new CTR  range from Tribù designed by Piergiorgio Cazzaniga. The weave  used here wraps around the seat back and is made from plaited Tricord (a polyolefin material) which is weather and mould proof and can be chosen in linen or wenge colours.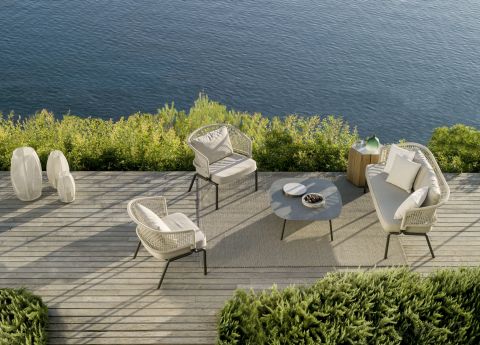 Rattan was traditionally made from woven palm, but is now created from synthetic material that has exactly the same look but is much, much more durable. Synthetic rattan will withstand the harshest of weather and it's definitely moved away from the 'echos of the 70s' feel it's long been associated with, now being used across some fabulous contemporary designs.
Ceramic is a wonderful material for outdoor tables. The Tosca dining table from Tribù is designed by the talented Monica Armani and its ceramic tabletop is completely scratch-proof, stain-proof, UV, water and weather-proof.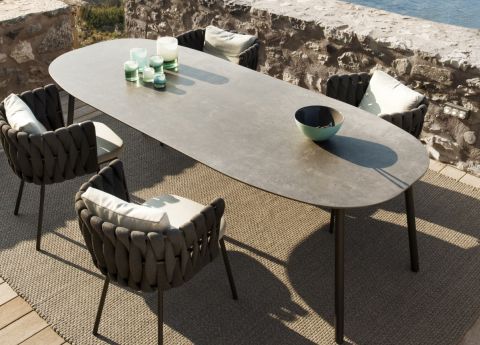 The ceramic is laminated on glass which is then water jetted into an oval shape and CNC-milled ('computer aided milling'). The subtle cloudy pattern created is perfect for gardens and can be chosen in a linen or piombo colour as seen above.
Metal garden furniture and outdoor accessories are usually made from incredibly strong but lightweight aluminium which is then powder-coated for extra weather-proofing. Treated in this way it's guaranteed to never rust, fade or rot.  It's also scratch resistant and requires very little maintenance.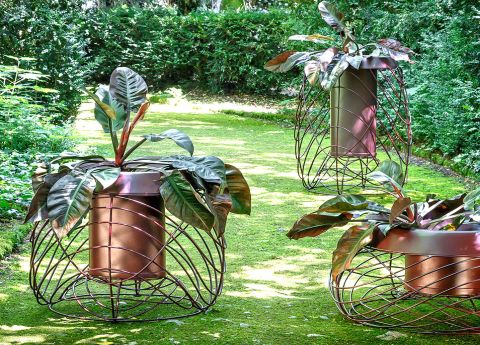 The magnificent Ios  garden planters above are part of an exclusive garden furniture collection from Italian manufacturer Smania. Their impressive heights (three sizes: 50cm, 76cm and 120cm high) will create a beautifully elegant statement piece that will probably outlast your plants!
To see all of our new garden furniture collections click here.  Happy summer dreaming!