Go Modern specialises in beautiful Italian wardrobes: fitted, freestanding, sliding doors, hinged doors or walk-in wardrobes… take your pick. Whatever you are looking for we are sure we will have something stylish to suit. In fact we have possibly the largest range of Italian wardrobes in the UK. Why choose an Italian wardrobe? Simply because of the endless choice of beautiful contemporary styles, in a huge number of finishes and colours.
But it can be a daunting process… if you let it!  So here's our mini-guide with some information about the different styles of wardrobes on offer:
FITTED WARDROBES                                                                                                             Our fitted wardrobes are all made to order in Italy. Simply discuss your space with us and we will get as close a fit as possible from the hundreds of wardrobes sizes and options, which can then be cut to an even more precise fit and installed by our expert team of wardrobe fitters. If you've an awkward corner or a sloping roof we love that kind of 'problem'…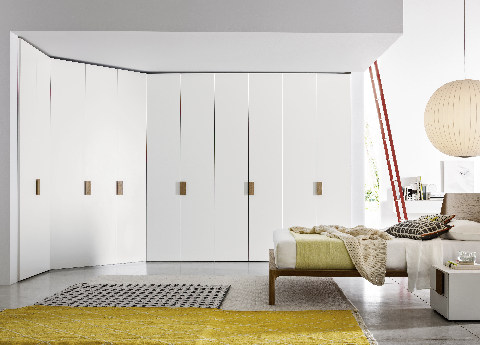 To achieve the 'perfect fitted wardrobe fit':
Our installers can install filler panels/MDF around the edges of the design so that the wardrobe blends seamlessly with the wall
We can have the tops and sides cut to order, including cut at an angle (for under eaves, sloping roofs etc)
You can choose your own internal layout to suit
But bear in mind:
Each wardrobe needs a back and sides, nothing is attached to the wall
Wardrobes can be stand-on-their-own (which also means they can be moved when you move)
Because we need a few spare cms on the sides and top to install them, there will be a gap – which, as mentioned, can be covered by our fitters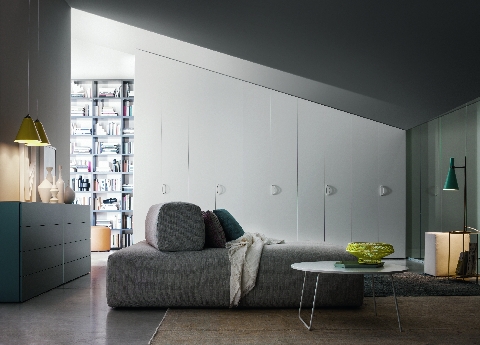 We also have a large selection of both hinged door and sliding door wardrobes, and customers often ask which of these they should choose. Well, both have advantages and disadvantages…
HINGED DOOR WARDROBES                                                                                                          Hinged door wardrobes come in the largest choice of sizes, starting from 90cm wide increasing in different size increments.  Wardrobes with hinged doors can also be cut to fit angles – corners of rooms, loft rooms, under the eaves or under stairs as discussed above. Pop into our Kings Road showroom to see an example of the clever fitting that can be achieved. Hinged doors also usually have handles, many of which are a design feature in their own right and, again, there's a great choice of colours, textures and shapes.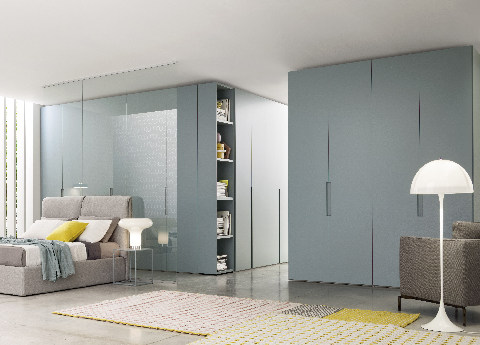 SLIDING DOOR WARDROBES                                                                                                           These are perfect for large spaces. Although they don't have as many choices of sizes, we have a number of different collections, so we should be able to provide a very close fit and, as with hinged door wardrobes, sliding door wardrobes can be fitted with panels of the wardrobe's particular finish to create the fitted wardrobe look. The minimum size of a sliding door wardrobe is two metres (and in our experience, they usually look better in even larger sizes). An obvious advantage of  sliding door wardrobes is that the doors don't open outwards, which means that not as much room is needed in front of them. However, for obvious reasons, this style of wardrobe won't fit into the corner of a room, although we have a model that does (the Dover sliding door wardrobe, the only one we have ever seen).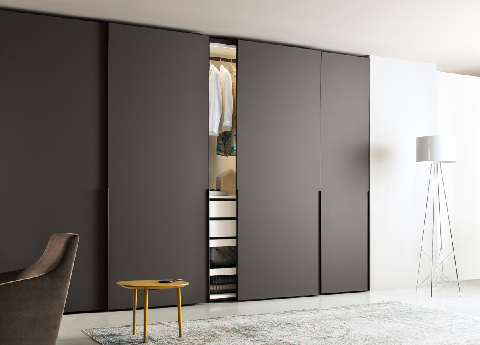 So, in a nutshell:
Wardrobes with hinged doors
are usually less expensive
are smaller
can be cut to fit around corners, under angled ceilings and stairs
have some fantastic, design-led, handles to chose from
Sliding door wardrobes
are larger
can't be cut at angles
have a slightly more restricted choice of sizes
can save space as doors don't need room to open out
have bigger cupboards
look great in large sizes, with a more streamline look as they have fewer doors
WALK-IN WARDROBES                                                                                                                Our Walk-in Wardrobes section contains designs from several Italian manufacturers including styles with hard to find lacquered sliding doors, and lacquered panels/shelving.
Why a walk-in wardrobe? Walk-in wardrobes can be installed with or without doors, and doors can also be ceiling hung.  If you need advice, our designers and fitters can advise on the viability of this and suggest the composition/style that would be best, and can also do a site visit if necessary (within London).
Walk-in wardrobes work best in bedrooms where there's an adjoining room directly off the bedroom, or perhaps an L-shaped room or even a spare room not needed as a bedroom. If you dont have these, larger bedrooms can also be fitted with stud walls to create a walk-in area.
Walk-in wardrobes are wonderfully luxurious and incredibly practical – providing an at-a-glance view of what you have stored.  They're also completely customisable, with added accessories including drawers, glass shelves and cabinets, pull-out hangers, shoe cupboards and racks, pigeon holes and dividers etc, all in a variety of finishes from matt or gloss lacquers to wood and smoked glass to leather. Add LED lighting to the final design.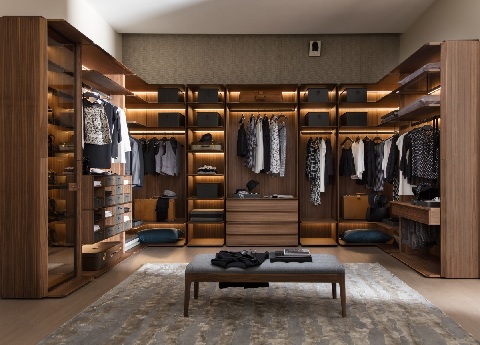 So, we hope that's useful. Whichever type of wardrobe you decide on, our in-house designers can help you find the very best solution, and our expert fitters can install it for you.  Give us a ring, drop us an email, or pop into the showroom (nearest tube Fulham Broadway or plenty of metered parking in nearby roads) to discuss your requirements.
Our hinged door wardrobes can be seen here, sliding door wardrobes here and walk-in wardrobes here.
PS – We've also got a summer sale on at the moment – 15% off all orders over £1,000.