'Feel welcome' is Schoenbuch's guiding principle and this superb, luxury German brand is very welcome as part of the newest line-up at Go Modern. We got to know these masters of hallway furniture earlier in the year on a trip to Cologne and we were instantly blown-away by what they produce.  If you haven't come across them before, be prepared to be impressed!  The company specialises in uber stylish, modular designs for the hall area, in unique widths and heights, with depths starting from just 20cm, all designed to fit the narrowest of spaces.
Schoenbuch's designers begin with the knowledge that no two hallways are the same, from city lofts to commercial buildings or the smallest of domestic hallways.  The strive to produce perfect capsule furniture collections to suit individual locations. The result: outstanding hallway clothes storage and system furniture alongside smaller accessories such as clever shoe boxes and unusual mirrors.
And if you're looking for innovative colours you'll be spoilt for choice!  Most items are offered in around 26 matt or gloss lacquer colours from the fashionable Dusky Rose (fab against a darker painted wall – try it with Farrow & Ball's Downpipe or Little Greene's Royal Navy) and shades such as Steel Blue or the subtle Vanilla to complete the design statement.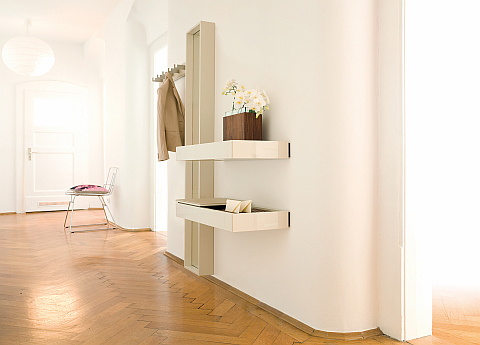 The beautifully minimalist Hesperide collection (above) is designed by Carsten Gollnick for Schoenbuch, and in this styled set up (dont forget its modular) there's a five-hook coat rack, tall framed mirror, and two wall mounted shelves, all in an ivory matt lacquer finish. We're secretly coveting this hallway!
And just to show how versatile this system is, here it is again (below) in a high gloss black lacquer. This combination shows a slimline shoe box with an upholstered seat/lid in leather, and a narrow sideboard.  There's also another version of the Hesperide mirror, this one has a square frame including oval and round smaller mirrors.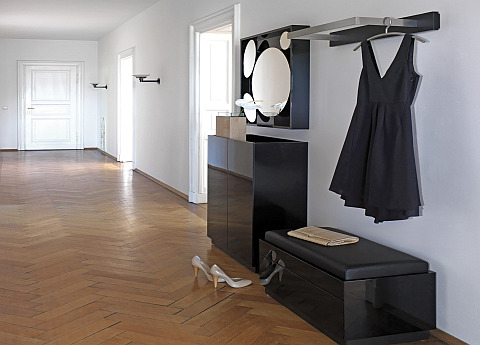 Confession. We love shoes. And we LOVE this Basic Shoe Cupboard.  It epitomises what Schoenbuch does best – simple, stylish, clever design.  It's offered with a depth of just 20cm and cupboard doors that open/close using a beautifully smooth, quiet gas-filled spring. Plus, you can customise it by chosing designs such as a tray top or tempered glass. This version, below, in a glamorous high gloss white definitely gets our vote!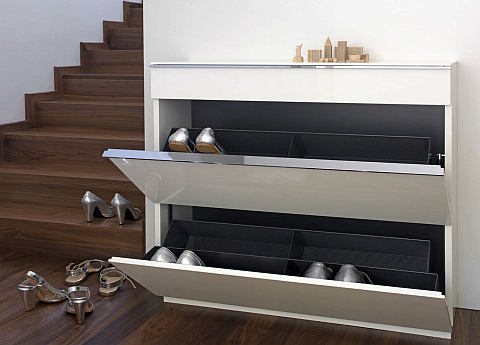 Confession Two.  Coats and bags.  We also like these (just a bit!) and the Line Coat Rack, designed by Apartment 8 for Schoenbuch, is another example of a very clever design idea.  And as a system for hanging coats and bags, Line looks, and is, perfect.  It's got an adjustable fold-out hook for hangers or you could pop your coat straight on.  In the example below, there are three bag hooks in polished chrome. Simple and fabulous, it's also in a huge variety of coloured lacquers or wood finishes. The citrus yellow next to the pebble and ivory works really well don't you think.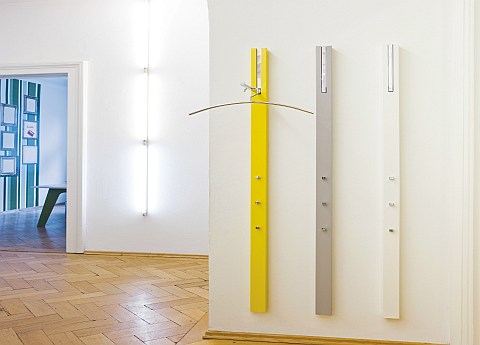 So, if your hallway needs some clever storage input but you don't want to sacrifice your high design ideals Schoenbuch is the answer.  Take a look at their full collection here.