So, how's your garden looking?  In need of a little TLC like ours?  For inspiration, there are lots of garden shows in the pipeline, including our neighbours the Chelsea Flower Show 19-23rd May, so book your tickets now.  Or if you don't manage a trip to Chelsea, the Hampton Court Palace Flower Show is also a good visit and (dare we say it) not quite as frenzied – 30 June-5th July.
We're sadly not plant experts but we are experts in outdoor furniture, partnering with some of the top, outdoor furniture specialists in Europe, with some fantastic designs for spring/summer this year.  No one takes bets on what our summer weather will be like, and even the experts at the UK Met Office don't seem to chance a forecast more than 30 days ahead!  Manutti, Belgian experts in luxury outdoor furniture, and Point, Spanish specialists, just don't care what it's like! Bring it on! Both brands invest heavily in research and technology to create some of the most stylish, weatherproof outdoor furniture in the world.
Manutti creates stunning, modern, outdoor furniture using their own special Nautic fabrics; materials designed to look and feel like interior fabric but perform on yachts.  In fact, their designs can be seen in use on some of the world's super yachts and in the finest, most exclusive hotels, as well as a number of Hollywood stars' gardens (our lips are sealed!).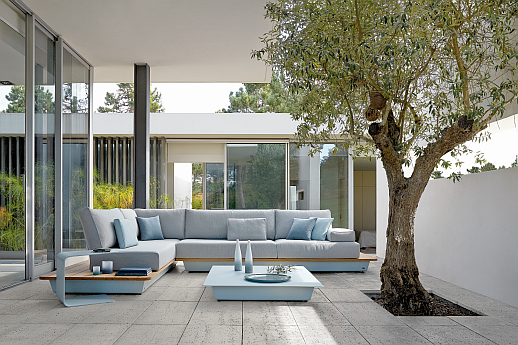 The Manutti Air Collection above is completely modular and as comfortable as any indoor design you'll find.   Lots of colours to choose from including this beautiful ice-blue, new for 2015, with cushions that are filled with quick-dry foam. Choose from sofas, corner chairs, L-shaped designs etc. Bases are powder coated aluminium, with top plates in lava aluminium or a beautiful Iroko hardwood as seen here. There's also the option of LED lighting, if required, to add a glamorous A-list finishing touch!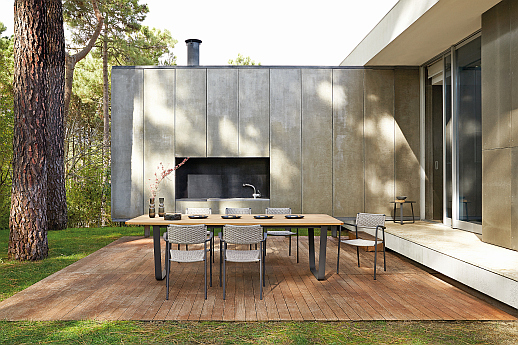 If you're fond of outdoor dining, the Air dining table could be the design you're looking for. Two designs available, seen here with a saw-cut Iroko hardwood table top (the way the wood is cut helps with rain drainage) and an aluminium frame.  There's also a version with a ceramic top (a mixture of sand, clay and natural stone) creating an incredibly strong, durable surface.
Spanish experts Point, create beautiful outdoor furniture that has a more traditional feel but harnessing up-to-the-minute technology.  Much of their designs use a high-quality synthetic rattan, Shinotex, that is resistant to weather changes, abrasive chemicals, wear-and-tear and is also fully recyclable!   It also looks warm and natural and is pleasant to touch… what's not to like!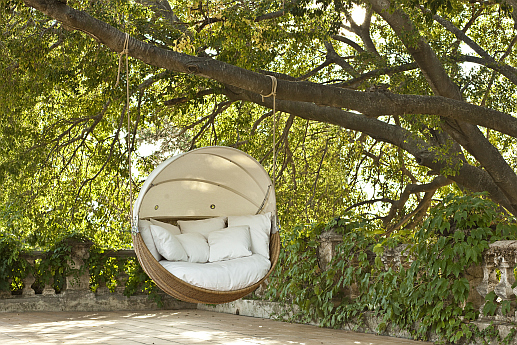 And if you're looking for the ultimate show-stopping piece for your garden – we've got it!! The Armadillo swinging garden sofa has got to be the most fun design we've come across this year.  It's designed by Joaquin Homs for Point and, as you might guess, its 'armadillo' name is derived from the curved hood design.  The swing comes with strong nylon ropes for attaching to a garden tree or, if you don't have a tree, there's an anodized aluminium base available.
To see all of Go Modern's new season outdoor designs click here
Roll on summer 2015…whatever the weather!