It's Christmas and our winter sale is almost here.  From December 29th until January 23rd, we will be offering 15% off all orders over £1,000.  Just quote coupon code JAN when placing an order.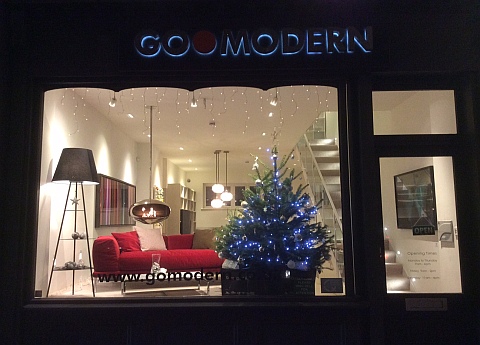 The fabulous sofa you can see in our Christmas window is the Marc-U and we've had this one covered in a luxuriously rich velvety red fabric as befitting the season.  Standing alongside the Marc-U is the stylish Mogg TRI.BE.CA. floor lamp, designed by Marzia & Leonardo Dainelli, with it's clever USB dock built into the bottom shelf. This one's in matt black but it's also available in white.  And to ward off the winter cold, our eco-friendly bio-ethanol fire from Cocoon is keeping the showroom nice and toasty.
We've really enjoyed 2014's interior trends… indigo blue's been a popular choice, along with a number of accessories in striking marble finishes.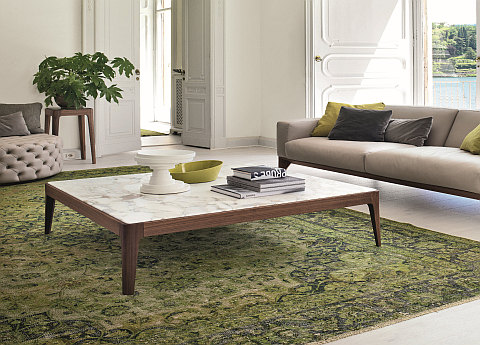 Porada's Ziggy Square coffee table, above, designed by Carlo Ballabio has a magnificent marble top with different marble colours to choose from including a brown Emperador dark marble or, as seen here, a white Calacatta marble.
Painted metal too has loomed large, offered in an eye-wateringly different number of colours, allowing you to be daringly outlandish or just keep things elegantly simple.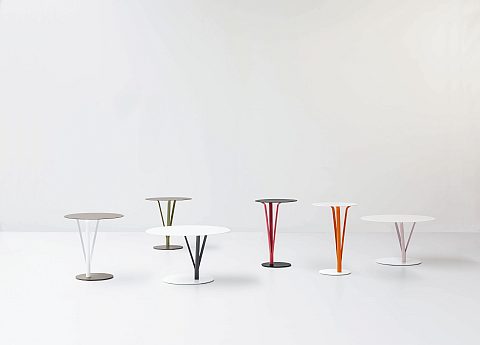 The Kadou side table, designed by Ryosuke Fukusada, has a top and legs in painted metal in a total of nine different colours from coral red to ivory.  Copper too has been beautifully incorporated into even the most humble of designs to add a touch of extra luxury, seen here with Mogg's kitchen stools, Donut.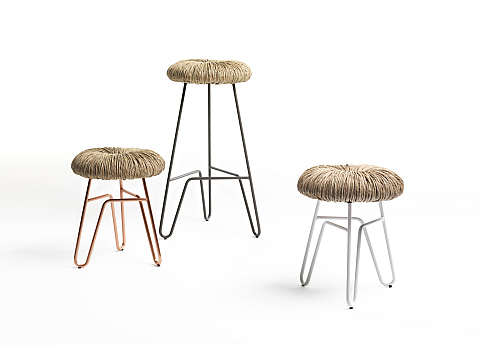 In the bed department, tall headboards were the order of the day, with edged-stitching and lots of 'wrap around' corners providing a gorgeous cocoon-like effect.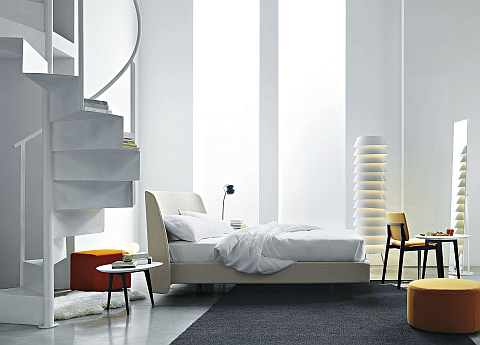 Lema's Edel bed above features one of the many curved headboards we've seen but what we especially love about this design is that the whole bed appears to float above the ground. The shape of the Edel headboard is also accentuated with on-trend, piped, ribbed stitching. Superb.
So, what were your favourite design tends this year?
And don't forget – December 29th-January 23rd – 15% off orders over £1,000 in our winter sale… so take a little virtual tour and start making a wish list: www.gomodern.co.uk.
Happy Christmas and all good wishes for 2015 from everyone at Go Modern.