If you dip into our blog on occasion you'll know we're very fond of anything our friends at Bonaldo produce.  This creative Italian company has been in the furniture business since 1936 and we have always championed them right from the beginning of our own business.
We obviously love what they do; their furniture is beautifully made and they're never afraid to push design boundaries.  The company works with award-winning international designers and if ever you want to spot design tends in the furniture world, Bonaldo is the one to watch, offering colours, shapes and materials that also make you fall in love with them time and time again.
For spring 2015 they've just updated their latest collection, using new colours and introducing new finishes and shapes, as well as surprising us with some amazing accessories.  Their popular Hollywood Pouffes have been given a make-over that we think will become a sure-fire box-office hit!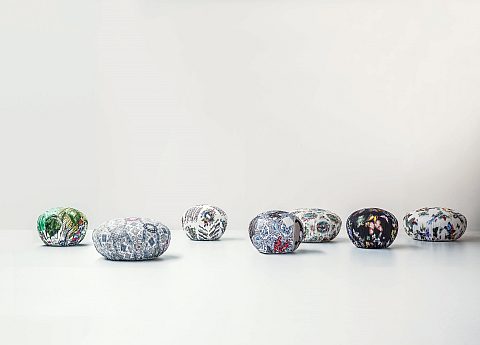 Designer Gino Carollo has given his Hollywood Pouffes an exotic new look!  Originally offered in plain, bright primary colours or pastel shades, these Limited Edition versions have new covers featuring birds, butterflies and tear-drop motifs and we LOVE them. There's definitely a touch of Versace about them – bravo Gino, fantastic!
Just when you thought a design couldn't get any better, the stunning Big Table, by award-winning designer Alain Gilles, is also given a fresh look with tabletops in heat-treated oak and polished natural solid oak, along with new Corten steel legs. Corten steel is a dark, coppery-looking steel which goes beautifully with these new tabletop finishes.  In the picture below the Big Table has been partnered with Bonaldo's stylish Filly Dining Chairs.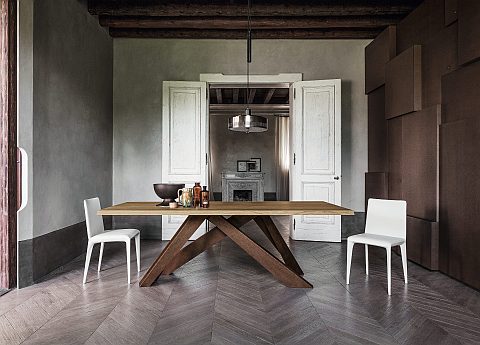 Again from Alain Gilles, new finishes for the Gap dining table with its blade-like legs and elegantly slim rectangular tabletop.  Gilles has created a new version in green painted oak with lacquered green metal legs, alongside a natural solid polished oak design using his favoured Corten steel for the legs.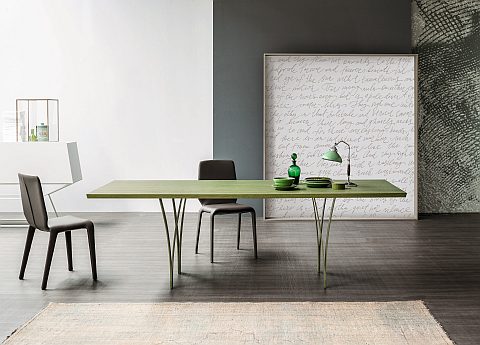 If bold colour and a show-stopping shape is what you're after, the April, May, June shelves, appearing like giant silhouette perfume bottles, should do the trick. Gino Carollo's eye for the unusual, and designs with a strong personality, come into play again here. April, May and June are shelves that could be used anywhere for anything. So clever, so inspiring… and we have a sneaky feeling that the world of shelving has just 'upped its game'!  Sizzling new colours include turquoise, olive green and and azure blue. Which one's your favourite?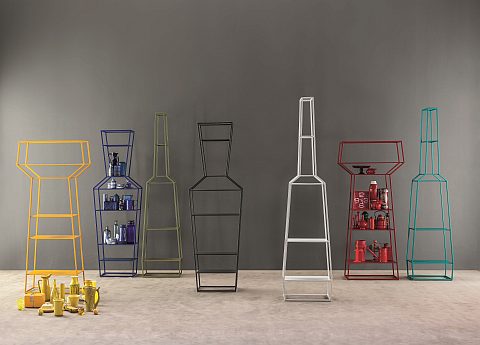 And for a touch of absolute luxury you'd have to try hard to find something more deserving of that description than the Alfie Basket Alto bed by Mario Lipparani. This new version has a majestic 1.6 metre high headboard with gentle, wrap-around corners and a softly curved base. You can choose a wealth of different fabrics, or supply your own, for the upholstery. The version below is in a stunning indigo blue velvet and it comes in UK King through to US King sizes and there's also a storage version.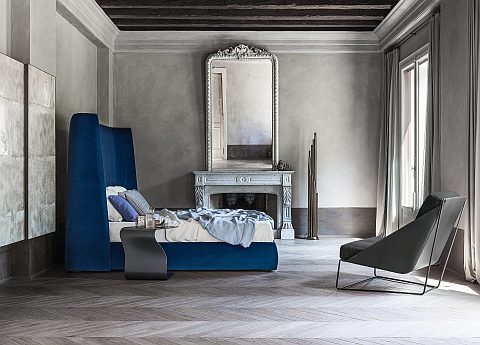 So, form an orderly queue – 2015 looks like its going to be a very exciting year, and this is just for starters.