Italians, it's always said, love babies and children, and nothing proves this more than the latest designs from Italian brand Battistella and their Nidi range of children's furniture. We're so impressed with their latest original, contemporary designs which combine style, imagination and tons of practical ideas.  There are three collections to choose from based around the themes of art, nature …. and fun!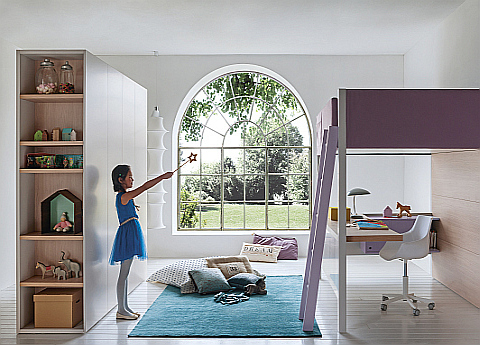 The Soft Collection (above) includes this amazingly versatile loft bed, with a matching ladder that can be positioned at the front or side, and the option of fitting a desk below the bed.  There's even a handy 'toy organiser' between the soft padded frame and the mattress.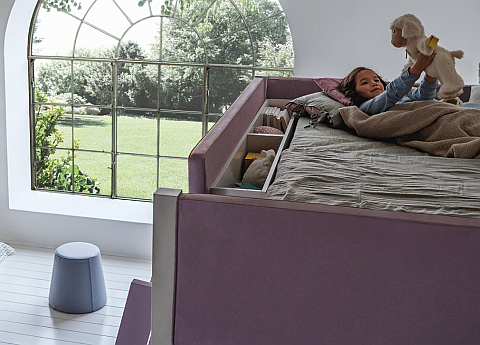 Or introduce the idea of creating your own art with the Graphic Collection (below)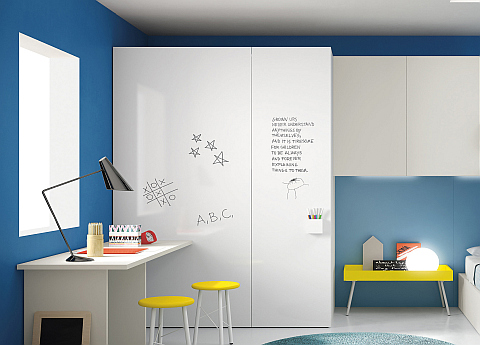 Designed to encourage the budding Banksys out there, the Graphic collection features white-board surfaces on desks and wardrobes.  They even include the pens along with a handy pen holder (probably not very Banksy that bit – but we think it's a nice touch) which doubles up as a door handle.  And while artistic skills are being honed, you'll be pleased to know that the white-boards are completely re-writeable/cleanable with dry-wipe surfaces.
Keeping in touch with nature is also a theme and the Woody Collection (below) features lots of natural finishes, while still allowing for pops of bright colours along with more muted shades for the older crowd.
Woody, like the other two ranges is modular, and contains storage beds, with deep under drawers, wardrobes, desks, wall units, shelves – everything in fact to start a children's room from scratch and create something really stylish and unique.
There's also tons of accessories too, from rugs and wall stickers to toy boxes, side tables and felt poufs. Makes you want to be 10 again doesn't it!