Yes, we know it's (mostly) sunny outside and you're probably (mostly) on holiday… but we thought this might be a good time to start you thinking about CHRISTMAS!  The UK press has been thinking about it for the past month or so and all the Christmas summer press shows have already taken place (this is where journalists & stylists rush around central London in the heat, eating mince pies and thinking unseasonable thoughts, all working on their Christmas issues).
So, on to Christmas furniture.  Do you remember how last year you swore you wouldn't host another Christmas without the right size dining table?  Well, now's the time to start looking.  We have some fabulous new tables including a masterpiece of design from Alivar, one of Italy's top brands.  The Oblique extends from 200cm right up to 280cm without altering its shape and the legs always stay at the end of the table – so there's no need to play footsie (unless you want to!).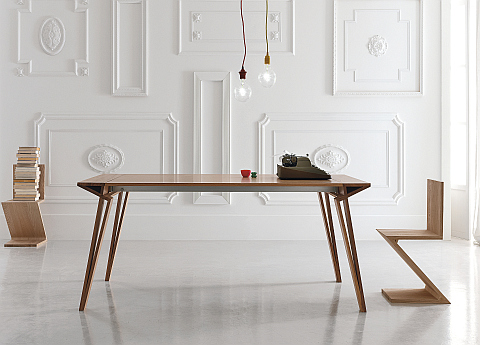 With extra guests, sleeping arrangements can also cause headaches in our experience.  A sofa bed is the answer and we have lots to choose from and there are also lots out there, but if you want something that really doesn't look like a sofa bed we have just the design. Bonaldo's Bandy not only doesn't look like your traditional sofa bed it's also extremely comfortable. Bonaldo has a wealth of experience in this area and the Bandy has been designed to last, with a sturdy frame and beautifully upholstered with layer upon layer of foam.  It's also very easy to operate (even after a few Christmas G&T's): simply pull the back down flat and the seat simultaneously moves forwards.  The Bandy comes with a Go Modern warning however – it's so comfortable your guests may decide to stay a little longer than Christmas…
And then there are the finishing touches (and where to hang all those extra visitors' coats). The beautiful Bonaldo Trees are not a brand new design but soooo lovely we have to give them a mention here.  These are a new version of the popular Tree coat stand but with a light inside, so they'll not only light your hallway prettily but also provide somewhere for people to hang their outdoor gear (& coo over).   Why buy a traditional tree we say?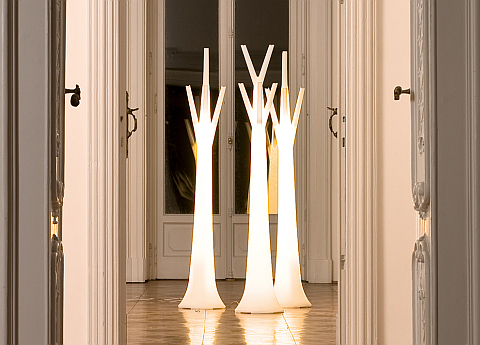 P.S. Our summer sale is also still on at the moment – 15% off all orders over £1,000 (Quote coupon code: SUMMER).  What's stopping you & Merry Christmas!