We mentioned at the beginning of the year an exciting new name to join the Go Modern family, Lema, one of Italy's most prestigous brands – and the perfect name to complement our other luxury brands.
If you know Lema at all you will know that its world famous name is synonymous with attention to detail, the highest quality materials and an ability to create unique pieces of furniture.  The company is based in the heart of the Northen Italian Brianza furniture making district and has been producing beautifully made furniture since the 1940s.
Lema is one of Europe's best wardrobe and bookcase/wall unit specialists (their Elegant wardrobe is a best seller already!), and they also have a fantastic collection of sofas, beds, bedroom furntiture, and dining tables, as well as exquisite one-off pieces.
The Fina Sliding door wardrobe is a great example of the kind of design Lema is known for; a sleek, natual anodized aluminium frame surrounding matt or gloss lacquered door panels.  There's also a huge choice of 40 colours in matt lacquer and four in the lacquered glass. Sizes too are varied, with three heights and several widths.  Superb!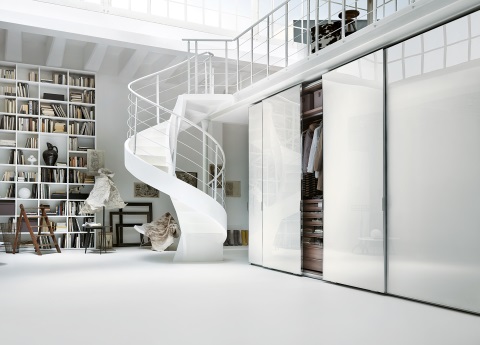 We love the Selecta bookcase system so much it's being installed in our showroom as we type! Lema introduced their first free-standing bookcase system back in 1978, and Selecta is the bang-up-to-the-minute evolutionary result. With over 30 years of experience in creating these systems, Selecta incorporates the best of everything to date – and it's one of the most versatile shelving systems around today. Pop in, have a look and be impressed!
The Mustique sofa is one of Lemas newest designs, created for them by Gordon Guillaumier. And it's gorgeous. Wide and elegant, with a slim, metal structure and slimline cushions that are so, so comfortable.  The leather version, seen here, also has raw 'unfinished' seams on the boxy arms giving it, we think, a really cool, urban look.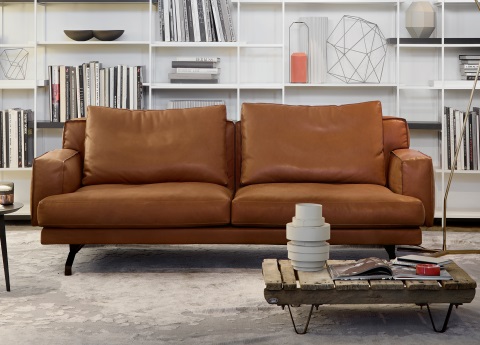 We have quite simply fallen in love with Wing – an achingly beautiful piece of craftmanship.  Designed in 2012 by Werner Aisslinger all we can say is: stunning (and we try not to use that word too often!).  It's made from light oak and has a beautifully sinuous petal shape, with the natural wood grain shown-off to its best within the curved sweep of the design. And if that isn't enough, Aisslinger has created another treat for you – when you turn Wing around, a 'spine' of solid wood is revealed giving the whole piece a striking architectural feel… its a kind of 'weak at the knees' piece…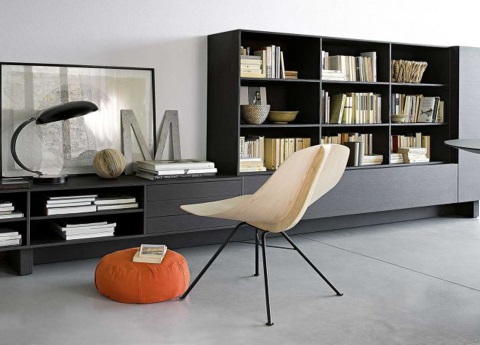 And if you're looking for something a little bit different, a collector's piece … then the one-of-a-kind Booken by Yael and Shay at Raw Edges for Lema will get your pulse racing.  They've taken the 'concept of the book as an object, transformed its function, and reinvetned it'.  And thus you have Booken – a quirky and totally unique bookcase: storage for your favourite books (also allowing you to 'mark' your favourite pages), a side table and bookshelf in one.  And if it suits your room style more you can also wall hang Booken. It comes with 20 oak 'book-marks' and you can order extra if you need them.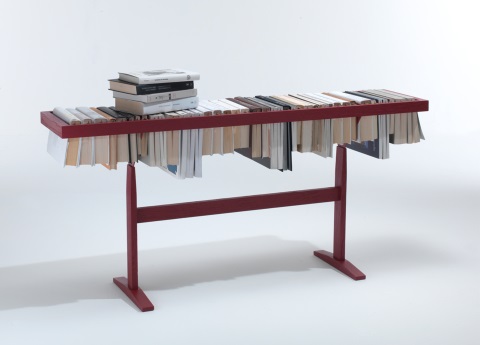 Taking pride of place in our Kings Road window at the moment is the Novelist writing desk by the internationally renowned Christophe Pillet.  It was one of Lema's key pieces at the Milan show and so deserved its centre stage presence.  In rue Pillet style, it cleverly evokes a traditional writing desk with a great modernist-retro look.  It's made in sold canaletto walnut with a coffee-coloured leather insert in the desk top, plus an exciting and very neat pop-up inlay for your pens and pencils.  A chrome-plated steel frame and two ultra slim side-drawers complete the look. Absolutely no excuses for not finishing that book now!